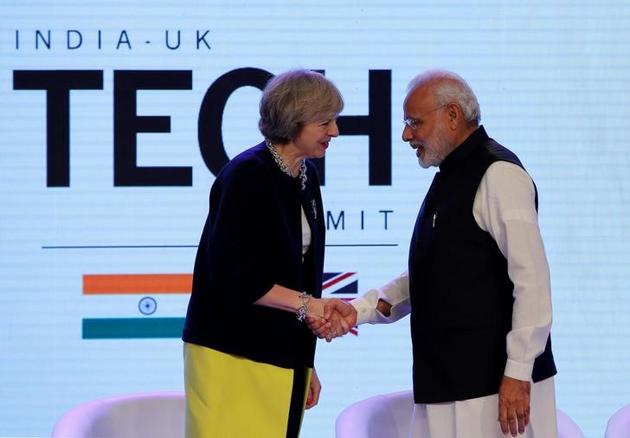 PM May raised violence against minorities with Modi
The issue was raised during the British leader's visit to India in November, but as the focus of the trip was on a increased trade relationship post Brexit, the topic was hardly mentioned at the time.
PUBLISHED ON MAY 01, 2017 03:52 PM IST
British Prime Minister Theresa May raised the issue of "violent offences" against minorities during her visit to India in November, a minister revealed during a recent debate in the House of Lords on the alleged rise in "extremism" following elections in Uttar Pradesh.
Foreign office minister Joyce Anelay also revealed in the debate titled India: Extremism on April 24 that minister for Asia Alok Sharma had raised the issue recently when an Indian minister visited the United Kingdom, but the Indian minister was not named in the House.
May's trip to India was her first bilateral visit after taking over as prime minister. The visit's focus was on increased trade relationship with India after Brexit, and the issue of May raising the issue of "violent offences" was hardly mentioned at the time.
Asked by Nazir Ahmed (non-affiliated) what assessment the May government had made "of the rise of extremism in India following the state elections in Uttar Pradesh", Anelay said it was aware of "concerns over religious intolerance and community relations" following the elections.
Sharing concern expressed by lords, she said the British high commission in New Delhi discusses human rights issues with institutions such as the National Commission for Minorities and state governments.
The UK government, she added, worked directly with the Indian government to build capacity and share expertise to tackle challenges, including the promotion and protection of human rights. This includes working with India on its universal periodic review in May.
"Prime Minister Narendra Modi has made it clear that every citizen has the right to follow any faith, without coercion, and vowed to protect all religious groups. We welcome this statement. The Indian government has a range of policies and programmes to support minority groups, and we support India's commitment to the fundamental rights enshrined in its constitution," Anelay said.
Responding to concerns that focusing on trade relationship with Indian should not dilute the UK's focus on human rights, the minister said: "It is for the benefit of both countries that we develop our trade relationship—but, as I mentioned earlier, it is our firm belief that good relations and strong human rights are the underpinning for successful economic development."
William Wallace (Liberal Democrats) said events between faith communities in other countries could spill over into the UK, particularly between disapora communities, and noted that Bradford had a significant Indian community.
He said: "They are mainly Gujarati. Some are Muslim, some are Hindu. Relations are good, but on other occasions and with other faiths we have seen how, when events in the countries from which their ancestors came worsen, relations in this country can worsen… Is this not something with which the government should engage, and should they not point out to the Indian government that this is not a matter simply for them?"
Anelay said that ensuring good relations in the diapora communities was a serious issue: "How could I think otherwise coming from Woking, where such a significant proportion of the community brings with them the strength of their background in the Punjab and enriches our community? It is important that, across the United Kingdom, faith should join us, not break us up."
Close