Ferocious fighting, Putin's 'missiles on alert' order mars Russia-Ukraine talks
Published on Feb 28, 2022 04:12 PM IST
Russia-Ukraine war: The delegations from both the countries are holding talks aimed at ending hostilities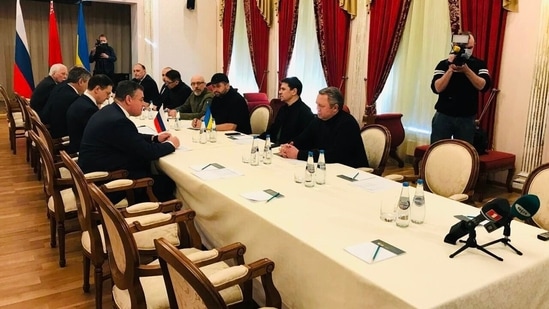 Talks between Russia and Ukraine are underway in Belarus, news agency ANI quoted Russia Today channel. The delegations from both the countries are holding talks aimed at ending hostilities. The negotiations are being held amid relentless fighting on the ground in Ukraine, amid reports of Moscow putting its 'strategic missile' forces on high combat duty.
Earlier, Kyiv demanded an immediate 'ceasefire' as well as the withdrawal of Russian troops from its territory.
This is the first meeting between the two countries ever since Putin's forces launched a major offensive in Ukraine last week.
The talks come amid heavy fighting in Kyiv along with strategic cities of Kharkiv and Chernihiv, with Ukrainian president Volodymyr Zelensky already warning that Monday would determine Kyiv's fate in the war.
"They are fighting against everyone and everything alive, against kindergartens, against residential buildings and ambulances," Zelenskiy said.
Russian forces have claimed to have seized the port of Berdyansk, while the Washington Post, citing an unidentified U.S. official, reported that Belarus was preparing to send troops into Ukraine in support of Russia as soon as Monday.
Refugees from the fighting streamed over the border into neighbouring Poland, Slovakia and elsewhere. Filippo Grandi, the United Nations High Commissioner for Refugees, said in a tweet that more than 500,000 people had fled Ukraine into neighboring countries.
The Russian army told Kyiv residents that "all civilians located there can freely leave" the capital by a single highway, Defense Ministry spokesman Igor Konashenkov said, while warning that the Ukrainian authorities were using people as human shields.
Earlier, Ukrainian president Volodymyr Zelensky had appealed to the European Union to grant his country an immediate membership under a special procedure. He even asked the Russian soldiers to 'save their lives and leave'.

This comes amid the European power bloc's assurance to send fighter jets to Kyiv to support its defence against the Russian invasion.
"We're going to provide even fighting jets. We're not talking about just ammunition. We are providing more important arms to go to a war," Josep Borrell, the EU's foreign policy chief told a press conference.
Ferocious fighting between the two countries entered the fifth day. In the latest development, Russia has claimed to have seized Berdyansk and Enerhodar in Ukraine's south eastern Zaporizhzhya region and around the nuclear power plant, Reuters reported. However, Kyiv has denied reports of its nuclear plant coming under Russian control.

Russia-Ukraine war: LIVE coverage
Close Story
Personalise your news feed. Follow trending topics