Syrian army says 'enemy' rockets hit military bases, kills 26 people
Apr 30, 2018 11:44 PM IST
A Syria war monitoring group said Sunday's missile attack had targeted a warehouse for rockets and killed 26 people.
The Syrian army said on Sunday that rockets had struck several military bases in the Hama and Aleppo countryside in what it said was new "aggression" by its enemies, state television said.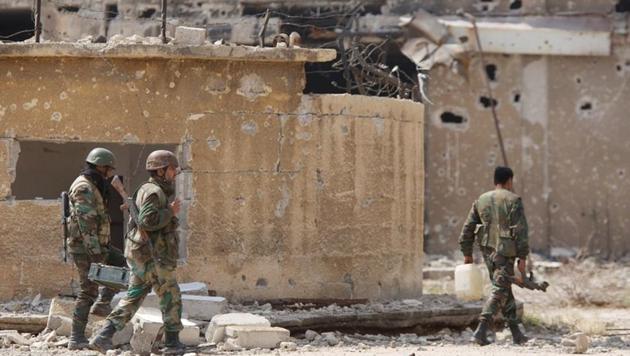 In a news flash, state television said the missile attacks took place at 10.30 pm.
"Syria is being exposed to a new aggression with some military bases in rural Hama and Aleppo hit with enemy rockets," an army source was quoted as saying without elaborating.
Israel has previously hit Iranian-backed militia outposts in Syria, mainly targeting arms convoys of the Lebanese Shi'ite group Hezbollah, which it regards as the biggest threat on its borders and is fighting alongside President Bashar al-Assad.
A war monitor, the Syrian Observatory for Human Rights, said Sunday's attack had targeted a warehouse for rockets and killed 26 people, mostly Iranians and Iraqis.
An opposition source said one of the locations hit was an army base known as Brigade 47 near Hama city, widely known as a recruitment centre for Iranian-backed Shi'ite militias who fight alongside President Bashar al-Assad's forces.
An intelligence source who closely follows Syria said it appeared that multiple missile strikes hit several command centers for Iranian-backed militias and there were dozens of injuries and deaths.
The strikes hit weapons warehouses, and further explosions were heard, the source who requested anonymity said.
Reuters could not verify the authenticity of the allegations.
Israeli Prime Minister Benjamin Netanyahu said this month his country will continue "to move against Iran in Syria."
Earlier this month, the New York Times, quoting an unnamed Israeli military source, reported that Israel struck a Syrian air base that Tehran used. Iran's Tansim news agency said seven Iranian personnel were killed in the attack.
The strike on an air base brought warnings from Tehran it would retaliate.
Israel has said Iran was expanding its influence in a belt of territory that stretches from the Iraqi border to the Lebanese border, where Israel says Iran supplies Hezbollah with arms.
Hezbollah and other Iranian-backed militias have a large military presence in Syria and are well entrenched in central and eastern areas near the Iraqi border.