Syrian Observatory says Islamic State chief Abu Bakr al-Baghdadi is dead
Updated on Jul 12, 2017 07:45 AM IST
Russia's defence ministry said in June it might have killed Baghdadi when one of its air strikes hit a gathering of Islamic State commanders on the outskirts of the Syrian city of Raqqa.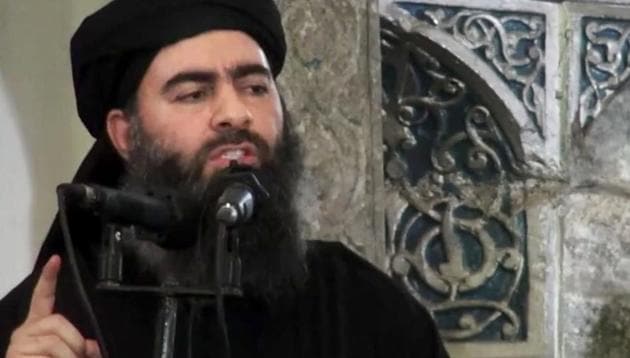 Islamic State chief Abu Bakr al-Baghdadi was reported dead on Tuesday, according to a Syrian monitoring group and an Iraqi TV news channel, a day after Iraq announced it had defeated the terror group in its stronghold of Mosul.
The Syrian Observatory for Human Rights told news wires it had "confirmed information" from top IS commanders that al-Baghdadi had been killed.
"Top tier commanders from IS who are present in Deir Ezzor province have confirmed the death of Abu Bakr al-Baghdadi, emir of the Islamic State group, to the Observatory," the group's director Rami Abdel Rahman told AFP.
"We learned of it today but we do not know when he died or how."
Deir Ezzor, in eastern Syria, remains largely under IS control even as the group is losing territory elsewhere in the country and in neighbouring Iraq.
Al-Sumaria News quoted a source in Diyala area of eastern Iraq as saying that Daesh – an Arabic acronym commonly used for the IS – had announced the death of its leader. It said the group had published a brief statement announcing the death and endorsing another statement issued earlier in the Iraqi city of Tal Afar.
The source also told the channel the IS had warned of "internal disputes" after the "death" of al-Baghdadi and the sustainability of the "jihad of the caliphate".
The reports did not give any details about the circumstances or time of al-Baghdadi's death.
The US military said it could not corroborate the reports and Western and Iraqi officials were skeptical about the development. There was also no word on the development on social media platforms used by the IS.
Al-Baghdadi has been reported dead or injured several times over the past few years.
In recent weeks, reports about al-Baghdadi's death circulated after the Russian defence ministry announced it had targeted the IS chief in air strikes at Raqqa in Syria on May 28. Russia had claimed it had "eliminated" about 330 commanders and fighters of the group in the air strikes.
Al-Sumaria also quoted a source in Nineveh province as saying that Daesh had announced that the name of al-Baghdadi's successor would be declared soon. The terror group had also called on IS fighters to maintain stability in its strongholds.
The source also said Tal Afar, located west of the former IS stronghold of Mosul, was witnessing an "internal coup" following the announcement about al-Baghdadi and a campaign of mass arrests targeting the IS chief's supporters, Al-Sumaria reported.
Iraq Prime Minister Haider al-Abadi had on Monday announced the defeat of the IS in Mosul after a long drawn campaign.
(With inputs from agencies)
Personalise your news feed. Follow trending topics