Ten civilians killed in Turkish attack on Kurd-held Syrian region: Militia
Updated on Jan 21, 2018 08:51 AM IST
Turkish forces began shelling the YPG enclave of Afrin from frontier Hatay province, according to the state-run Anadolu news agency.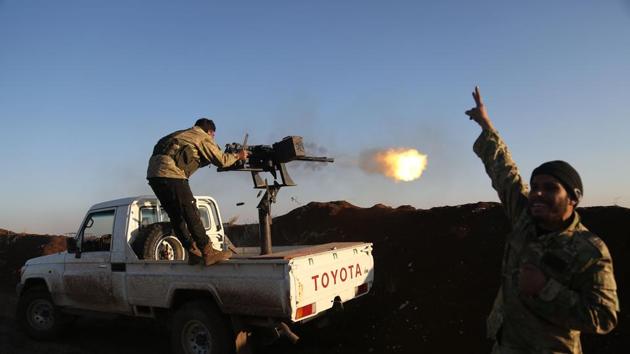 Agence France-Presse, Beirut |
Agence France-Presse
Turkish attacks in the Afrin region of northern Syria killed ten people on Saturday, mostly civilians, a spokesman for the Kurdish militia which controls the area said.
"Seven civilians were killed, including a child, as well as two female fighters and one male fighter," said Birusk Hasakeh, spokesman for the Kurdish People's Protection Units (YPG) in Afrin, adding that the child was an eight-year-old boy.
The YPG's political branch, the Democratic Union Party (PYD), said earlier on Saturday that 25 civilians had been wounded in the Turkish bombing.
Ankara also said there were casualties but all of them were Kurdish militants.
Afrin, a hilly region that falls in Syria's northern Aleppo province, is home to more than a million people including displaced families.
Turkey and allied Syrian rebels on Saturday began an air and ground operation, dubbed operation "Olive Branch", aimed at ousting the YPG from the Kurdish-majority pocket.
The launch came despite warnings that the operation could be militarily tough against an already battle-hardened foe and complicate relations with both Washington and Moscow.
Russia on Saturday said its troops were withdrawing from the Afrin region, where they had been stationed to manage a buffer zone between Kurds and Turkish-backed rebels and also train Kurdish fighters.
In a statement issued late Saturday, the YPG said it would "hold Russia responsible for these attacks just as much as Turkey."
"Russia will be responsible for all massacres carried out in the Afrin canton," the YPG said.
Turkey vehemently opposes the YPG because of its links to the Kurdistan Workers' Party, which has waged an insurgency inside Turkey for three decades.
Personalise your news feed. Follow trending topics