'This President has blood on his hands': Anger at Indian's shooting in Kansas
Hindustan Times, Washington |
Yashwant Raj
Aug 16, 2019 11:40 AM IST
Kuchibhotla is possibly the first casualty of the religious, racial and ethnic divisiveness sweeping the United States following the election of Donald Trump as president.
An Indian IT engineer employed with a US company in Kansas was fatally shot and a colleague, also from India, was wounded by a white man who allegedly thought they were from the Middle East and was heard telling them to "get out of my country" at the time of the shooting.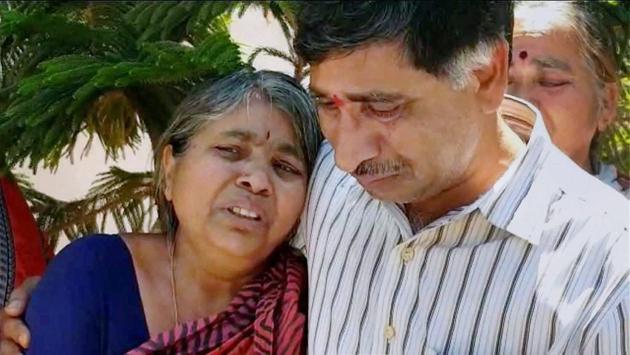 Adam Purinton, 51, the alleged shooter, was caught at a bar in adjoining Missouri several hours after the shooting on Wednesday. He was charged on Thursday with the fatal shooting of Srinivas Kuchibhotla, 32, and wounding Alok Madasani,32, from Hyderabad and Warangal. He was also charged with wounding Ian Grillot, who had tried to stop the shooter.
The FBI, which has joined local police in the investigation, has said it is working to establish Purinton's motive and whether the incident was a hate crime.
Kuchibhotla is possibly the first casualty of the religious, racial and ethnic divisiveness sweeping the United States following the election of Donald Trump as president, with minorities reporting a marked surge in attacks on them and their institutions.
The Hindu American Foundation, an advocacy group, said in a statement, "The murder of Kuchibhotla is the first reported bias-motivated fatality in the US after the bitter presidential election."
Kuchibhotla and Madasani, both employees of GPS-maker Garmin with its headquarters in Olathe, Kansas, were at Austins Bar & Grill in the suburbs of the city when the incident occurred at 7.15 pm on Wednesday.
Witnesses said Purinton was heard telling the two men to "get out of my country". Grillot intervened. "I opened the door and was like, 'I'm going to have to ask you to leave, sir. There's no reason to act like that around this bar. This is a family restaurant'," he has said.
Purinton did leave, but returned shortly after and opened fire, killing Kuchibhotla and wounding Madasani. Grillot, who was also hit, tried to chase the shooter. "I thought his magazine was empty. So I got up and started chasing him down. I tried to subdue him so that police could come in and do what they needed to do and I guess I miscounted with everything going on. I got behind him. And he turned around and fired a round at me."
Grillot's bravery made him a hero in the community. "We salute 24-year-old Ian Grillot," said Shekar Narasimhan, a Democratic strategist, "who is a hero in the great American tradition but whose actions should not remain unsung. Thank you Ian and we know there are many more like you."
Purinton fled on foot and was apprehended at a bar in Missouri state several hours later, in an eerie repeat of the killing of Balbir Singh Sandhu, the first victim of the backlash after the 9 -11 terror attacks, who too was mistaken for being from the Middle East. Sandhu's killer was apprehended at a bar later.
The Southern Poverty Law Center, which tracks hate crimes, has reported a three-fold increase in anti-Muslim hate groups in the US — from 34 in 2015 to 101 in 2016 — and attributed it to anti-immigration and anti-Muslim rhetoric used by Trump, calling it "incendiary".
The Indian American community reacted with a mix of outrage and sadness. Narasimhan said, "This President now has blood on his hands. He has incited and created the environment where hate crimes are emboldened. All those of colour have something to fear now for our children and theirs. I pray we do not have a hot summer in the US as we have no moral leadership left capable of quelling violence if it erupts."
As friends and family of Kuchibhotla dealt with the grief, Kavipriya Muthuramalingam, a friend, started a crowd-funding effort to help with "funeral expenses and other ongoing grief-recovery support costs" on GoFundMe. More than $271,611 had been contributed on Friday.
Garmin, the company where the two men worked, said in a statement, "We're saddened that two Garmin associates were involved in last night's incident, and we express our condolences to the family and friends of our co-workers involved. Garmin will have grievance counsellors on-site and available for its associates today and tomorrow."
In a post on LinkedIn, Kuchibotla described himself as "an Aviation Programs Engineer-Manager at Garmin International, I manage helicopter OEM programs from both technical and project management standpoint".
He had earned a masters in electrical and electronics engineering from the University of Texas at El Paso during 2005-07 after coming to the US. His LinkedIn resume said he got his bachelors from Jawaharlal Nehru Technological University in Hyderabad in 2005.
Madasani too was with Garmin's aviation programme. He studied at the University of Missouri-Kansas City and at Vasavi College of Engineering in Hyderabad.
His father, Madasani Jaganmohan Reddy, who lives at Chaitanyapuri in Hyderabad, said he believes the US isn't a safe place after the election of Trump. He said he had urged his son to quit his job and return home. "The situation seems to be pretty bad after Trump took over as the US President. I appeal to all the parents in India not to send their children to the US in the present circumstances," he said.
Kuchibhotla's 70-year-old father, K Madhusudhana Sastry, a retired scientist from Indian Drugs and Pharmaceuticals Limited, was stunned into silence by the shooting.
"Ever since we received the news last evening about the death of his son in the shooting in the US, he has been in a state of shock and is not speaking to anyone," said Rentachintala Sastry, a cousin of Kuchibhotla.
Jay Kansara, of the Hindu American Foundation, said in a statement, "We call upon the US department of justice and local law enforcement to investigate this murder as what it is, a hate crime. Anything less will be an injustice to the victims and their families."