Trump just glances at Democrats, fixes gaze on Republicans during address
Updated on Jan 31, 2018 01:29 PM IST
Donald Trump spent most of the address facing Republicans while seldom glancing at Democrats during his State of the Union speech.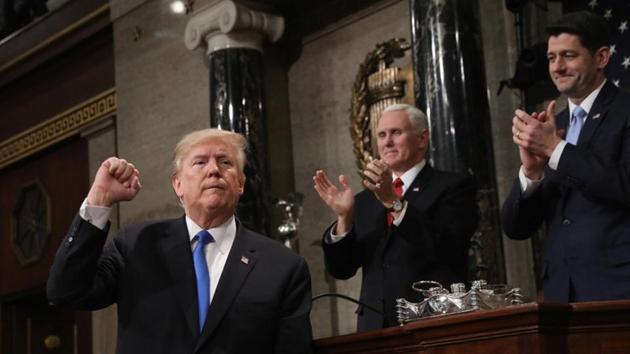 Reuters, Washington |
Reuters
US President Donald Trump said in his speech to Congress on Tuesday that he wanted to extend an "open hand" to work with both parties on issues like immigration but he spent most of the address facing Republicans while seldom glancing at Democrats.
In the House of Representatives chamber where Trump delivered his first State of the Union speech, Republicans, who sat to Trump's left, showed their enthusiasm as he touted tax cuts and boasted of the economy's performance. (Highlights)
From the Republican side of the room, Trump received around 70 standing ovations.
But Democrats, who sat to Trump's right, were mostly silent. Many wore black, an expression of solidarity with victims of sexual misconduct that added to the funereal mood on their side of the room.
With the mood on the Democratic side of the chamber downbeat from the first few moments of the speech, Trump pivoted to face his fellow Republicans and for the most directed his focus toward them.
Just as the American people are deeply divided, as evidenced by the 2016 presidential election, so was the Congress on Tuesday night on issues like taxes, health care and race.
"Unctuous platitudes," Democratic Representative Nita Lowey said of Trump's speech shortly after he left the chamber.
Democrats booed and hissed as Trump vowed to limit the ability of immigrants to sponsor their parents and siblings to move to the United States.
Republicans roared in approval when Trump proclaimed progress in weakening Obamacare, President Barack Obama's signature healthcare law.
Other parts of the speech that were popular with Republicans were his discussions of the tax cuts, the American flag, God and the mining of "beautiful clean coal".
Democrats had invited as guests more than 20 "Dreamer" immigrants whose parents brought them into the United States illegally when they were children.
Trump urged lawmakers to work toward bipartisan compromises, but pushed a hard line on immigration, insisting on a border wall and other concessions from Democrats as part of any deal to protect the Dreamers.
Congress is trying to enact permanent protections for the young immigrants, possibly next month.
Before the speech, one Republican congressman, Paul Gosar of Arizona, asked US Capitol Police to arrest and deport anyone who could not prove legal residency.
Trump's own guests included parents of two girls murdered by the Mara Salvatrucha gang, better known as MS-13, whose existence the White House blames mostly on illegal immigration from Central America.
The State of the Union address is an opportunity for presidents to tout achievements and lay out their legislative agenda for the coming year.
This time around, it also was a chance for Democrats to hold Trump's feet to the fire for a stream of controversies that have marked his presidency.
Many members of the Congressional Black Caucus sported colourful "kente" cloth following claims that Trump, during a private meeting on immigration, used coarse language to denigrate African countries.
Even the falling jobless rate among African Americans divided the chamber. "African-American unemployment stands at the lowest rate ever recorded," the president proclaimed. Republican lawmakers, who are mainly white, applauded and yelled loudly, while Congressional Black Caucus members, all Democrats, sat stone-faced.