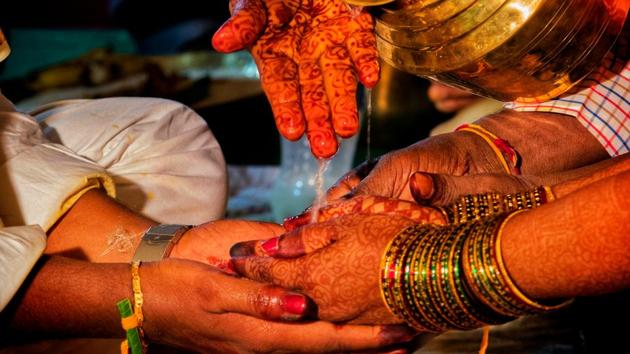 UK: India among top 'forced marriage' nations
According to Britain, a forced marriage is when one or both spouses do not consent to marriage.
PUBLISHED ON MAY 15, 2018 10:47 PM IST
A unit of Britain's foreign and home offices dealing with cases of forced marriage — when one or both spouses do not consent to marriage and involve at least one UK citizen — has reported that India was among its top four countries of focus during 2017.
The Forced Marriage Unit (FMU) dealt with 82 cases linked to India. Pakistan leads the list with 439 cases, followed by Bangladesh (129) and Somalia (91), according to latest figures.
Cases involving forced marriages often involve immigration issues, in which one potential spouse is a UK citizen and the other is a foreign citizen. The cases also include individuals being taken to a foreign country on the pretext of a holiday and then forced to marry.
"The proportion of cases linked to India in 2017 was similar to 2016. There was a higher proportion of older victims as well as male victims this is most likely due to the fact that many of these cases were reluctant sponsors," a the FMU note said.
It noted that the cases are not broken down by religion: "(No) major faith in the UK advocates forced marriage. It is also important to note that freely given consent is a prerequisite of Christian, Jewish, Hindu, Muslim and Sikh marriages."
Of the 82 India-linked cases, 53 involved females and 29 involved males.
The largest number of cases — 29 – were reported from London, followed by the West Midlands (14) and the East Midlands (12), which have a large population of Indian origin in cities such as Leicester, Wolverhampton and Birmingham.
Official sources say a forced marriage is one in which one or both spouses do not (or, in the case of some adults with learning or physical disabilities or mental incapacity, cannot) consent to the marriage and violence, threats, or any other form of coercion is involved.
"Coercion may include emotional force, physical force or the threat of physical force, and, financial pressure. In an arranged marriage, both parties have consented to the union but can still refuse to marry if they choose to," the statistical note added.
The pressure put on people to marry against their will can be physical (including threats, actual physical violence and sexual violence) or emotional and psychological (for example, when someone is made to feel like they're bringing shame on their family). Financial abuse (taking your wages or not giving you any money) can also be a factor.
Set up in January 2005, the FMU operates both inside the UK, where support is provided to any individual, and overseas, where consular assistance is provided to British nationals, including dual nationals.
Close