Good news for IT professionals, US House removes country-cap on Green Cards
The passage of the Bill was hailed by Indian professionals from across the US, particularly those from the Silicon Valley in California, Seattle area in Washington state, the Greater Washington DC area and the tri-state area of New York, New Jersey and Connecticut.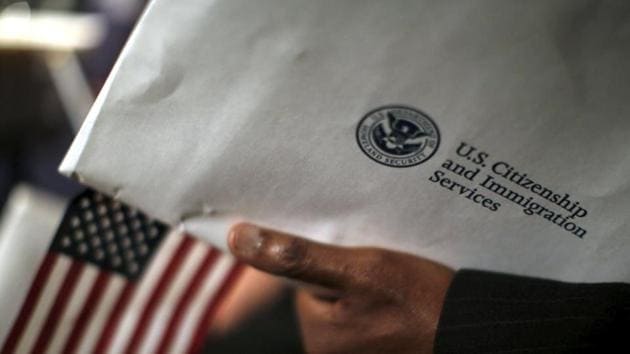 Updated on Jul 11, 2019 09:26 AM IST
Hindustan Times, Washington |
Yashwant Raj
The United States House of Representatives on Wednesday passed a Bill with a thumbing majority to remove the country-limit on employment-based Green Cards that has sent hundreds of thousands of highly-skilled Indian into a waiting line that could theoretically last 100 or more years.
The Fairness for High-skilled Immigrants Act, 2019 or HR 1044 passed 365-65 in the 435-member House, reflecting the overwhelming bipartisan support for the plight of those impacted by the country-limit, essentially Indian professionals who came here on H-1B or transferred to it after completing their studies.
But the US senate needs to pass the same bill, or a version of it, before it goes to the president's desk for enactment, removing the country-cap that mandates only 7% of the annual 140,000 Green Cards can go to nationals of any one country. At present, the president's assent looks easy.
Senator Rand Paul, a Republican, has put a hold on the bill, which was introduced for passage under a parliamentary procedure that would have fast-tracked it. Supporters and advocates of the Bill have said all the other 99 members of the 100-member chamber were on board.
Also read: How the US immigration plan will impact India
On Wednesday, however, there was reason for them to cheer. Aman Kapoor of Immigration Voice, an advocacy group that has lobbied congress and the administration to remove the limit for years now, said they were "absolutely thrilled" that the Bill passed with such overwhelming support.
"People are finally understanding that no matter what else is wrong with our immigration system, we can all agree that discrimination should never be the basis for deciding who should be given access to permanent residency (Green Cards) in the United States."
The bill stands to benefit mostly people from India whose applications for Green Cards have been cleared but they will have to wait for decades and more for their turn to get their hands on the driving license-sized card that is called a Green Card, because it's predominantly green in colour or in varying shades of green.
The US Citizenship and Immigration Service has said there are more than 300,000 primary applicants in the waiting line who are from India. Immigration Voice puts the number of those impacted at 1.5 million including dependents of the primary applicants and those who are starting the process.
The House bill, which was introduced jointly by Democrat Zoe Lofgren and Republican Ken Buck in February, removes the country-limit of 7% on employment-based Green cards in phases over the next few years and lifts the limit on family-based Green Cards from 7% to 15%. It does not increase the number of Green Cards, which will remain at 140,000.
Also read: Don't let trade derail the strategic relationship | Opinion
Opponents of the Bill had portrayed it as a "giveaway" for Indians at the behest of IT giants and raised the bogey of waves of Indians sweeping in as a result to take away American jobs. Ethnic slurs were deployed frequently, even if they found little resonance outside their echo chambers.
A similar legislation, moved by Democrat Kamala Harris and Republican Mike Lee, awaits passage in the senate, which had seemed assured with the same overwhelming support as in the House earlier. But it stands blocked now, apparently at the behest of staffing companies for foreign nurses on H-1B.
Groups and activists advocating country-cap removal are gearing up fro a bruising fight with a "back-up plan" if the block is not lifted and then there is a "back-up plan if that back-up plan" doesn't work. It's their lives at stake here, they said and, more importantly, that of their children.
They are focussed on the senate battle for now.
President Trump will sign, they believe for now and not accounting for his mercurial temperament, as "this is in line with his and Kushner's (the president son-in-law and senior advisor Jared Kushner) support for merit-based immigration".
Also read: Indians earn more than white British employees in UK, says report
Close Story