Watch | US cop points gun at passenger for 9 minutes during traffic stop
The video, posted by user Feo Mas on Facebook, shows the passenger getting into an argument with the cop to lower the gun.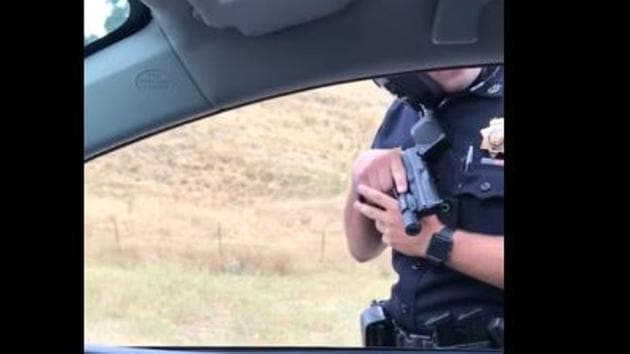 Updated on Aug 07, 2017 01:34 PM IST
A video of a police officer in Campbell, California, pointing a gun at a passenger for a whole nine minutes during a traffic stop is going viral, provoking mixed reactions on social media.
The video, posted by user Feo Mas on Facebook in July, shows the passenger getting into an argument with the cop to lower the gun.
In the video, the passenger can be heard telling the officer,"Why are you still pointing the gun at me, bro? My hands are right here. Get the f****** gun out of my face'." The driver of the car, a woman, can be heard asking the officer, "Is this really necessary?"
The police officer repeatedly tells the man to relax, but does not lower the weapon for the entire 9-minute exchange. The video has more than 1.9 million views and has been shared m ore than 19k times.
According to the Campbell police department, the car was stopped for overspeeding. The police officer went back to his motorcycle to write a citation since the passengers could not find their paperwork. The police version of the events states that the officer only pulled out the gun when the man reached under his seat for something.
The passenger in the car, however, maintains that he reached under the seat for the paperwork.
As the video started going viral, it drew sharp, but divergent reactions on social media. Many commentators critcised what they saw as an overreaction from the police officer. "This cop needs to resign and go fine a job that he can do without pointing a gun at someone," wrote one Facebook user.
Other users, however, criticised the passenger, pointing out that he aggravated the situation with his swearing and arguing. "No need to reach under the seat and get the cop excited. Just sit there and nothing would have happened. One more thing, don't argue with the cop ok," said one commentator.
A lengthy statement from the Campbell police department stated that the dispute was resolved amicably, and the driver and passenger were let off with a citation. "We understand that it is never a comfortable position to have a gun pointed at you, regardless of whether it is a police officer. Unfortunately, the length of time that the officer's gun was drawn lasted much longer than normal based on his location. If this same situation would have occurred closer to back-up officers, it would most likely have been resolved much sooner," says the statement.
Close Story