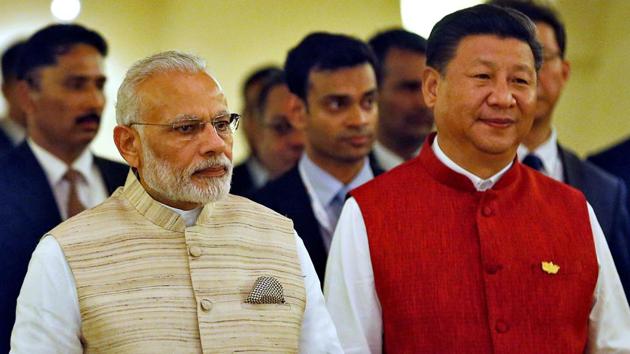 Pride and diplomacy: Why India may not attend China's Belt and Road Forum
India will be the notable absentee at the Belt and Road Forum (BRF) over the weekend to be attended by 29 heads of state
Beijing, Hindustan Times | By Sutirtho Patranobis
UPDATED ON MAY 14, 2017 07:05 AM IST
India will be a notable absentee at the Belt and Road Forum (BRF) over the weekend in Beijing to be attended by 29 heads of state and delegations from several countries, if it skips the high-profile summit in view of sovereignty concerns related to the China-Pakistan Economic Corridor (CPEC).
The forum is projected as China's grand display of economic prowess and its attempt to build a future strategic reach. It's packaged as the multi-billion dollar connectivity-led trans-continental project-- the Belt and Road Initiative (BRI) or the "One Belt, One Road" venture.
If India is not attending the forum on May 14 and 15, it will seemingly not be for China's lack of efforts to convince its neighbour to attend and occupy a high-profile seat at the event.
Beijing dispatched dozens of invites right to the top ceremonial and political offices, to several current ministers, diplomats, former envoys besides scholars and journalists from India to attend the BRF.
The response was a bunch of "regrets" bearing different official seals.
But India can always turn around and say where was the invite or the diplomatic courtesy to inform New Delhi when Beijing decided to run its BRI flagship project, the China-Pakistan Economic Corridor (CPEC) right through Pakistan-Occupied-Kashmir (PoK) ?
An issue of 'sovereignty' that probably is as "core" to India as is Tibet or Taiwan to China.
China not only didn't care about India's position on PoK, it went right ahead and pumped billions of dollars into the CPEC.
The ties between the two neighbours have anyway been at a low for several months now for several reasons including China's blocking of India's NSG attempt, Beijing's all-weather support to Pakistan-based terror-suspect, Masood Azhar, from being listed at the UN, the CPEC, India "playing" the Dalai Lama-card.
On the surface, the BRI, floated by President Xi Jinping in 2013 September and October in Kazakhstan and Indonesia is based on three principles broadly explained as – Gong Shang (negotiate/talk), Gong Jian (construct/build) and Gong Xiang (share good results).
And, it is about five connectivities – political, infrastructure, capital, trade and people-to-people exchanges.
Diplomats privately say all this lofty talks will connect the dots to one, single end – increase China's influence in the world and in South Asia and play on India's disadvantages in the region.
Not surprisingly, many Chinese academics feel it's not true that India's objection to the CPEC s the main reason for it not officially joining the BRI. The real reason, they say, is that New Delhi is wary of China's increasing clout globally and regionally and doesn't want to play second fiddle to Beijing.
"India's concerns about BRI are not due to its concerns about CPEC. It is about whether India would like to help China to build-up a new world order and regional order. Indian strategists and nationalists strongly believe that BRI is China's grand strategy to build a China-dominated world order. In that case, Indian strategists would like New Delhi to support the west (the US) dominated system and order," Hu Shisheng south Asia expert at the China Institutes of Contemporary International Relations (CICIR) said.
"India's absence at the Forum only showed that India doesn't like China's status in today's world, doesn't accept China's high-profile in the international arena," Long Xingchun, director of the Center for Indian Studies at China West Normal University told HT.
Noted international relations scholar Dai Yonghong said he was unable to understand India's position on the BRI, especially New Delhi's refusal to officially acknowledge it – indicating again that it is India's unease with China's rise.
"But the fact is that so far the Indian government hasn't officially positively responded to the BRI due to the 'so-called' concerns over the CPEC," Dai said.
"But sometimes, you cannot reasonably explain the situation. On the one hand, you are part of the Asian Infrastructure Investment Bank and Bangladesh, China, India, Myanmar (BCIM)-Economic Corridor, which are part of the BRI. On the other, there is no positive official response to the forum," Dai said.
Dai of course didn't mention that the BCIM-EC predates the BRI by years and when the AIIB was set up, founding members – which included India – wasn't really aware about its links to the BRI.
But India's absence might not have much impact on bilateral ties and economic cooperation.
"Frankly, there will not be much impact on bilateral relations; all the high-level participants are from the countries which have impressive BRI projects. India has no such BRI project. Chinese leaders know very well that Indian government is not willing to be positive about BRI," Hu said.
"From India's perspective, it will miss some opportunities to know better about the China-proposed BRI, which is actually beneficial to India," Dai said.
Close