World Bank slashes India's GDP growth in FY'20 to 6%
Hindustan Times, New Delhi |
Asit Ranjan Mishra
Oct 14, 2019 05:24 AM IST
The World Bank though said that GDP growth rate was expected to gradually recover to 6.9 per cent in 2021 and 7.2 per cent in 2022.
The World Bank slashed its economic growth forecast for India to 6% for the current fiscal from its April projection of 7.5%, citing a broad-based and severe cyclical slowdown.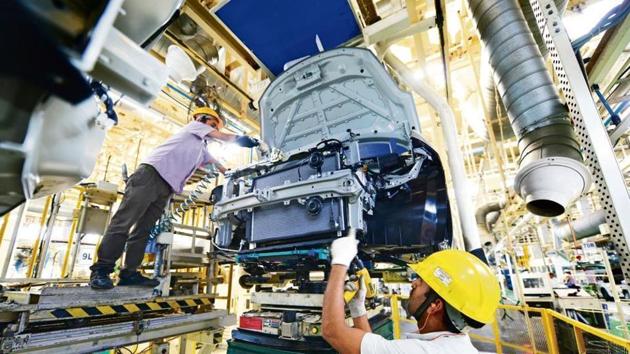 Growth is expected to gradually recover to 6.9% in 2020-21 and to 7.2% the following year, the Washington-based bank said in its South Asian Economic Focus report released on Sunday.
The World Bank joins a parade of multilateral institutions, rating firms and brokerages in cutting economic growth estimates for India, after Asia's third-largest economy grew at the slowest pace in six years in the June quarter because of a demand slump.
On Thursday, Moody's Investors Service lowered its 2019-20 growth forecast for India to 5.8% from 6.2% earlier, saying the economy was experiencing a pronounced slowdown partly due to long-lasting factors. The rating agency's projection is the most pessimistic so far.
In a survey of South Asian economists by the World Bank in which 32 Indian economists participated, the average expectation was that the Indian economy will grow at 5.7% this fiscal.
"Indian economists were further asked whether they consider the recent slowdown a structural or a cyclical phenomenon. Over 65% said that both structural and cyclical factors are causing the slowdown, 25% see only structural factors at play and only around 10% consider the slowdown purely cyclical," the World Bank said. "This contrasts slightly with our explanation of the downturn that emphasizes cyclical patterns."
The World Bank in its analysis observed that the remarkable weakness of Indian economic activity during the first half of 2019 is largely driven by external and cyclical factors.
"However, during this downturn several structural problems have come to the surface. One of these problems is related to vulnerabilities in the financial markets that have constrained credit supply. Financial sector reforms are needed to bring India back to a rapid growth path," it said.
The Indian economy is battling a severe demand slowdown and liquidity crunch that resulted in the growth rate slowing to 5% in the three months ended June, while growth in private consumption expenditure slumped to an 18-quarter low of 3.1%.
India's industrial output contracted 1.1% in August, its worst show in 81 months, signalling a further deepening of the economic downturn.
The World Bank observed that non-banking financial companies in India remain vulnerable to financial stress, despite liquidity enhancing measures.
"New defaults in this sector could trigger a broader liquidity crunch. And the sector's significant share in total loans and its linkages with the banking sector through liabilities, pose broad-based contagion risks. These are further exacerbated by the over-leveraged balance sheets of the corporate sector," it said in its report.
Though South Asia, including India, is not integrated into world markets as much as most other regions, the World Bank said it is not isolated from global developments. Unexpected changes in economic growth in the US, the eurozone and China, for example, have strong implications for growth in India.
Real gross domestic product (GDP) shocks in the US and the eurozone affect India immediately and the effect is persistent. After two years, the cumulative impact from a one percentage point gross domestic product shock in the US on India is 1.4 percentage points, and from a shock of the same size in the eurozone it is 1.1 percentage points.
"The spillovers from Chinese GDP shocks follow a different pattern: while there is no effect on impact, it builds slowly over time and after two years, the impact is even larger (1.74 percentage points) than for shocks in the US or the eurozone," the bank said.
Also read: Macro indicators paint a gloomy picture for economy | Analysis