Musharraf says Zardari involved in assassination of Benazir, Murtaza Bhutto
Pervez Musharraf says Peoples Party of Pakistan leader Asif Ali Zardari was the one person that had everything to gain from former Pakistan PM Benazir's assassination.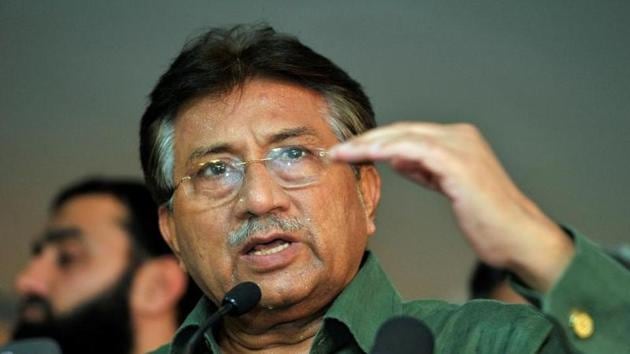 Updated on Sep 21, 2017 07:24 PM IST
Hindustan Times, Islamabad |
Imtiaz Ahmad
Former Pakistani dictator Pervez Musharraf on Thursday accused Pakistan People's Party leader Asif Ali Zardari of being involved in the assassination of both his wife Benazir Bhutto and her brother Murtaza Bhutto.
Musharraf's claim, made in a video message, came three weeks after an anti-terrorism court declared him a fugitive in the Benazir Bhutto assassination case. The former army chief is currently in self-exile in Dubai and was allowed to leave the country in 2016 for medical treatment while awaiting trial in several cases. He was earlier formally charged for failing to provide security to Bhutto in the days before she was killed in a suicide attack in Rawalpindi on December 27, 2007.
"The one responsible for all miseries of the Bhutto family as well as the assassination of Benazir and Murtaza Bhutto is Zardari," Musharraf said, addressing the three Bhutto-Zardari children in the video message. "Zardari did nothing to investigate the murders of Benazir and Murtaza Bhutto as he enjoyed his stay in the presidency for five years."
He added: "Why would Zardari investigate Bhutto's murder when he himself carried out the assassination?
"It should always be analysed as to who benefited from the murder. I had everything to lose following the assassination, while only one man earned the benefits — the one who murdered her."
Murtaza was shot dead in 1996 in Karachi, when Benazir was prime minister, and the murder was one of the factors that brought down her government. In 2008, Zardari was acquitted of charges that he ordered the murder.
On August 31, when the anti-terrorism court in Rawalpindi declared Musharraf a fugitive, it acquitted five alleged operatives of the outlawed Tehreek-e-Taliban Pakistan (TTP) arrested for Bhutto's assassination for lack of evidence.
Musharraf also claimed Bhutto was killed by then TTP chief Beitullah Mehsud and his accomplices, adding that the murder of Khalid Shehenshah — the PPP worker who was supposed to provide security to Bhutto — should also be investigated.
"Who took the decision to create a hatch in the roof of Benazir's bullet- and bomb-proof car? Only one person is capable of (plotting the assassination), and that person is Asif Ali Zardari," he said.
"He should be caught and probed," he said.
On Monday, PPP counsel Latif Khosa filed three petitions in the Rawalpindi bench of the Lahore high court, challenging the decision to acquit the alleged TTP operatives. The first petition said Musharraf masterminded the conspiracy to kill Bhutto, claiming that the statements of American journalist Mark Siegel and former foreign ministry spokesperson Javed Iqbal Cheema, as well as probes conducted by the Scotland Yard and United Nations provided "concrete evidence" of the former army chief's involvement.
It demanded that the anti-terrorism court's decision to separate Musharraf's case from the other accused should be declared void and the court should conduct hearing in his absence and award him severe punishment under the Anti-Terrorism Act.
Close Story
Personalise your news feed. Follow trending topics