Afghan-Taliban peace talks likely in China next week
Jul 24, 2015 10:03 PM IST
Afghan officials will meet Taliban insurgents next week for a second round of talks aimed at ending 13 years of war.
Afghan officials will meet Taliban insurgents next week for a second round of talks aimed at ending 13 years of war. They hope to press for a ceasefire in negotiations likely to be held in China.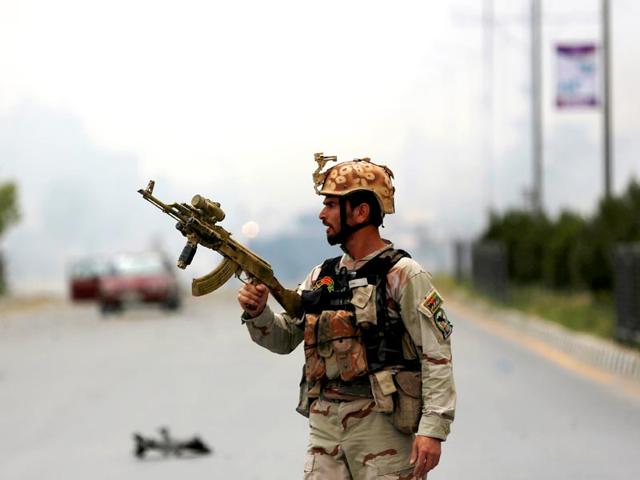 The Afghan government conducted its first face-to-face talks with Taliban cadres on July 7 in Murree, a Pakistani hill station north of Islamabad, which were supervised by American and Chinese representatives.
Stay tuned with breaking news on HT Channel on Facebook.
Join Now
They agreed to meet again in the coming weeks but the venue remains unconfirmed and it was unclear whether the nascent dialogue was widely endorsed within the ranks of the Taliban, riven by internal divisions.
"The second round of talks... is set for July 30 or 31," said Mohammad Ismail Qasimyar, a member of the Afghan High Peace Council (HPC), the government's top peace negotiating body. "This meeting will most probably be held in China... and will be supervised by the US and China. We will insist and put pressure in the meeting for a temporary ceasefire."
But another HPC official said discussions over a possible venue were still ongoing.
"The talks... are set for July 30 but discussions and consultation are ongoing between Afghanistan, Pakistan, the United States and China on where to host the meeting," said HPC deputy chairman Abdul Hakim Mujahid.
China, which shares only a 76 kilometre (47 mile) border with Afghanistan, has reaffirmed its commitment to help end the Taliban insurgency as it frets about the Islamist militant threat in its own restive western Xinjiang region.
The Taliban so far have not officially commented on Friday's announcement but cracks within insurgent ranks over the fragile negotiations are visible.
"This time, if the talks are held and representatives from our political office of Qatar do not attend, these negotiations will be unacceptable to us," said a source from the Quetta Shura, the Taliban's governing council.
"This time our delegation from Qatar political office should be part of negotiations," he said, highlighting a growing split within insurgent representatives in Quetta and Qatar, where the Taliban set up a political office in 2013.
Militant attacks continue

Earlier this month the Taliban's reclusive leader Mullah Omar hailed as "legitimate" peace talks aimed at ending the war, in his first comments on the nascent dialogue, easing concerns that it lacked the leadership's backing.
But divisions have apparently grown within the fractured group after the first round of talks, with some commanders openly questioning the legitimacy of the Taliban negotiators in Murree.
The split within the Taliban between those for and against talks has been made worse by the emergence of a local branch of the Islamic State group, the Middle Eastern jihadist outfit that last year declared a "caliphate" across large areas of Iraq and Syria that it controls.
The Taliban warned IS recently against expanding in the region, but this has not stopped some fighters, inspired by the group's success, defecting to swear allegiance to IS chief Abu Bakr al-Baghdadi instead of the invisible Mullah Omar.
The agreement between the Taliban and Afghan government to meet again in the weeks following the first talks drew praise from Islamabad, Beijing, Washington and the United Nations.
But despite the willingness to engage in peace talks there has been no let-up in militant attacks on foreign and government targets, leaving Afghan forces stretched on multiple fronts and inflicting a heavy blow on civilians.
A suicide bomber on Wednesday killed 19 people including women and children in a crowded market in the northern province of Faryab, as insurgents intensify their annual summer offensive launched in late April.
And earlier this month 33 people were killed in a suicide attack at a military base in the eastern province of Khost, while a few days later 25 civilians were wounded in a bombing inside a mosque in northern Baghlan province.