Chained and alone, Boston bomber's max security jail 'hell on earth'
Updated on Jul 20, 2015 10:35 PM IST
Boston bomber Dzhokhar Tsarnaev is lodged in America's harshest maximum security prison, compared to hell on earth by former wardens and rights activists, until his transfer to death row.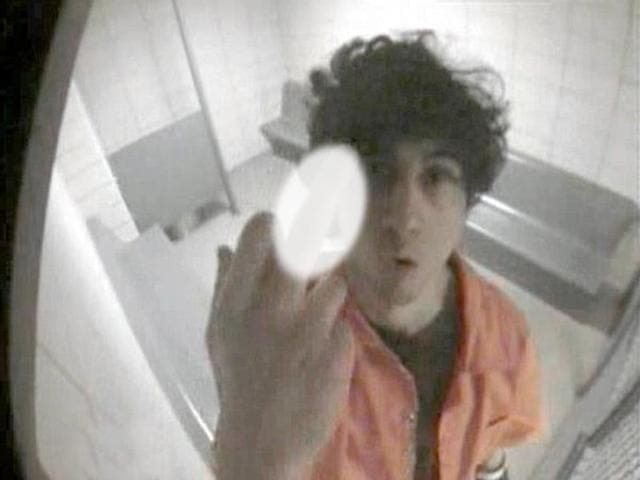 Boston bomber Dzhokhar Tsarnaev is lodged in America's harshest maximum security prison, compared to hell on earth by former wardens and rights activists, until his transfer to death row.
The former college student is locked up at least 22 hours a day alongside some of the world's most dangerous criminals and convicted terrorists.
They include 9/11 convict Zacarias Moussaoui, would-be Times Square bomber Faisal Shahzad, "Unabomber" Ted Kaczynski, Egypt's Ramzi Yousef, who bombed the World Trade Center in 1993, and British shoe bomber Richard Reid.
Tsarnaev, register number 95079-038, was sentenced to death by a federal judge on June 24, and is on the list of prisoners at ADX Florence maintained by the Federal Bureau of Prisons.
He joins 417 male inmates in the wilds of Colorado's Rocky mountains, incarcerated in individual cells measuring seven by 12 feet (7.7 square meters) with a four foot by four inch window.
It is a punishing life of isolation in a facility dubbed the "Alcatraz of the Rockies."
Most have small television sets in their cells. But meals are eaten alone, delivered on trays through at flap at the bottom of their doors.
When they do leave, they are shackled with wrists and ankles attached to a belly chain and waist belt, and accompanied by at least two guards.
The only outdoor recreation is alone in cages, placed in a concrete yard with high walls, and a chain-metal roof that Amnesty International says gives "no view of the natural world other than sky."
An indoor alternative, again in solitary, is in a windowless room equipped with a pull-up bar.
Time out of their cells for exercise is limited to 10 hours a week, according to a July 2014 Amnesty report called "Entombed, isolation in the US federal prison system."
Read |Boston bomber Dzhokhar Tsarnaev sentenced to death: An American dream gone awry
Violates UN rules
The London-based rights organization called the conditions at ADX "unacceptably harsh" and said they "breach international standards" for the humane treatment of prisoners.
Prisoners are deprived "meaningful social interaction" for years on end and the failure to provide "suitable, daily outdoor exercise" falls short of UN minimum rules for the treatment of prisoners, the report said.
Robert Hood, a warden at ADX Florence from 2002 to 2005, has described a jail as "a clean version of hell." "It's far much worse than death," he has told American media.
The description resonates with Jamie Fellner, a specialist in US prisons who works for Human Rights Watch in New York who has visited twice.
"It's a high-tech version of hell," she told AFP.
"ADX is a modern, clean, quiet, well-run facility, you walk down the hall, it's all very shiny," she said.
All prisoners she met were strip searched before and after leaving their cell, and kept behind plexiglass the entire time.
"It is hard to communicate the intensity and relentlessness of the supervision of these people," Fellner said.
Tsarnaev will be subject to the same "special administrative measures" or SAMS that have governed his contact with the outside world since July 2013.
He will be consigned to the special "H" unit -- one of the most restricted wings of the prison.
Besides his lawyers, he can receive only limited visits from his closest relatives, again held behind transparent glass.
Read: I'm guilty, let there be no doubt: Boston bomber Dzhokhar Tsarnaev
Shocking number mentally ill
He will be allowed two telephone calls a month of 15 minutes each, a former federal prisons official Mark Bezy told his trial.
His mail will be restricted and systematically opened and read.
In 2012, Craig Haney, a University of California psychology professor, testified before Congress that "a shockingly high percentage" of the prisoners in solitary confinement were mentally ill, "often profoundly so."
A law suit "Cunningham v. Federal Bureau of Prisons" filed in 2012 also offers a grim snapshot of life at ADX.
It alleged that "many" prisoners "interminably wail, scream and bang on the walls of their cells."
Some mutilate themselves with razors, shards of glass, sharpened chicken bones, writing utensils and whatever they can obtain.
"A number swallow razor blades, nail clippers, parts of radios and televisions, broken glass, and other dangerous objects," it said.
Others converse with voices in their head, or spread feces and human waste throughout their cells, throw it at wardens and "create health hazards."
"Suicide attempts are common; many have been successful," the complaint said
Close Story
Personalise your news feed. Follow trending topics