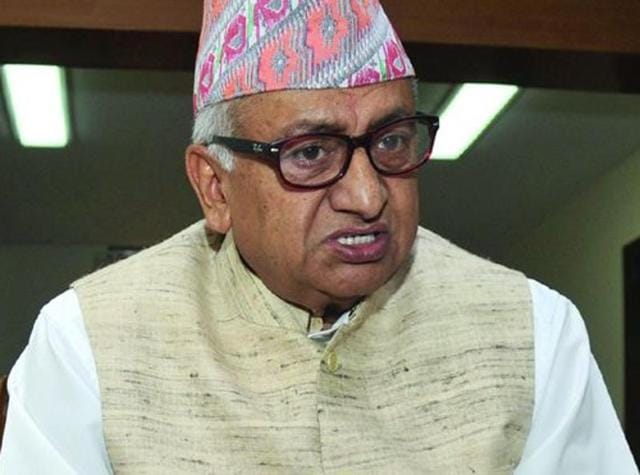 Nepal cancels president's visit to India, recalls ambassador
The Nepal government on Friday decided to recall its ambassador to India Deep Kumar Uphadhya, appointed to the position last year in April from the Nepali Congress quota, informed sources said.
UPDATED ON MAY 07, 2016 12:55 AM IST
Nepal-India ties are set to dip again as Prime Minister KP Oli's government cancelled a scheduled visit of the country's president to its southern neighbour and recalled its ambassador in New Delhi on Friday.
The developments come a day after the Oli government managed to retain the support of an ally, the Maoists, and survive a power struggle.
No official explanations were offered for the moves but Kathmandu's establishment hinted India was somehow behind efforts to topple the government and the visit was cancelled as a snub. Indian sources see this as entirely "irrational" and an effort to "deflect blame to external actors for internal churning".
President Bidya Bhandari was to arrive in India for a five-day visit on May 9, with a trip to the Kumbh Mela in Ujjain.
But on Friday morning, Oli and foreign minister Kamal Thapa decided to call off the trip. This followed a political crisis.
On Wednesday, Maoist chairman Prachanda had decided to walk out and form a government under his leadership. The opposition Nepali Congress backed Prachanda. But he changed his mind and stuck to the "Left alliance" the next day. Oli and Prachanda signed on Thursday night a new agreement that wartime cases would not be pursued against Maoists.
Oli's aides alleged the initial Maoist decision was "guided by the South" while Prachanda has rebutted accusations that his moves had Indian support.
Sources said Nepalese ambassador Deep Upadhyay told Oli that cancelling the presidential visit would not be right "at this 11th hour".
He reminded the prime minister that the Nepalese government itself had taken the initiative and sought the Indian invitation for the president. Upadhyay told Oli that since the political crisis was resolved, the visit should go ahead.
Oli was not pleased with the advice and rebuked the ambassador, who has been a Nepali Congress leader in the past.
By Friday evening, Nepal's foreign ministry recalled Upadhyay, charging him with acting without the government's approval.
Indian officials believe the government's track change was driven by domestic drivers.
They see Oli's latest moves as efforts to stir up "ultra-nationalism" again, while ignoring the remaining constitutional grievances of the Terai region.
Sources said the Indian leadership is not pleased at being dragged into Nepal's internal battles and were intrigued by Kathmandu's "unnecessary and unprovoked signals".
Close