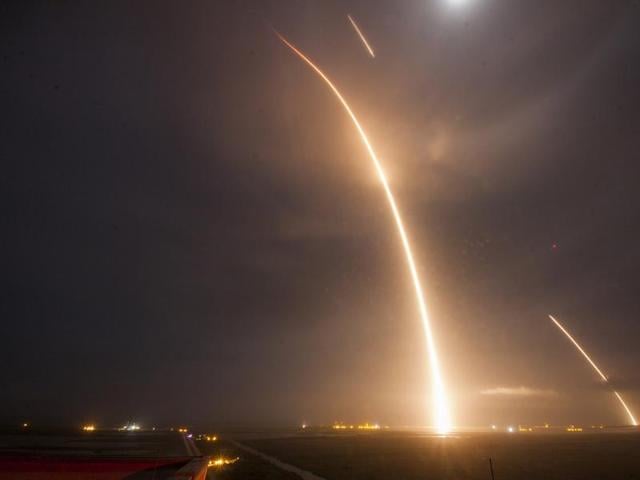 SpaceX succeeds in historic rocket launch, landing
SpaceX stuck the landing of its powerful Falcon 9 rocket Monday, in what the company hailed as a landmark success toward one day making rockets as reusable as airplanes.
UPDATED ON DEC 22, 2015 04:48 PM IST
SpaceX stuck the landing of its powerful Falcon 9 rocket Monday, in what the company hailed as a landmark success toward one day making rockets as reusable as airplanes.
Its engines burning bright orange against the dark night sky, the Falcon 9 made a graceful arc back to Earth and touched down upright at Cape Canaveral, Florida, minutes after launching a payload of satellites to orbit, video images showed.
"The Falcon has landed," a commentator said above the screams and cheers of people gathered at SpaceX headquarters in Hawthorne, California.
The event marked the first time an orbital rocket successfully achieved a controlled landing on Earth.
Watch | Space X's historic rocket launch, landing in Florida
SpaceX, headed by Internet tycoon Elon Musk, is striving to revolutionize the rocket industry, which currently loses many millions of dollars in jettisoned machinery and sophisticated rocket components after each launch.
Several attempts to land the Falcon 9's first stage on a floating ocean platform have failed -- with the rocket either colliding with the autonomous drone ship or tipping over.
But this time, video images on SpaceX's live webcast showed the tall, white portion of the rocket -- known as the first stage -- appearing to settle down firmly and stick the landing.
The rocket reached a height of 125 miles (200 kilometers) before heading back to Earth and touching down at a former US Air Force rocket and missile testing range that was last used in 1978.
Video images were cut off within seconds of the landing, and the SpaceX live webcast returned to its commentators, who described the successful deployment of the rocket's payload of 11 satellites for ORBCOMM, a global communications company.
"The Falcon first stage landing is confirmed," SpaceX wrote on Twitter.
"All 11 ORBCOMM satellites have been deployed in nominal orbits."
The US space agency Nasa also applauded the feat.
"Congratulations @SpaceX on your successful vertical landing of the first stage back on Earth!" Nasa said in a tweet.
High stakes
The stakes were high for SpaceX, which has a $1.6 billion contract with NASA to supply the astronauts living at the International Space Station over numerous back-and-forth trips with its Dragon cargo ship.
Adding to the competitive nature of the commercial space industry, Amazon founder Jeff Bezos's rocket company Blue Origin announced last month it had successfully landed its New Shepard rocket after a suborbital flight.
Analysts said SpaceX's feat would be harder to accomplish because the Falcon 9 flies higher in altitude.
SpaceX is also competing with Boeing to build crew spaceships to ferry astronauts to low-Earth orbit as early as 2017, a capacity the United States has not had since the retirement of the space shuttle program in 2011.
In the interim, the world's astronauts have paid Russia millions for rides aboard its Soyuz spacecraft.
The successful launch and landing came six months after a devastating explosion when a faulty strut -- a piece of support hardware -- was blamed for exploding the Falcon 9 about two minutes after launch, destroying hundreds of millions of dollars in cargo and equipment.
The company fixed that problem and also made the newest version of the Falcon 9 about 30% more powerful than previous iterations, Musk has said.
Close