The world is their stage: Top 10 personalities of 2014
World: Top 10 personalities 2014
world
Updated: Dec 24, 2014 15:39 IST
1. Malala Yousafzai
The Pakistani teenager became a global icon after she was shot in the head and nearly killed by the Taliban on 9 October 2012 for advocating the right to education for girls, resulting in the Taliban issuing a death threat against her.
In October 2012, a gunman shot her while she was travelling to home from school. At 17 years of age, this year, she became the youngest Nobel Peace Prize winner, jointly awarded the honour alongside the Indian campaigner Kailash Satyarthi.
Ever since Yousafzai got shot by the Taliban, her fight for human rights advocacy, for education and for women in her native region Swat Valley in the Khyber Pakhtunkhwa province of northwest Pakistan has grown into an international movement.

2. Pope Francis
Pope Francis is the reigning pope of the Catholic Church of the Vatican City. In December, 2014, the Pope stressed that the Catholic Church must help parents to stand by their gay children, thus making a powerful appeal for wider acceptance of the community.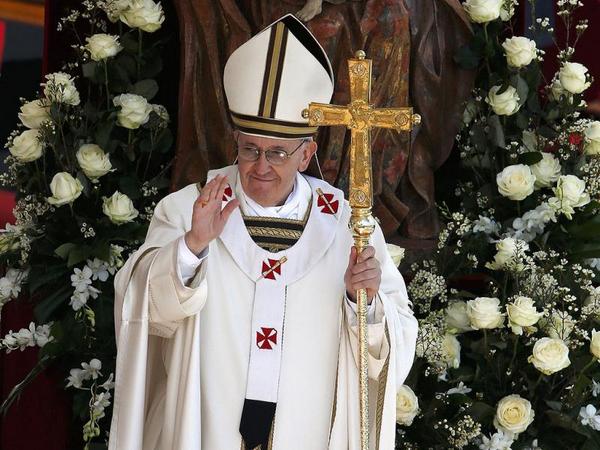 Agencies
Francis also addressed the issue of divorced Catholics, saying they were often treated as though they had been excommunicated.
Since his election in 2013, Pope Francis has launched a clean-up of the Vatican Bank, officially known as the Institute for the Works of Religion (IOR) which has long had a poor reputation, after a succession of scandals.
He has appointed a team of advisers to tackle corruption and poor administration in the Vatican and also suggested that the Curia's power - concentrated in Rome for centuries - could be diluted to some extent by giving Catholic bishops around the world a bigger say in Church doctrine.

3. Ebola fighters
Ebola has been prevelant in Africa since decades. The word noticed it in 2014 when the deadly disease hit the West and turned into an epidemic. Doctors, nurses and social workers rushed to global Africa from all parts of the world to help fight the disease, working with local doctors, ambulance drivers and burial teams.
Dr Kent Brantly, an American missionary became infected while in Liberia.
AFP Photo
In December, 2014, Time magazine named its 'Person of the Year 2014' as the healthcare workers treating the Ebola epidemic that has killed more than 6,300 people worldwide, thus honouring doctors, nurses and others fighting the spread of the deadly virus through 'tireless acts of courage and mercy'. The disease, with a fatality rate of upto 90%, emerged in Guinea in March, 2014.
HT Special | Year in review 2014

4. Jack Ma
Alibaba founder and executive chairman, Jack Ma was 2014's biggest financial gainer as Ma's fortune jumped a whopping $18.5 billion this year to $29.2 billion.
AFP Photo
As of November 2014, Ma was declared the richest man in China and 18th richest man in the world, according to the Bloomberg Billionaires Index. Ma's fortune increased 173%, largely due to Alibaba's blockbuster IPO in September and the subsequent strong performance of the company's stock.

5. Libby Lane
Libby Lane, who has been chosen by the Church of England as its first female bishop, has long been one of the most influential women in the church. Lane has been a bishop's selection adviser for 10 years, making recommendations to the church about candidates offering themselves for ordination.
AFP Photo
Lane has been dean of women in ministry for the diocese and since January 2010, a post created to reflect the growing number of Anglican women in the clergy as the prospect of women becoming bishops drew closer.
The historic consecration of the Rev Libby Lane will transform the perception of an institution that has long been considered out of touch.

6. King Felipe VI

Felipe VI succeeded as the King of Spain in June 2014 following the abdication of his father, King Juan Carlos I. Felipe VI has previously worked to support philanthropic causes and promoted international fellowship among Spanish-speaking countries.
King Felipe VI recently honored Spanish emigrants to Mexico, where he praised those 'who valiantly separate themselves from their roots and loved ones in search of new opportunities,' saying that Spanish emigrants deserved 'all the respect, admiration and appreciation' due to them.

7. Ashraf Ghani
Ashraf Ghani Ahmadzai, a former anthropologist, is the current Afghanistani president. He was elected as the president of Afghanistan in September 2014.
Ghani has previously worked with the World Bank. As the finance minister of Afghanistan between July 2002 and December 2004, he led Afghanistan's attempted economic recovery after the collapse of the Taliban government.
Much like his predecessor Hamid Karzai, Afghan President Ashraf Ghani has begun his tenure with a serious effort to mend fences with Pakistan, where relations between the two countries have been marred by mistrust and hostility.
On his maiden trip to Pakistan as head of state, Ghani's first port of call was the Army GHQ, where substantive discussions were held, not in Islamabad, from where the lameduck civilian government operates.



8. Matteo Renzi
Matteo Renzi is an Italian politician who was elected Italy's Prime Minister in February 2014, president of the council of the European Union in July 2014 and the secretary of the Democratic Party in December 2013.
At the age of 39, Renzi overtook Benito Mussolini's record as the youngest person to become Prime Minister of Italy since unification in 1861. He is also the first to be elected Prime Minister as a mayor.
9. Joshua Wong
Joshua Wong Chi-fung, a Hong Kong student activist, is the convenor and founder of the Hong Kong student activist group Scholarism.
At 18, he is one of the faces of the pro-democracy movement that swept Hong Kong this year in defiance of the Chinese leadership. The 'umbrella revolution' appears to have been halted or at least interrupted. But Joshua Wong and other leaders believe their demands for true democracy can no longer be ignored.
Wong was named as one of TIME's Most Influential Teens of 2014 and nominated for TIME's Person of the Year 2014.
AFP Photo

10. Robert Alan Eustace
Robert Alan Eustace, an American computer scientist and the senior vice president of Knowledge at Google holds the world record for the highest-altitude free fall jump since October 2014.
Eustace jumped from over 130,000 feet in a specially designed spacesuit, beating the mark set by the Austrian Felix Baumgartner in 2012. Eustace hit a top speed of 822mph during a freefall that lasted four-and-a-half minutes.
First Published: Dec 22, 2014 21:17 IST