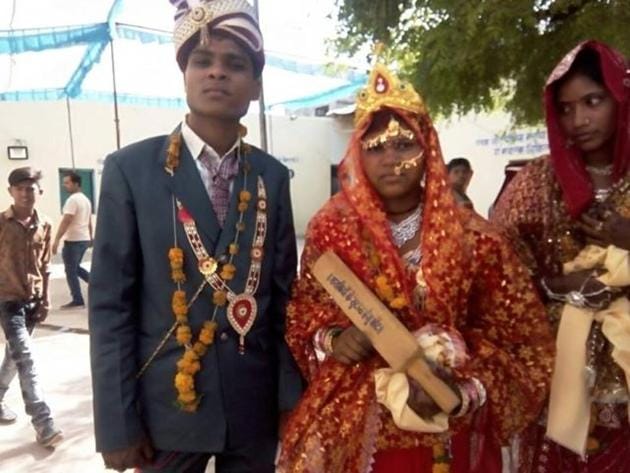 Arming women with bats to beat up alcoholics is a bizarre idea
If Madhya Pradesh minister Gopal Bhargava really wants to empower his women constituents, he would be well advised to arm them with education and employment opportunities
UPDATED ON MAY 03, 2017 12:55 PM IST
Marriages could be made in heaven but they don't take long slipping into the quicksand of matrimonial hell if the spouse hits the bottle and begins targeting his better half. To ensure that marital bliss among couples in his constituency lasts in letter and in spirit, a member of Shivraj Singh Chauhan's council of ministers organised a mass marriage ceremony on Akshaya Tritiya in Madhya Pradesh's Sagar district last week. On the auspicious occasion, he distributed traditional bats (mojris) to 700 brides with some thoughtful advice: Use it on your husband if the turns alcoholic.
Gopal Bhargava, state minister of panchayati raj and rural development, made sure the messages were inscribed loud and clear on the traditional laundry bats used to thrash the grime out of dirty clothes: 'A gift to be used for bashing drunkards' and 'The police won't intervene!"
The minister's intentions appear to be noble: "Whenever I visit any rural or urban area in my constituency, women complain about their husband's drinking habit. They inform me that whatever little they earn is snatched away by their husband for alcohol. They (women) are also subjected to physical violence," Bhargava told a wire service. "Women say whenever their husbands get drunk they become violent. Their savings are taken away and splurged on liquor. There is no intent to provoke women or instigate them to violence but the bat is to prevent violence," he added.
Bhargava doesn't appear to be wide off the mark when it comes to attitudes about women. According to the World Health Organisation, around 30% of women around the world report experiencing violence from their partner. Strong links have been found between alcohol use and the occurrence of intimate partner violence in many countries. Studies suggest that alcohol use increases the occurrence and severity of domestic violence.
Ten cases of cruelty by husband and relatives are reported every hour across the country, according to a 2015 report by the Ministry of Statistics and Programme Implementation. This could be the proverbial tip of the iceberg. In a 2015 article on domestic violence in India, Claire Snell-Rood, a medical anthropologist at the Department of Behavioural Science with the University of Kentucky, noted that 75-86% of women do not disclose that they are victims of abuse by their families. Sale of illegal liquor is a major concern in Madhya Pradesh, like most other states in the country. Bihar chief minister Nitish Kumar has repeatedly claimed that prohibition has brought the crime rate down in the state.
Still, arming the women with hockey sticks, or baseball bats, or in this case, laundry bats to prevent domestic violence by their drunkard husbands could prove to be counter-productive. The spectre of their wives turning into vigilante Gulabi gangsters and delivering instant justice might make some men think twice about moderating their alcohol intake, but it might also spur other irascible men to snatch that bat and bash their better halves into submission.
If Bhargava really wants to empower his women constituents he would be well advised to arm them with education and employment opportunities. Surely, persuading their husbands to give up the bottle would appear to be a better tactic than coercion and taking the law, in this case, a laundry bat, in their own hands.
Close