Capital loss: Delhi has become a dying city
Updated on Jul 07, 2018 07:20 PM IST
Even as wealthy citizens of NCR shrink further away from this uninhabitable mess, behind gated condominiums, face masks, generator sets and water tankers, India's Capital is collapsing – in every way possible.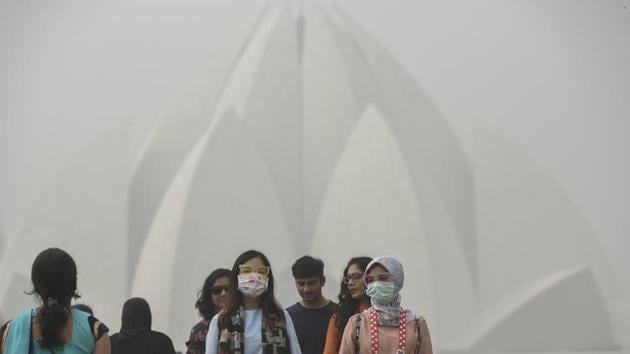 In the mid-eighties, Rajiv Gandhi created a storm by calling Calcutta a dying city. He was, of course, spot on but proud Bengalis took great umbrage at this. Now, it is time to call out our national capital, Delhi as exactly that - a dying city. Even as wealthy citizens of the national capital region (NCR) shrink further away from this uninhabitable mess, behind gated condominiums, face masks, generator sets and water tankers, Delhi is collapsing – in every way possible.
The most recent flashpoint is the felling of 17,000 trees which the Delhi High court has stayed, for now. This is significant as air quality is no longer a 'winter' problem for the city. Last month, Delhi recorded days of the worst air quality it has ever had; prompting the Guardian newspaper to publish a report pointing out that half of Delhi's school children had stunted lung development and would never completely recover. Delhi is no place to bring up a child.
It is worse for the elderly. As winter fades every year, alarm bells start ringing as the city prepares for the onslaught of mosquito borne diseases. This is no longer a monsoon issue either. From April to December, a swarm of deadly ailments such as Dengue, Chikangunya and Malaria reach epidemic proportions, which the city's medical infrastructure simply cannot handle. Sights of lines of tents outside big hospitals to house the afflicted are quite common. They call it the mosquito industry.
Well, nor is the capital any place for women. A recent gender vulnerability Index constructed by Plan India, ranks Delhi as the third worst place for women's safety in the country, after Bihar and UP. Any woman who has to use the city's public transport is aware of this ugly fact.
The city's infrastructure is collapsing. This summer, there were repeated power cuts in many parts as Delhi was crippled by acute coal shortage. Very soon, even Delhi will become a Gurugram which runs, almost permanently, on generators.
A water crisis has been looming for many years and now it has reached an unimaginable scale. In summer, even South Delhi colonies such as South Extension 2 and Vasant Kunj survive on purchased tanker water. In areas like Sangam Vihar and Wazirpur, water is controlled by the tanker mafia and there are reports of gang wars and water killings. This is an image of a dystopian banana republic in Sub-Saharan Africa, not the capital of the fastest growing economy in the world, is it?
As the city crumbles around its residents, the political leadership cannot, or will not, do anything about it as it remains locked in a bitter ego tussle. The ruling Aam Aadmi Party and the Bharatiya Janata Party hate the sight of each other and quarrel publicly like schoolchildren - each's priority to show the other in worse light to score political points, even as the city goes to the dogs. This may linger, the recent Supreme Court judgement notwithstanding.
The world is watching. Travel advisories against air quality have become common and tourists have started avoiding Delhi in winter. For expats, Delhi is now a 'punishment' posting; no one wants to bring a family to this dreadful mess.
In another country, people would have taken to the streets by now. But as citizens sorely lacking any sense of collective civic good, we think money can shield us from these problems. We can buy power, water, stay behind gates and drive in large cars where the tentacles of the city cannot reach us. Little realising that the poison is in the very air we breathe. Even the ones who have to negotiate the city in its brutal form, obfuscate reality with sentimentalism. In Mumbai, when the city drowns after rains and people die in potholes, they speak about the 'spirit of Mumbai'. And in Delhi, they even compose songs which go - 'Delhi, meri jaan'. Amusing.
Delhi does not deserve to be India's capital. Or in a perverse way, it does, as it so beautifully reflects every wart of this glorious nation. And now they are fighting to make it a state. They shouldn't bother. It already is – in quite a state.
Udayan Mukherjee is consulting editor, CNBC TV18
The views expressed are personal
Personalise your news feed. Follow trending topics