Discrimination, being North-eastern and 'Indian-ness'
Published on Aug 11, 2017 09:49 AM IST
One of the ways to fight discrimination is to implement laws to deal with harm and injustice. But we have to go beyond laws, by influencing that most difficult and sensitive of tools: The human mind.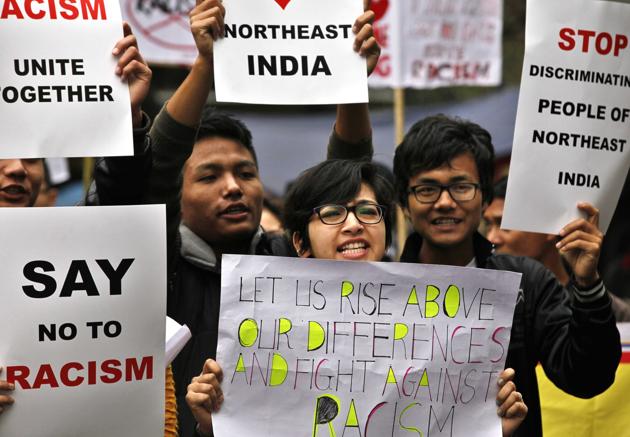 Being Indian is no easy task. We cannot be guided by one view of India, or how an Indian should look, what he or she should or should not eat or dress or behave. We need to move towards a more inclusive society and sense of community.
This is a matter that many are being forced to look at anew and rethink as thousands of people from the Northeast Region (no one seem to have an exact figure and this is an area which calls for good research), an unconfirmed figure that I have seen is 30,000 to 35,000 ), many of them from the most populous state of Assam, move every year outside the Northeast Region (NER) in search of jobs, better lives, opportunities and education.
The most visible — and it's easy to create another stereotype of this group — are those who work in the hospitality industry such restaurants and hotels, salons or at malls as shop assistants and supervisors.
Young people from the Northeast however lead the way in sporting disciplines such as boxing, high-skill group activities like football or lead the way in music. Take any major football team in India — players from the region would compose certainly a handful. We could regard this as a resource drain — Individuals from the region migrate for better opportunities, divesting the region from their economic contribution. But I see it as part of a larger picture of internal migration and social change.
Across India, they hold a range of jobs, from the basic to high-level positions, seeking education, conducting research, teaching, working in government, as entrepreneurs, lawyers and in other professions.
It takes great courage to do what they are doing. Whereas some from an earlier generation staunchly opposed the idea of India and held onto an impossible dream of freedom and separation, many younger people these days are engaging with the Idea of India and reshaping it to their comfort and conviction.
We need to recognise this phenomenon. They may not have embraced 'Indianness' as much as people in other parts of the country. But they are engaging with it every day of their lives in metros and other locations, even at low, medium or even high risk to their dignity and safety. The most vulnerable are women, who face molestation, harassment and verbal abuse.
Many continue to face the bitter sting of discrimination. It has everything to do with appearance. I haven't faced it so far. But others have. What is important to recognise now is that instead of quietly accepting the humiliation and nastiness heaped on them, younger people are courageously fighting back, resisting, forcing governments, employers, institutions and other civil society groups to take cognisance.
We cannot also close our eyes to the fact that there are many incidents of discrimination in the North-east. Those who face it as the 'other' here are mainlanders or part of the mukhya dhara, the ubiquitous mainstream: Traders, workers, professionals and students. There has been abuse and attacks just as many from the region have faced similar problems outside of it.These experiences across the board underline the urgency to developing a new law against race and hate crimes, as the MP Bezbaruah committee urged last year.
We may recall the 2012 exodus from Bangalore of individuals from the Northeast, fearful of rumours of impending attacks. More than 30,000 individuals were said to have left the city. But what the media did not report and we did not get to know till much later was that many more stayed behind. And of those who left, many returned. Because they were largely white collar workers who needed the jobs to sustain families and livelihoods. That's why they did not want to stay home — they needed to go back and earn.
People vote with their feet; our children teach us: we have to listen and hear. We are saying to Delhi's face: We are here, we're here to stay, whether you like it or not. The nazar is either way and it doesn't have to be a buri nazar!
Strangers have become migrants; they have become neighbours. They've even become colleagues. But have they understood each other, have they moved towards friendship?
This won't happen with economic or political sops. One of the ways is to fiercely implement laws to deal with harm and injustice. But we have to go beyond laws, by influencing that most difficult and sensitive of tools: the human mind. This can happen by using multiple strategies: Curricula changes, sensitising mohalla and RWA groups, training police and administrators, MPs and political leaders.
Another is to develop incubation centres where, to start with, students of the region who plan to study and live in metros, get an orientation of and introduction to the cultures and society they will be inhabiting. Too often, we still hear of those who are caught unawares and come to harm.
The process of building goodwill and understanding remains a work in progress.
*Based on a talk at the Nehru Memorial Museum and Library, New Delhi, July 18 , 2017
Sanjoy Hazarika is director, Commonwealth Human Rights Initiative
The views expressed are personal
Personalise your news feed. Follow trending topics