India has to prepare better to fight natural disasters
Having better information ahead of time, we should invest in disaster risk reduction to involve government agencies, businesses, public bodies and specialists.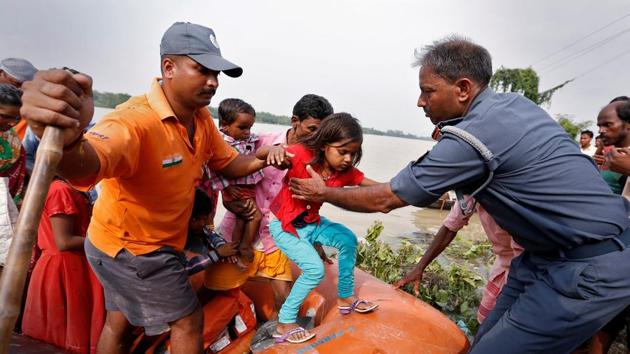 Updated on Sep 20, 2017 07:46 AM IST
Over the last couple of months, storms, hurricanes and floods have pummelled many parts of the world. As I write this, the US is just recovering from Harvey that paralysed Houston and has been hit again in Florida by Irma — both causing devastation back to back. India, along with Nepal and Bangladesh, has experienced a deluge that is unprecedented in the last several decades. Currently, there are six states and more than 42 million people affected by floods and more than 1000 dead. Millions have been displaced and almost 2 million children cannot access school. The floods have also caused huge damage to agricultural land, livestock and infrastructure.
The intensity and frequency of these events have been increasing. In the last couple of years we have also seen many of our cities severely flooded, the latest being Mumbai which received 300 millimeters of rain in less than 12 hours. Ahmedabad, Chandigarh, Bangalore and Chennai all received torrential downpours many times over their normal range. Though one would think this has been the wettest summer, the monsoon is running 3% short of the expected rainfall.
When the earth receives such a quantity of water in a relatively short span of time — if the receiving location has lost its water-absorbing green cover and sponges, mangroves, lakes that would have held larger waters — our cities along with Houston or the state of Florida become sitting ducks. This should worry India since we are urbanising and moving from an agrarian economy to a GDP dependent mainly on industries and services.
Meeting officers in some of the worst flood-affected areas of Bihar last week, I felt that there was an effort to downplay the impact of the floods and even undercount the number of deaths. The cardinal principle for an adequate response to disaster is that we get the right information early. It is important to get the exact status for the government as well as other humanitarian agencies to respond.
Also, since floods have become a chronic affair, media interest wanes as soon as the water levels start receding. Actually this is when we want the government, the media and the donors to focus on the post-rehabilitation phase. It is all forgotten until it reappears in its next annual appearance, possibly with even lesser interest.
In Houston, when Harvey affected around 6.8 million people causing around 60 deaths and severe infrastructural damage, there was an immediate allocation of 8 billion dollars (Rs 52,000 crore) by the US Government. So far, our government has committed about Rs 3,000 crore for a disaster several times the size of Houston.
We have to act now with purpose if we have to protect our country from the onslaughts of increased changes in its weather and the freakiness of it. We have to prepare our communities to face these disasters by the use of technology and having better information ahead of time. For this, we should invest in disaster risk reduction across high-risk geographies, involving government agencies, businesses, public bodies and specialists.
Thomas Chandy is the CEO of Save the Children in India.
The views expressed are personal
Close Story
Personalise your news feed. Follow trending topics