Modi's Israel visit: Defence and fighting terror are pillars of bilateral ties
Jul 03, 2017 11:40 PM IST
While maintaining its principles, India's interests lie in securing bilateral cooperation for its own gains. Prime Minister Narendra Modi's visit to Israel, the first by any Indian prime minister, is another firm step in that direction
Prime Minister Narendra Modi's visit to Israel from July 4-6 is a significant milestone. It is the first-ever visit of an Indian Prime Minister, and takes place as the two countries mark 25 years of establishment of diplomatic relations. President Pranab Mukherjee's visit, in October 2015, had been the first ever visit by an Indian President. The timelines clearly indicate that the reticence on high level visits to Israel is gradually changing. Israeli presidents and prime ministers have visited India before.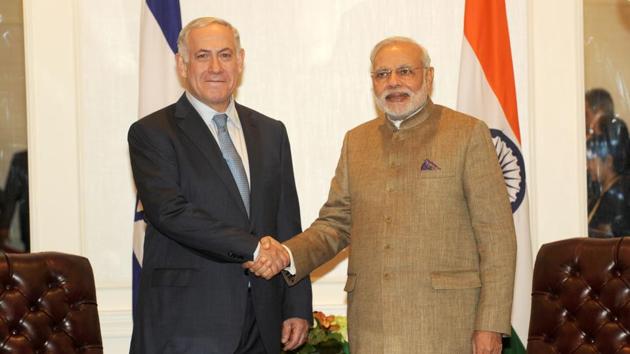 A recognition of the multidimensional depth and history of interactions, through phases in Jewish and Israeli history, has often been lost in the clamour of West Asian and domestic politics.
Stay tuned with breaking news on HT Channel on Facebook.
Join Now
Jewish communities have been in India for more than two thousand years. Representatives of Indian origin diaspora in Israel and Israeli leaders would often mention to me with pride and gratitude that India was among the few countries in the world where there was no anti- Semitism. During the second world war, several thousand Jewish refugees, escaping the Holocaust in Europe, were in India for some years before moving on to Israel. Members of the Jewish faith in India acquired acclaim in several fields, including art, films, philanthropy, armed forces etc. when the faith was discriminated against elsewhere. The nearly 80, 000 strong Indian origin diaspora in Israel celebrates its link with India, unlike many other Jewish communities there who severe links with countries from where they felt a compulsion to leave. Indian food and entertainment remains its mainstay, and the Indian ambassador often among the chief guests at major events.
Although diplomatic relations were established only in 1992, exchanges and interactions had taken place earlier, with India having recognised the State of Israel in 1950. The Jewish Agency, followed by an Israeli trade office and then an Israeli consulate had operated from Mumbai. Indian diamond traders had been present at the bourse in Tel Aviv. There have been reports in the media of Israel being helpful during the 1971 conflict.
Relations have deepened considerably since 1992. Overall bilateral trade, which was US $ 200 million then, has been in the range of $4-5 billion over the past few years. Starting with trade in diamonds, it has now diversified to pharmaceuticals, agriculture, IT, telecom, homeland security, chemicals, textiles, machinery and transport equipment.
There have also been important investment flows in both directions. During many of my promotional interactions, I would often compare Israel's total population of 7 million with the then more than 7 million per month expansion in India of mobile phone users. Israeli companies, with their acknowledged strengths in technology and products, would clearly benefit from Indian partnership as they sought to scale up for markets or production. Israeli companies have invested in India in renewable energy, telecom, water technologies, and R&D. Indian companies have invested in Israel in drip irrigation, pharmaceuticals, waste water treatment. Given Israel's strengths in innovation and its having, despite its small population base, the second largest number of start ups in the world (after US), Indian companies have also taken stake in such ventures and in R&D. The two governments have worked to finance and promote scientific collaborations, and Indian companies are now beginning to partner with Israeli universities and scientific institutes for development and commercialisation of technologies.
Defence and homeland security have also been among the critical pillars of the relationship. The regular exchanges of senior leadership in this field, the purchase of critical equipment and co-development of technology are a reflection of high-level mutual confidence. Israel is seen as a reliable partner.
Despite the history of positive engagement and multifaceted current interactions, India's efforts to develop the Israel relationship have been critically scrutinised by constituencies both in India and outside. This has been on account of nature of India's own struggle for independence when our leaders supported a multi-religious secular State, and voted at the UN against establishment of Israel on basis of religion. Facts on ground and UN decision led to our recognising Israel in 1950. Domestic concerns in India, following partition in 1947, slowed down full normalisation, and it was pushed back further when Israel was seen as having joined former colonial powers UK and France in an attack on Egypt in 1956 aimed at thwarting the nationalisation of the Suez Canal. There has also been principled support in India on the Palestine issue, and India recognised the Palestinian State in 1988. India also has critical interests in the Arab world with the presence of a 7 million strong diaspora, significant energy imports and remittances of foreign exchange.
Every country pursues its foreign policy to maximise its own national interests. Egypt and Jordan have peace treaties with Israel. Qatar had hosted an Israeli trade office for many years. There have been reports of contacts and back channel links between several Arab countries and Israel. The Palestinian leadership, despite disagreements and disappointments, also engages periodically in talks. It is clear, therefore, that India's interests lie, while maintaining its principles, in securing bilateral cooperation for its own interests. Prime Minister Narendra Modi's visit to Israel at this stage is another firm step in that direction.
Arun K Singh is a former ambassador to the United States and Israel
The views expressed are personal