Modi's Sri Lanka visit reflects growing ties, but issues like China, TN fishermen remain
Prime Minister Narendra Modi's two-day Sri Lanka visit is a sign of the growing bilateral ties but closely watched will be whether Modi discusses with Sirisena or Wickremesinghe the issue of Tamil Nadu fishermen and China's role in the region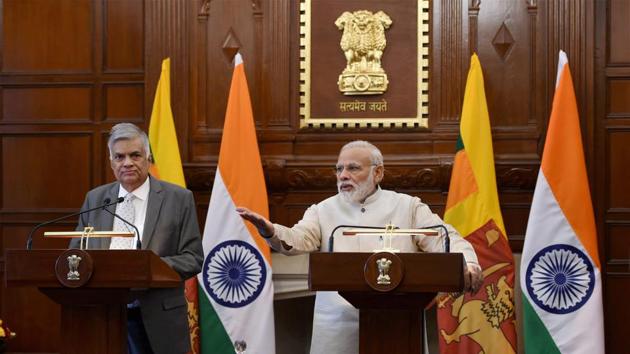 Updated on May 11, 2017 02:42 PM IST
Prime Minister Narendra Modi's two-day visit to Sri Lanka starts today and it is expected to further strengthen New Delhi-Colombo ties. Bilateral ties have been on an upswing, especially after Maithripala Sririsena was elected Sri Lanka's president in January 2015 defeating Mahinda Rajapaksa whose pro-China tilt was watched with disquiet by South Block.
This visit will be Modi's second since he became prime minister in 2014; the earlier one being March 2015, which was the first stand alone visit by an Indian PM in 28 years. The four pacts signed then, including one on customs, showed that as far as ties with Colombo were concerned the foot was on the pedal
Modi, who has been invited by Sirisena, will be the chief guest at the International Vesak (Buddha purnima) Day celebrations, which will be attended by leaders from various countries. It is the first time Sri Lanka is hosting this UN-recognised international celebration and the theme this year is: Buddhist teachings for social justice and sustainable world peace.
"Prime minister's visit....assumes significance because this is a reflection of our shared Buddhist heritage which is spanning centuries and this also reflects the importance we attach to the ties with Sri Lanka," Sanjay Panda, joint secretary, Indian Ocean Region, MEA, said in a briefing on Wednesday.
Modi will take part in a lamp-lighting ceremony at the famous Gangaramaya Buddhist Temple in Colombo. Modi will also visit the hill country region where the tea estates are situated and will be the first Indian PM to do so. He will inaugurate a 150-bed multi-speciality hospital in Dickoya. This part of the visit will be of particular interest back home because the tea estates have a high number of Sri Lankan Tamils who have strong ancestral ties with the people in Tamil Nadu.
It is unlikely that there will be formal announcements or bilateral pacts; however, the visit will be closely watched for its political undertones.
The issue of Eelam Tamils is integral to regional parties in Tamil Nadu, but it's a sentiment that is often not shared by New Delhi. Dravidian parties, in general, take a hawkish stand against Colombo for its treatment meted out towards Eelam Tamils and because of the frequent arrests of Tamil Nadu fishermen. Many leaders have already asked Modi to take up the fishermen issue with Colombo. Coalition governments at the Centre have had to walk the tightrope because of this, leading to criticism that domestic political considerations are jeopardising India's ties with its neighbours. Parts of Modi's visit will be viewed through this prism.
The two-day visit will reflect the "qualitative transformation" in bilateral ties that have worked in India's favour and it has helped, to a certain extent, to check Beijing's ambitions in the island nation. Sri Lankan Prime Minister Ranil Wickremesinghe's April visit saw the signing of an MoU on economic cooperation between the two nations.
Under Modi there has been a concerted "neighbourhood first" push which has had mixed results. April which saw the visits of three leaders from neighbouring countries was an example of the positive results of this push. Bangladesh PM Sheikh Hasina's visit was followed by a five-day visit by Nepal President Bidya Devi Bhandari; the third was Wickremesinghe's four-day visit.
Modi's visit is a sign of the growing bilateral ties but closely watched will be whether Modi discusses with Sirisena or Wickremesinghe the issue of Tamil Nadu fishermen and China's role in the region.
@VijuCherian
Close Story
Personalise your news feed. Follow trending topics