No alternative? SP seniors know Mulayam Singh Yadav won't disown Akhilesh
As the Shivpal-Akhilesh rift divides Samajwadi Party, senior SP leaders find solace in silence even after long deliberations in all relevant political quarters.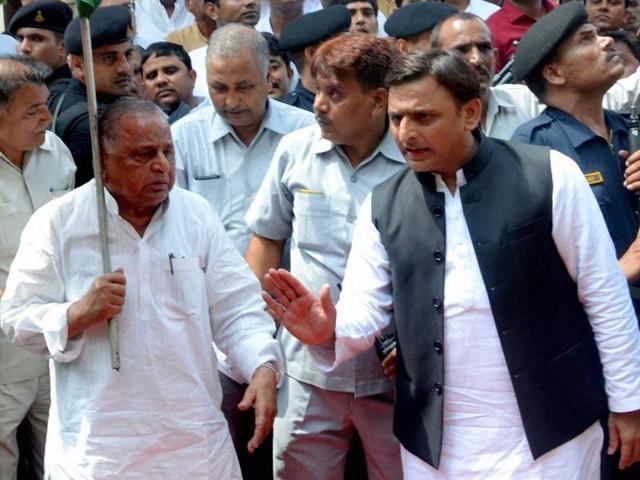 Updated on Oct 27, 2016 09:10 AM IST
"I will be known after my death." That quote ('Mujhe jaanoge mere marne ke baad') by late socialist icon Ram Manohar Lohia is now being attributed to shrewd Mulayam Singh Yadav by his Samajwadi Party workers as well as old guards, who are finding it difficult to understand the real game plan of their 'netaji'.
As speculations fly thick and fast, senior SP leaders find solace in silence even after long deliberations in all relevant political quarters.
Party MP Reoti Raman Singh has a brief answer to the prolonged and widespread confusion in the party: Everything will be amicably resolved within a few days. According to him, Akhilesh Yadav will be the chief ministerial face for the 2017 polls, as the party has "no alternative".
While refusing to share more than this, he indicated that Mulayam along with his son Akhilesh will have a major share in seat distribution, though this may not be made official.
Read | Yadav family feud: Shivpal hints at 'grand alliance' for UP polls
Incidentally, Mulayam had stopped short of announcing Akhilesh as the CM face when grilled by newspersons on Tuesday. "He is CM today, does anyone have any objection?" he had said looking at the leaders sharing dais with him, including his brother Shivpal Singh Yadav, who had wanted Mulayam to take charge two months ahead of the elections. Instead, Mulayam made it clear that re-induction of sacked ministers will be the CM's prerogative, though till now all major decisions have been taken by the patriarch.
Although Mulayam insisted that legislators elect their own leader in a democratic set-up, the fact is the 76-year-old leader had faced tougher time in handing over the baton to Akhilesh the first time in 2012. Shivpal and other senior leaders had opposed it tooth and nail. Much drama preceded the swearing-in ceremony at Yadav home, while youth leaders were demanding to make Akhilesh the CM.
Today, when Akhilesh, 43, has emerged as the most attractive face in the state and he has the support of veteran Azam Khan, who played truant in 2012. Thus, Akhilesh's projection as the party's face is said to be a matter of time. Even the grand alliance will have no qualms in projecting him as the CM face though Ajit Singh's RLD may bargain for Jayant Chaudhury as the deputy CM. The third partner JD(U) doesn't have much stake in UP.
Read | The Yadavs of Uttar Pradesh: Taking a look at India's biggest political family
Senior leader Beni Prasad Verma refuses to engage in any dialogue on the family feud. "I am deeply hurt by the developments. I have fallen sick, but bhateje (he fondly calls Akhilesh his nephew) ke hi chalegi," he said. "Even when he had travelled to the Congress, he had openly praised Akhilesh while railing at Mulayam."
Generally in UP's rural areas, the elder son is considered to be the real heir of business or political power. Akhilesh had also told the MLAs that "I am the real uttradhikari" (inheritor of the party).
A senior SP leader, on condition of anonymity, said a father will never disown his son. "Netaji may pull him up publicly, but he will also clear the obstacles that will come in way of handing over the party to Akhilesh." However Mulayam's emotional dilemma is that he is very close to his younger brother Shivpal and obliged to his contribution in raising the party. But, in the words of another senior leader, "So was he with Prof Ram Gopal Yadav, who was shown the door without even a show-cause notice."
It appears Mulayam does not want to rock the boat three months ahead of the state assembly polls.
As political uncertainty continues, most senior SP leaders take shelter in silence. Even those who always had their ammunition ready against Amar Singh, primarily because of his closeness with party president Mulayam, are refraining from taking the name of the 60-year-old who returned to the SP after six years.
Why? Elections are round the corner and they all need tickets for themselves or their family members. Knowing that the final distribution of tickets for the assembly polls will be given by none other than Mulayam, they have opted for silence even when Akhilesh accused Amar Singh of conspiring to remove him as CM.
Read | Yadav family feud: Damage irreversible, now SP govt at stake
Barring Ramgopal, the SP national general secretary, no one had the guts to join Akhilesh's tirade against Singh, though SP workers, mostly Akhilesh supporters, burnt Singh's effigies on the streets. Recently, Ramgopal, who is a cousin of Mulayam, expelled from the party for six years.
Singh has maintained a studied silence and so far stayed away from the state capital. Despite Mulayam's abundant love for him, Singh may have to face protests as and when he would visit Lucknow. In his defence, he has been insisting that he would never harm or hurt Netaji's CM son.
A senior leader said, "Who would oppose Amar Singh after Mulayam's declaring him as his younger brother!"
However, the scenario was different in 2010 when Singh was sacked. He was held responsible for the defeat of Akhilesh's wife Dimple Yadav in Ferozabad in a 2009 by-poll.
Mulayam had removed Singh in 2010, but with a heavy heart. Now many in the party are accepting him with a heavy heart.
Views expressed by the author are personal.
Close Story