Pakistan's nuclear program threatens the world, not just India
Updated on Nov 06, 2015 07:45 PM IST
Pakistan's nuclear programme is a danger to world security. The US should know this while it contemplates a deal, writes Shyam Saran.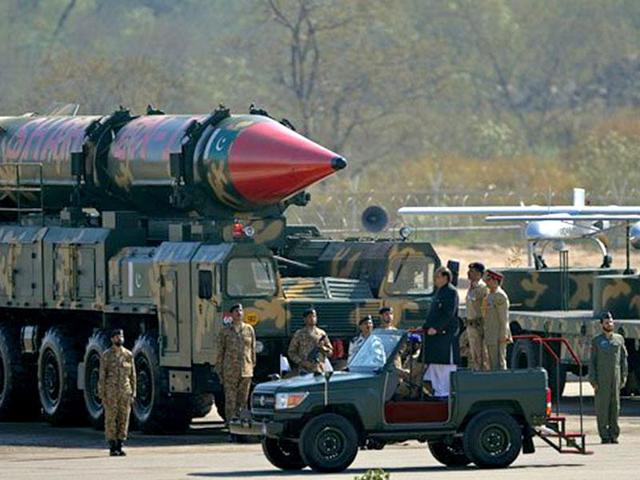 On the eve of Pakistan Prime Minister Nawaz Sharif's visit to Washington and his summit meeting with United States President Barack Obama on October 23, there were two noteworthy developments: One, senior US journalist David Ignatius, who often reflects thinking within the US administration, reported that Washington was contemplating an offer of a civil nuclear deal to Islamabad, similar to the India-US nuclear deal. The US, he said, may also sponsor Pakistan's membership of the Nuclear Supplies' Group. Pakistan, in return, would have to accept unspecified restraints on its rapidly expanding nuclear weapons programme.
Two, Pakistan's foreign secretary Aizaz Chaudhary confirmed on October 22 that Pakistan has developed tactical nuclear weapons of low yield as a deterrent against an invasion by the Indian Army. He spoke of Pakistan's acquisition of "full spectrum deterrence" capability to deter threats at every conceivable level. He claimed that this posture was consistent with credible minimum deterrence. Finally, he described Pakistan's nuclear programme as "one-dimensional": To stop Indian aggression before it happens.
Though both Pakistan and US official sources denied that a US-Pakistan nuclear deal was in the offing, the two developments are related. Pakistan pronouncements were aimed at the US and sought to convey that it would not accept a nuclear deal which did not have the exact same template as the India-US nuclear deal. Pakistan would insist on parity with India and reject conditions that had not been imposed on India.
Let's consider the terms on which the US may have offered a nuclear deal to Pakistan, including NSG membership. In a study released by the Stimson Center earlier this year entitled 'A Normal Nuclear Pakistan', US nuclear experts Michael Krepon and Toby Dalton enumerated the following possible conditions: One, shift declaratory policy from 'full spectrum' to strategic deterrence; two, commit to recessed deterrence posture and limit the production of short-range delivery vehicles and tactical nuclear weapons; three, lift Pakistan's veto on Fissile Material Cut-Off Treaty negotiations and reduce or stop fissile material production; four, separate civilian and military facilities, and; five, sign the Comprehensive Test Ban Treaty without waiting for India.
If the study reflects thinking within the US administration, then as an opening gambit in negotiations, these conditions are exceptionally mild and accommodating, given Pakistan's record on proliferation and its pursuit of a substantial and diversified nuclear arsenal and delivery capability. For example, there is no expectation that Pakistan, like India, should commit itself to a no-first use pledge, nor limit its production and deployment of nuclear weapons and delivery vehicles outside the category of TNWs. It may, on the basis of parity with India, accept the fourth and the third conditions partially (since it is unlikely to reduce or stop fissile material production).
Would the US acquiesce to Pakistan demands? The danger is that the US may treat this issue in transactional terms. It may believe that a nuclear deal may be a tempting enough prize to extract Pakistani support on an Afghan government-Taliban peace deal, which could enable the US to exit with some positive outcome, even if that proves temporary. The sop to India would be that Chinese opposition to India's entry into the NSG would be overcome, if Pakistan too could gain membership. But this would also legitimise the substantial Chinese assistance to Pakistan's nuclear programme, which is currently in violation of the NSG guidelines.
The US would be making a serious error with significant and adverse long-term consequences if it continues to pursue this initiative. While Chaudhary claims that the country's nuclear programme is unidimensional, directed only against India, the reality is different. Pakistan has long harboured fears that the US may in a future crisis seek to take out and disable Pakistan's nuclear weapons.
These fears have been exacerbated by the 2011 Abbottabad operation, which eliminated Osama bin Laden. Pakistan has sought to increase the number of its weapons, the varieties of its delivery vehicles and produce more miniaturised weapons to enable a wide dispersal and better camouflage. One should also not lose sight of Pakistan's history of nuclear proliferation support to other Islamic states. There have been credible reports of a secret Saudi-Pakistan agreement, enabling the kingdom's access to Pakistani nuclear weapons if faced with a grave security threat. To argue that Pakistan's nuclear programme is unidimensionally targeted towards India is nothing more than rhetorical deflection.
The US may find it convenient to buy into this rhetoric because accepting the reality would require revising its approach to Pakistan's nuclear programme from benign tolerance to robust constraint. We may end up with a nuclear equivalent of what has been witnessed in Afghanistan — the US supplying funds and weapons to Pakistan that have been used to kill American soldiers in that country.
Should India revise its nuclear doctrine in the light of Pakistan's deployment of tactical nuclear weapons? Unlike Pakistan, India considers its nuclear weapons as a deterrent against nuclear attacks and they are not Pakistan-specific. The label on a nuclear weapon, tactical or strategic, fired against India or Indian forces makes no difference to its consequences. A nuclear exchange, at whatever level it is initiated, will inevitably result in an all-out strategic exchange. To believe that either side would, in the fog of war, be able to limit the exchange only to a theatre level is a dangerous illusion.
It would, however, be reckless for Pakistan to believe that having a nuclear deterrent, even a full spectrum one, gives it the licence to use cross-border terrorism against India, without fear of retaliation.
The US and its allies should carefully reflect whether they should encourage Pakistan in pursuing such a policy by rewarding rather than condemning its nuclear intransigence. Terrorism under a nuclear overhang is not just India's problem. It may come to haunt the international community, including the US in the future.
(Shyam Saran, a former Foreign Secretary, is currently chairman, RIS, and senior fellow, CPR. The views expressed are personal)
Close Story
Personalise your news feed. Follow trending topics