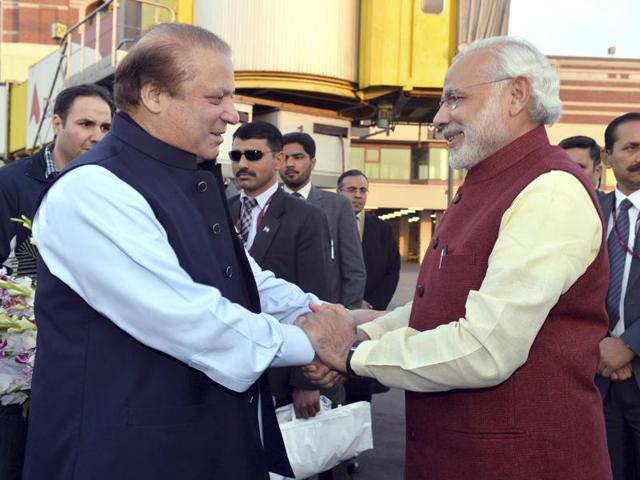 Proactive and result-oriented: Modi's unique bilateral drive
The PM has little time for diplomatic niceties. But under him, Indian diplomacy has been proactive and result-oriented, writes Shishir Gupta.
UPDATED ON DEC 29, 2015 01:18 AM IST
At 1.30 pm on December 25, Prime Minister Narendra Modi suddenly called external affairs minister Sushma Swaraj from Kabul. The PM had delivered an emotional speech in the Afghan Parliament to a standing ovation with President Ashraf Ghani and his predecessor Hamid Karzai later lauding Modi for its rich content. The PM told Swaraj that he had called Pakistan Prime Minister Nawaz Sharif to wish him on his 66th birthday, only to learn that his grand-daughter was getting married. He told Swaraj that Sharif asked him to visit Lahore to break bread with him ("sukhe-sukhe kyon jaa rahen hai aap") en-route to Delhi.
Apparently, Swaraj reminded the PM that there was no preparation for his visit and even the Indian high commissioner TCA Raghavan was in Islamabad. But Modi replied that he had decided to have tea with Sharif as he believed something good was going to come out of the visit.
Cut to Kabul: Modi's private secretary Sanjeev Singla ran to inform National Security Adviser (NSA) Ajit Doval and foreign secretary S Jaishankar that they should prepare for an unscheduled stop in Lahore at 3 pm. All hell broke loose as there was a mad rush to handle the visit's logistics. Modi was accompanied by Doval and Jaishankar to Sharif's farmhouse at Raiwind, where the wedding was taking place. The other members of the Indian team were stationed in Lahore airport's VVIP lounge and treated to the best of kebabs and keema samosas.
While the Congress leadership has called the surprise visit a stunt, the decision to stop in Pakistan was a diplomatic masterstroke coming from a supremely confident PM and is a part of his ambitious plan to promote regionalism under the South Asian Association for Regional Cooperation (Saarc). The Lahore visit was also driven by the personal chemistry between the two PMs with Modi indebted to Sharif for attending his swearing-in ceremony in 2014 on short notice. They had also exchanged notes about each other's families during earlier interactions.
Since he took over as PM, Modi has had plans to push Saarc to the level of European Union and Asean. Leaders of these two associations visit each other at a short notice and drive the grouping on trust and prosperity. The PM's brand of diplomacy has no time for protocol or niceties as he pushes the envelope with each country independently and not at the cost of other.
He is known to use his personal equations with his foreign counterparts and confront the problems at hand rather than run around in diplomatic circles. Chinese President Xi Jinping had a first-hand experience of Modi's now famous straight talk on September 17, 2014, on the stand-off between the Indian Army and the People's Liberation Army (PLA) at Chumar in the Eastern Ladakh sector.
Apparently, Modi told Xi that the PLA's stubbornness in Chumar indicated that either the intrusion had sanction of the Chinese political leadership or the army does not listen to them. The result: The PLA moved back within a week. It is evident that Modi invests a lot in bilateral relationships and does a lot of homework before important summit meetings. Last week, he brought the India-Russia special relationship back on track by forging a personal bond with President Vladimir Putin as the two leaders sat down for a two-and-a-half hour dinner without any official aides to thrash out bilateral issues.
The net result: India and Russia have decided to form a joint venture to develop, produce and export Kamov 226 helicopters under the 'Make in India' programme. Even as the two leaders exchanged notes on Ukraine and Isis, Putin was ready to offer another nuclear attack submarine after the lease of the present one with the Indian Navy expires in 2022. While India expressed its readiness to acquire the Russian S-400 air defence system, the latter has offered to build 12 nuclear reactors in Andhra Pradesh.
After the extended dinner, Putin changed his famous quiet demeanour and even cracked jokes. Whether it is US President Barack Obama or Japanese Prime Minister Shinzo Abe, Modi is in touch with world leaders, sorting out issues ranging from climate change to bringing the bullet train to India.
Recently, Modi had three lengthy telephonic conversations with Obama on outstanding issues such as climate change and defence manufacturing in India. His continuous engagement with Abe has ensured that Japan has placed its investment bets on India at the cost of China and Asean countries. Tokyo is also keen to do nuclear business with India without prior insistence on New Delhi joining the multilateral regulatory regimes.
The Lahore visit should be looked from the perspective of his genuine desire to promote ties with Pakistan under Sharif so that India's economic growth is not bogged down by tensions on the border or terrorism in the hinterland. He wants to push trade and connectivity among Saarc nations for mutual growth and peace in the region.
While Modi was blunt enough to speak on terrorism from Pakistan and the Taliban's destruction in his Afghan Parliament address, in Lahore, he focused on how to take the bilateral relationship forward.
The Modi doctrine is about engaging one and all, confronting and finding solutions to all outstanding issues without compromising on India's national security or concerns about terrorism. Doval also candidly discussed cross-border firing, terrorism and fugitive Dawood Ibrahim with his Pakistani counterpart Nasir Janjua in Bangkok on December 6. The message to Islamabad was that it should not live in denial on jihadist terrorism or harbouring mafia dons if it wants the bilateral relationship to move forward.
While Modi's detractors criticise him for spending too much time travelling to 28 countries this year, the fact is that Indian diplomacy under his leadership is today seen as proactive and result-oriented. The India-Pakistan engagement sparked off by November 30 meeting in Paris between Modi and Sharif has yielded dividends with border firing dropping dramatically in Jammu and Kashmir and Islamabad willing to move on 26/11 case and its perpetrator Lashkar-e-Taiba (LeT) terror group.
Pakistan's NSA had a crude Punjabi description for 26/11 accused and LeT's commander Zakiur Rehman Lakhvi during the Bangkok conference, much to the delight of Indian delegates.
The Lahore bonhomie is expected to lead to a productive foreign secretary dialogue with all outstanding issues including Kashmir on the table and also ensure that the Saarc summit next year is not held hostage to the bumpy ties between India and Pakistan, as it had happened in the past.
The 2016 Saarc summit has the potential to elevate the regional grouping to a powerful economic club with huge markets as its leverage as well as remove Pakistani misgivings over Indian reconstruction efforts in Afghanistan. This is the Modi way.
Read More:
Modi arranged surprise visit at last minute over phone: Pak official
Close