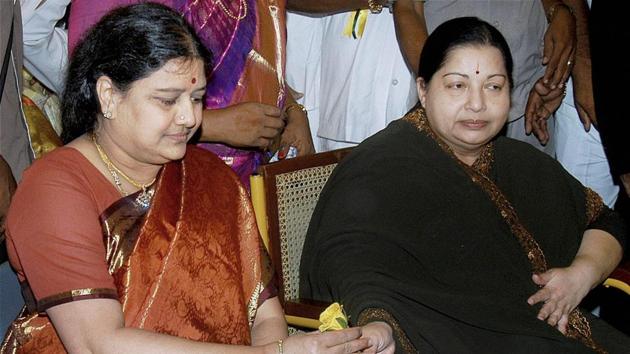 Tamil Nadu politics not a galaxy of movie stars any longer
With the elevation of Sasikala Natarajan, the absence of a prominent filmstar-politician will knock the glamour quotient off Tamil Nadu's politics.
By KS Dakshina Murthy
UPDATED ON DEC 30, 2016 03:18 PM IST
Amidst the din, dust and hullabulloo raised by the death of Tamil Nadu's J Jayalalithaa, even as the AIADMK anoints Chinamma Sasikala Natarajan as the party general secretary, what has gone nearly unnoticed is that, for the first time in nearly 50 years, the state's film industry is well and truly out of political power. For a state that witnessed a unique marriage between politics and films, holding millions in its thrall, Jayalalithaa's death appears to have ended that synergy.
Neither Jayalalithaa's successor Panneerselvam nor Sasikala Natarajan have anything to do with the film industry. The last vestige of the film industry in politics exists in the opposition DMK in the form of its chief M Karunanidhi. But his age, at 92, and indifferent health could mean that his son MK Stalin is a more likely chief minister if the DMK returns to power. And Stalin too has personally not been involved with the film industry.
Read: After Jayalalithaa's death, AIADMK appoints Sasikala as interim party chief
It isn't the case that others in the industry haven't expressed a desire to get into politics. Vijayakant, known for his roles as the firm but good cop, made the most serious bid for power at the head of a separate party. After an initial encouraging response electorally, he has all but fallen by the wayside. Another successful actor, Bhagyaraj, had forayed into politics a few years ago but quickly withdrew.
In 1996 it looked like superstar Rajinikanth would enter politics. The actor, in the run-up to the 1996 Assembly elections, had said "even God cannot help Tamil Nadu if Jayalalithaa returns to power" for her purported involvement in corruption. All that was left was for Rajinikanth to announce his entry into formal politics. But that day never dawned. It is not clear why.
Read:The political opportunity for Rajinikanth has come and gone
During Jayalalithaa's stay in hospital social media speculated over Rajini's arrival into politics. But that proved incorrect. Another name that did the rounds briefly was Ajit, a moderately successful actor, but didn't fructify either.
The absence of a filmstar-politician will knock the glamour quotient off Tamil Nadu's politics. M G Ramachandran and later Jayalalithaa took their roles as do-gooders in films seriously and tried to emulate that in real life. MGR's mid-day meal scheme for children and Jayalalithaa's low-cost canteens, among others, made them even more popular with the people.
An accomplished script writer in Tamil movies, Karunanidhi's oratory skills are legendary. Cassettes of many of his speeches sell like hot cakes across the state. And they make for riveting hearing.
With movie idols at the helm, the film industry naturally, had unhindered access to the chief minister's door. But there was a flip side as well. With Karunanidhi on one side and MGR first and later Jayalalithaa on the other, film folks often get caught in political crossfire. Kollywood grapevine has it that actors such as Vadivelu and Vivek, among others, reportedly became victims at one time or the other.
With the film industry out of politics, Tamil Nadu looks like going the way of other states where films and politics don't normally mix. For the people of a film-crazy state, it will take some time getting used to the mundane brand of politics.
K S Dakshina Murthy is a senior journalist based in Bangalore.
Views expressed are personal
Close