The NRC exercise will lead to an upsurge in identity politics in the Northeast
Updated on Aug 01, 2018 06:35 PM IST
Even if 35 lakh people are disenfranchised instead of 40 lakh after appeals, it would still be the biggest such mass disenfranchisement in world history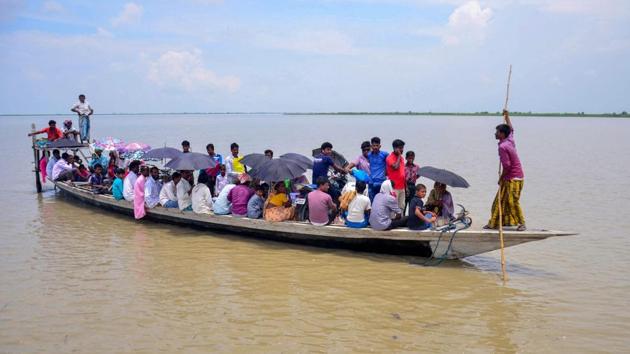 The final draft of Assam's National Register of Citizens (NRC) has left out the names of over 4 million applicants whose future as citizens of India now perhaps stands in doubt. Home Minister Rajnath Singh clarified that these people will have a chance to file objections. After that, the number of people left out of the NRC may come down, but by how much? If 3.5 million people are disenfranchised instead of 4 million, it would still be the biggest such mass disenfranchisement in history.
This is being welcomed by sections of the right wing who see it as a case of illegal Bangladeshi Muslim immigrants being evicted, and by sections of the Assamese nationalist right wing, which sees it as a case of illegal Bengali immigrants being evicted.
The "Bongal Kheda" or "drive out Bengalis" agitation began circa 1960 in Assam. In 1979, the Assam agitation, directed towards evicting illegal migrants from Bangladesh, took off. "Bongals" were again the targets. At one time, the word applied to all foreigners. So for instance, the first white men in Assam were referred to as Boga Bongals or white Bongals. Over time, with the emergence during the colonial period of national ethno-linguistic identities and the creation by a mix of mainly British and American print capitalism of the map and territory of Assam, the term came to apply only to Bengalis.
This was the historical context in which the current exercise was carried out. Some cases of egregious errors made news. For instance, a newspaper reported that a retired soldier of the Indian Army, Mohd Azmal Hoque, had not found his name on the list. Husbands and wives, parents and children, in many instances, have found themselves separated by the list. Bengali Muslims, usually the first to be labelled Bangladeshis, are not the only ones affected. Reports from Cachar indicate that over a lakh Hindus there, most of whom are traditional BJP supporters, are also out of the list. Gorkha community representatives say at least a lakh of their people are not on the list. There are indications that members of many tribal groups including Bodos, who belong to poor families, are also left out.
It may be that some among them will eventually be included under the category of original inhabitants which allows for easier inclusion in the NRC. However, who qualifies to be an original inhabitant of Assam was never defined, and a petition to define the term was struck down by the Supreme Court in a judgment authored by Justice Ranjan Gogoi. Different parts of Assam have long had different inhabitants who can lay claim to original status, and therefore some communities getting a shortcut, while others suffer the grind, has already been a ground for bitterness over the NRC exercise.
There is no doubt that India's borders must be respected, and illegal migrants should be dealt with as per law — not because they are Bangladeshis, but because they are illegal. All communities participated in the NRC exercise because everyone hoped that it would end a lingering problem once and for all. For the Assamese, it was the cherished conclusion to the Assam agitation to evict foreigners. For the Bengalis, it was the hoped-for inclusion as equal citizens of the state free from the suspicion of being illegal migrants. For the Bodos, it was hope that their traditional lands would remain free from encroachment.
However, all indications suggest that clerical errors and problems with legacy paperwork — the cut-off date for which is March 24 1971, more than 47 years ago — may see many, perhaps lakhs, of bona fide Indians, Hindus as well as Muslims, being left in the lurch. By its very nature, the process has tended to affect the poor more than the rich and some communities more than others. This fundamental inequity in a matter seriously affecting the lives of millions is unlikely to lead anywhere good. It will only lead to an upsurge in various kinds of identity politics, linguistic and religious, with potentially catastrophic consequences for the Northeast.
Samrat is a journalist and author.
The views expressed are personal
Close Story
Personalise your news feed. Follow trending topics