Why India needs a climate warrior like Greta Thunberg
A fresh, young voice like that of Thunberg's, I feel, can help bring much more attention to the issue, put pressure on the new government to meet its climate promises, and also push citizens to be partners in that effort. India is a young country, and who best to take charge of the future than the young themselves?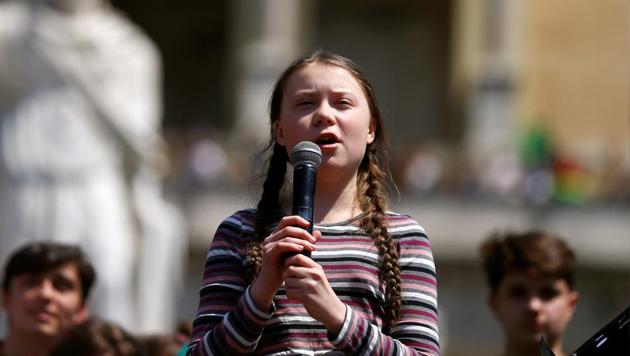 Updated on Apr 27, 2019 08:35 PM IST
The other day, I was watching David Attenborough's authoritative eight-part documentary series, Our Planet, which brilliantly captures the diversity and interconnectedness of the world's natural heritage, and the severe environmental and climate challenges it is facing. Greta Thunberg's name, for good reason, kept popping into my head.
Thunberg, a 16-year-old Swedish schoolgirl, has made a mark with her no-holds-barred speeches at important political institutions and public spaces, arguing passionately that political leaders are not doing enough to combat climate challenge. Their inaction, the diminutive girl with pigtails, said, was putting the future of children like her at risk. Explaining her motivation for the protests, Thunberg said in an interview: "I am doing this because nobody else is doing anything. It is my moral responsibility to do what I can... I want the politicians to prioritise the climate question, focus on the climate and treat it like a crisis."
Thunberg's protest began in August 2018 when she refused to attend school to draw attention to the climate crisis. Inspired by her, students organised strikes in every continent. In March, hundreds of students in India joined the worldwide protest, demanding that the government take responsibility for the increase in carbon emissions. But unlike in the West, where at least leaders gave Thunberg a hearing, there was no political reaction to the Indian school strike.
Thunberg's protests have been a hit. This is not surprising because her messaging is simple and to the point. She is articulate but not preachy, and has a wry sense of humour. At a recent event in London, Thunberg was asked about her "manifesto" to tackle climate change. She said she doesn't have one because she is not educated enough but then there is enough scientific evidence for world leaders to understand how climate change is affecting all of us. All she wants, the Swedish girl added, is for adults to behave like adults, and to act on the terrifying information that is all around us. At another event in Europe, Thunberg was asked how she dealt with climate deniers. "I don't," she replied.
She has now extended her support for a worldwide Earth Strike on September 27, which is also the 57th anniversary of the publication of Rachel Carson's Silent Spring, the seminal book that documented the adverse environmental effects caused by the indiscriminate use of pesticides. The organisers of the strike hope that it will force governments and industry giants to act on the climate warnings.
India too needs a young and powerful Gen Z voice like Thunberg's to make climate change a mainstream issue. Despite its impact on every facet of our lives, from social to economic, the issue is still languishing on the margins of our lives. We are still not talking enough (I am not talking about the seminar circuit) about what we can do at a personal level to tackle the climate's challenges.
Politically, too, the issue is yet to receive the required traction even though 2019 is the first time that climate change has featured in the manifestos of India's two major political parties, the Indian National Congress (INC) and Bharatiya Janta Party (BJP). This is not enough, but at least it is a marked shift from 2014. A study of the 2014 manifestos of eight major political parties in India done by Asi Guha and Elphin Tom Joe of the Indian Institute of Forest Management, Bhopal, found that climate concerns were non-issues for the parties as well as their voter base.
Despite the positive change in the 2019 manifestos, I have not heard any national leader talking about climate change and its impact at election rallies when manifestations of the phenomenon are all around us in the form of droughts, heat waves, flash floods, increasing number of heat and cold waves and sea level rise to name a few.
A fresh, young voice like Thunberg's will have the moral force to push for much more attention to the issue, put pressure on the new government that comes to power after the general elections to meet its climate promises and do much more, and also push India's citizens (especially the urban elite) to be partners in that all-important effort.
India is a young country. Who best to take charge of its future than the young themselves? In fact, I would say, India needs hundreds of Gretas. After all, climate change, as Thunberg says emphatically, is an "existential crisis".
Close Story
Personalise your news feed. Follow trending topics