Why Kashmiris hate 'Indian media'
Updated on Jul 20, 2016 11:04 PM IST
Reporting from the Valley is a challenge as the local populace in Kashmir believe that all "Indian media" is biased and some mainstream TV news channels and the majority of social media voices are vitriolic on the Kashmir issue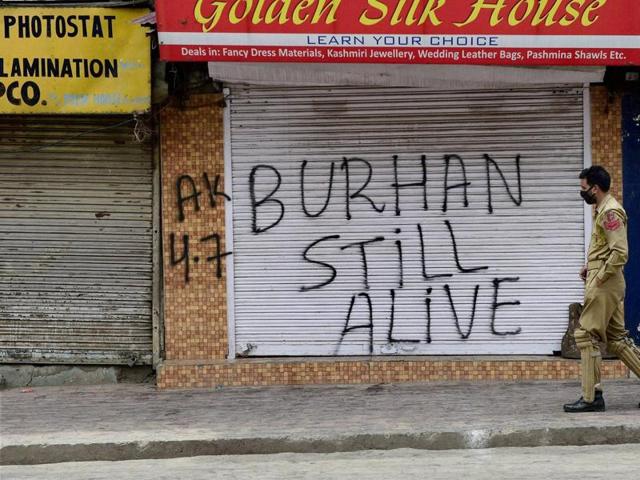 Journalists working for "Indian media" houses have faced the wrath of the Kashmiris while reporting during the ongoing turmoil in the state following the killing of 22-year-old popular militant Burhan Muzaffar Wani.
The Kashmir coverage — often looking at things only from the perspective of the Indian State and avoiding the widespread secessionist sentiments or allegations of human rights excesses by security forces — by some television news channels does not go down well with the local populace and many of them perceive that all of the "Indian media" is the same, reporting a "biased" narrative of Kashmir.
Read | Kashmir newspapers refuse to resume publication, want govt to own up to 'ban'
To hammer home the point that there are exceptions is very difficult — I have tried and failed, many a time.
Kashmiri Muslim journalists working for the Indian Express and The Hindu have written about how they were threatened during the unrest just because they belonged to an "Indian media" house — regarding which the mob formed an impression based on the content of television shows anchored in Delhi and Mumbai.
As a non-Kashmiri journalist living in the Valley and reporting from here for the last seven months, I encountered this fury months ago.
Read | Imran Khan says Pak, unlike Turkey, will welcome army rule, divides opinion
In May, a day after two suspected militants were killed in Srinagar city, I went to report at the house where the encounter took place. As I started talking to the locals, they explained why they thought the encounter was extra-judicial and staged.
But soon, a crowd gathered around me and someone yelled in Urdu: "What's the use of telling this guy? He must be a Sanghi or RSS-man, just like other Indian journalists who come on television. For you people, all Kashmiris are terrorists and ought to be killed."
My photojournalist colleague and I had to leave, chased by the irate mob.
Read | Sonia Gandhi criticises govt, advocates 'sensitivity' in handling J-K protests
On the other side of this anger is the reaction to post-Burhan-killing narratives on social media by Indians who hold a rather coloured perspective on the Kashmir issue.
The trolling of reporters and questioning of media coverage over the "Burhan Wani coverage" — as journalist Rajdeep Sardesai pointed out in a recent opinion piece — has been severe.
On a Hindustan Times tweet with photographs of thousands of people at Wani's funeral, a Twitter user wrote to me: "Should have dropped a bomb on the congregation, pack them off to their 72 hoors (sic)". Another advised me: "Kill all Kashmiri Muslims".
Read | A Kashmiri in Delhi: So much peace is unsettling
If these are the views held by the audience and television journalism plays to the gallery for them, then, it's not difficult to understand why Kashmiris have developed an unprecedented hatred for the "Indian media".
The author is HT's Srinagar correspondent and tweets as @saha_abhi1990
Close Story
Personalise your news feed. Follow trending topics