Why judiciary needs to let electoral democracy evolve on its own
Updated on Jan 03, 2017 12:26 AM IST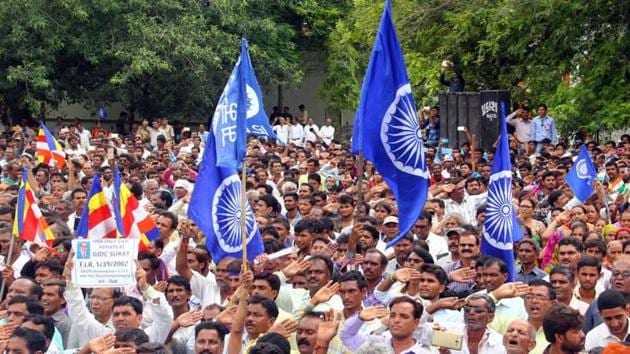 On Monday, India's Supreme Court issued a politically significant order. It said the candidates cannot seek votes in the name of religion, caste, creed, community, and language.
The court arrived at such an order based on a reading of the Representation of People's Act - which forbids appeals on such grounds. The seven bench judge was split, with three dissenting.
The rationale
It is important to first acknowledge that the court's judgement is well considered. There is a long history of jurisprudence on the interpretation of the act in question, particularly its provision (Section 123(3)), which defines a corrupt election practice as follows:
"The appeal by a candidate or his agent or by any other person with the consent of a candidate or his election agent to vote or refrain from voting for any person on the ground of his religion, race, caste, community or language or the use of, or appeal to religious symbols or the use of, or appeal to, national symbols, such as the national flag or the national emblem, for the furtherance of the prospects of the election of that candidate or for prejudicially affecting the election of any candidate."
The verdict widens the scope of the election law that does not clarify as to whose religion, caste, race, community or language one cannot cite during an election speech.
In Monday's order, the SC looked at how the court has interpreted this both in narrow as well as broad terms in the past. This provision is not as blanket as it seems. And at times, the court has made a distinction between say the language of a candidate and language-related concerns of electorate - using the former to solicit votes is wrong, speaking of conserving the latter is not.
It also examined the legislative history and rationale of the provision - which was to 'widen the scope of corrupt practices to curb communal, fissiparous and separatist tendencies during an election campaign."
In this backdrop, it was felt that the concerns which animated Parliament have become even more urgent since candidates have access to technology, to the media, to internet. And thus it was decided to give a 'broad and purposive interpretation' to how a corrupt practice was defined in the provision.
A corrupt appeal would now include any appeal made to the elector on the ground of the 'religion, race, caste, community, or language of 1) any candidate, 2) his agent, 3) any other person making an appeal with the consent of the candidate, or 4) the elector.'
In short - it is not just a candidate using his identity, but appealing to the voter's identity on these lines that is a corrupt practice.
The Chief Justice agreed. He focused on the secular character of the state, that elections to any body of the state was a secular exercise, just as the functions of the elected representatives must be secular in outlook and practice. Any interpretation which diluted or eroded the constitutional objective of keeping the state and its activities free from religious considerations must be avoided, he added. For him too, an appeal in the name of the religion of the candidate, of his agent, of his opponent, and of his voter would constitute a corrupt practice.
The dissent
In his dissent, Justice Chandrachud deconstructed the provision to argue that a corrupt practice is confined to making an appeal to vote for or against a candidate, on the basis of his particular identity. This was necessary, he argued, for the candidate was supposed to represent the whole constituency - not a particular identity group.
But this was not meant to apply to the identity of the voter. Here, Chandrachud and his two colleagues departed from the majority.
Their argument was the following - "The integrity of the nation is based on a sense of common citizenship. While establishing that notion, the Constitution is not oblivious of history or to the real injustices which have been perpetrated against large segments of the population on grounds of religion, race, caste and language." And so they pointed out that while the Indian state had no religion, the constitution did not display an indifference to issues of religion, caste and language.
They cited numerous articles - including fundamental rights - to show precisely this feature. There was a universal commitment to a principle, yet there was a recognition of the specific nature of inequities in India which need redressal. There were multiple, separate provisions - regarding untouchability, reforming religious institutions, administering minority institutions, reserved seats, languages and in many more spheres- which stemmed out of this recognition of specific identity based injustices.
In a democracy, they argued electoral politics is about mobilisation. It would thus be far fetched to assume that 'Parliament intended to obliterate or outlaw references to religion, caste, race, community or language in the hurly burly of the great festival of democracy.'
The case for dissenters
To this writer, the dissenting judgment resonates.
For one, if the law's premise is meant to be that politics on the basis of identity categories is all bad, it betrays a lack of understanding of the hierarchies within Indian society, and the role democracy has played in diluting and challenging those hierarchies.
In India, political mobilisation often happens on the grounds of identity because discrimination has taken place on the basis of precisely the same identity. There is now abundant literature in political science, as well as testimonies from the ground, which show that the idea of universal adult franchise and the power of vote is what helped marginalised communities organise themselves and seek space.
If today Dalits are able to seek a space in the state structure, in power corridors, it is because they are able to organise themselves as a 'votebank', that much abused term. In much of North India, upper castes mobilised political power for almost four decades after independence - it is only when OBCs were able to organise themselves as political blocs that power shifted. Surely, we all agree the Indian state must reflect the diversity of Indian society; and if that is the case, politics based on these categories has helped achieve the goal.
Two, we must confront the role of religion in politics. It is true that political appeals based on rabid communalism have also become an unfortunate part of Indian democracy. Riots are orchestrated to consolidate a religious group and 'polarise' society; insecurities are constantly stoked to introduce a sense of siege in some other groups.
But this continues because of the culture of impunity. There are enough laws for strict action to be taken if there is hate speech, for a political party and its workers to be hauled up if found engaged in disrupting law and order, and for action to be taken for past riots and mass killings. But political leaders have got away, and feel emboldened.
It is appropriate for the court to treat all religions equally- and not see one as a way of life and other as mere religions. And in that sense, prohibiting appeals on the ground of any religion makes sense. But the solution to communal politics will not come through a judicial fiat. It has to emerge from stronger implementation of the rule of law and democracy's self-correcting mechanisms themselves.
Given Hindutva's deep penetration and resonance in large sections of society, it has to be fought politically; it cannot be defeated under the cover of a judicial order. For those who are worried about how certain parties prioritise minorities at the cost of administrative neutrality, the battle again is political.
And there are correctives. From an era of politics based solely on religion or caste, there is a shift. A recent scan of electoral verdicts shows that politics is not dictated solely by identity. Aspirations are changing; there is a youth demographic that judges leaders on issues and delivery; infrastructure and public goods have become as coveted as recognition of identity grievances among sections of the electorate. A politician who speaks to both identity and development related concerns is most likely to succeed.
And finally, just like the original law itself had little resonance in practice, one wonders about the implementation of the order in practice. I write this piece from eastern UP, where I can see posters of different parties competing in the elections. There is, in some cases, subtle and other cases, explicit appeal to caste loyalties. Across the country, in every election, from the village panchayat through municipalities and state assembly to the Lok Sabha, caste, language and religion play a role in persuading voters. It is unlikely that SC can institute a mechanism to see it through.
Society's cleavages will express itself in politics. This is not unique to India incidentally. Just look at the recent US elections or the Brexit vote where identity was a major issue in determining preferences.
Indian electoral democracy will evolve on its own. Not all its practices may be palatable to us - but imposing artificial bans will not address the impulses which lead to the use of certain categories in politics in the first place.
Read | Religious violence keeps Uttar Pradesh's political pot boiling
The views expressed are personal. The author tweets as @prashantktm.