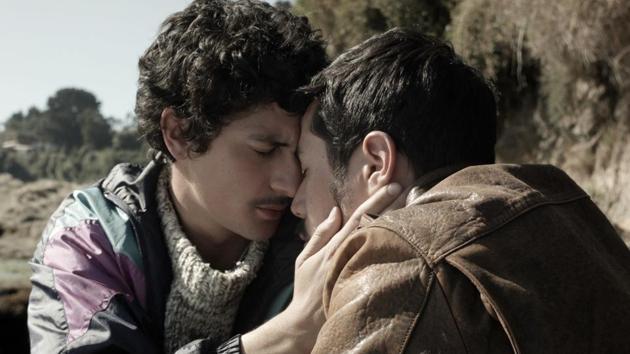 Celebrate the LGBTQ Pride month this weekend
Catch films that showcase stories of a boy dressing up as a girl; a transgender man fighting to prove his masculinity
UPDATED ON JAN 19, 2017 03:11 PM IST
An adolescent boy, Pankaj, is discovering his sexuality. Torn between a patriarchal Indian upbringing full of gender stereotypes and his natural urge to identify with the opposite gender, he finds an opportunity to express his desires: In the privacy of his home, he starts dressing up like a girl and collects women's jewellery.
This is the plot of Daaravtha (The Threshold), an indie Marathi short film that won the best film award at the New York Indian Film Festival 2016, and a National Award for its director, Nishant Roy Bombarde. Daaravtha is among 12 other films that will be screened at Mumbai Pride, an event that looks to raise awareness about inclusivity for the Lesbian Gay Bisexual Transgender Queer (LGBTQ) community in Mumbai. The event also marks the celebration of Pride Month - 30 days dedicated to acknowledge and celebrate the queer community.
Read more: Different strokes: How the LGBT community is making itself heard through art
"Cinema is great way to engage the society in a dialogue. So, the idea is to curate the best of LGBT-centric short films on a platform like the Mumbai Pride, which reaches out to an audience that is genuinely invested in the cause," says Sridhar Rangayan, filmmaker and founder of the annual Kashish Mumbai Queer Film Festival.
The films to be screened at the event are broadly divided into three themes – transgender rights, analysing gender-based behavioural stereotypes, and the changing mindset of the society towards the LGBTQ community.
For instance, a documentary by filmmaker Meera Darji, titled Transindia, will shed light on the day to day life and challenges of a transgender woman - a commentary on how society continues to shun the trans community despite the Supreme Court's judgment legalising the third gender. The film line-up, however, doesn't go overboard with the serious stories. Setting Them Straight, by Australian filmmaker Caleb McKenna, sees a slightly effeminate boy trying to tell his parents of his straight sexual preference. "His parents are otherwise convinced their son is gay and are willing to accept him wholeheartedly. It's a comedy of errors," says Rangayan.
Read more: Dummies guide to Pride Parade: What it is, who should attend
Beyond films, the event will also see a panel discussion that will focus on busting myths such as homosexuality is more about lust than love. Speakers such Mira Malhotra (director Studio Kohl, Malad), Rangayan, and Jeremy Birnholtz (a faculty member at the Northwestern University, Illinois, USA), will comprise the panel, and will speak about the pop cultural stereotype that displays homosexuality in the limited realm of physical attraction. "There is sincere love involved in a homosexual relationship, just like in a heterosexual one. It is important to highlight that aspect," says Rangayan.
BE THERE: Mumbai Pride will take place on January 21, 11am to 7pm.
Where: Auditorium, Godrej ONE, Vikhroli (E)
To register, email at indiaculturelab@godrejinds,com
Entry: Free
Close