Meet actor-writer Biswapati Sarkar, who pokes fun at Arnab Goswami for a living
The art of impersonating TV's loudest, and most-popular host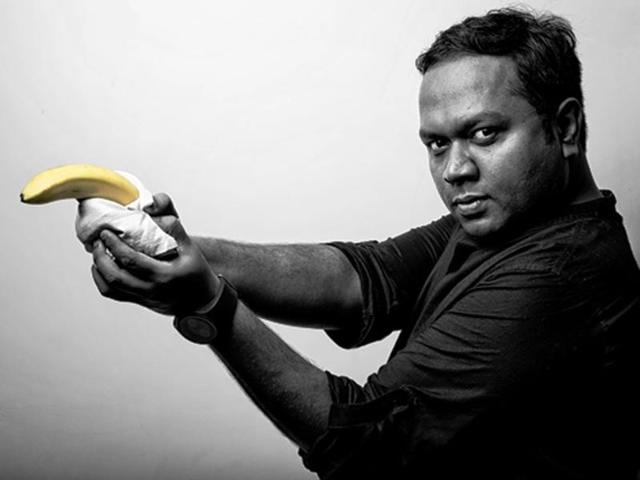 Updated on Aug 13, 2016 03:33 PM IST
Meet actor-writer Biswapati Sarkar, who makes fun of Arnab Goswami, TV's loudest, and most-popular host, for a living
He claims to be a bigger legend than Shah Rukh Khan. He's called out Delhi chief minister, Arvind Kejriwal, over the latter's habit of watching new films in theatres, and then tweeting about them. He's openly flirted with actor Ali Zafar, and roasted Ranveer Singh for his surname.
Who is this mystery man, you ask? He is Arnub. Yes, with a 'U'.
Enacted by actor-writer Biswapati Sarkar (27), Arnub is the protagonist of digital production house The Viral Fever's (TVF) web series, Barely Speaking with Arnub — a parody on news anchor Arnab Goswami. The series was renewed for its second season on July 29, and saw Sunny Leone as its opening guest.
We visit TVF's office in Andheri (E) to meet Sarkar. It's called TVF Campus. That's perhaps what happens when a bunch of ex-IIT (Indian Institute of Technology) graduates build a business.
Sarkar walks in after a smoke break, wearing a black kurta over jeans. It takes us a few seconds to recognise him without the signature formal suit, accessorised with shouting.
Small town boy
When Sarkar isn't playing Arnub, he's the executive creative director at TVF, and one of the core team members. He claims he was the second employee TVF hired. "I was fresh out of IIT Kharagpur. Arunabh [Kumar, founder, TVF] was my senior in college, and I had freelanced for him while I was studying. When I graduated, he offered me a position," recalls Sarkar.
Not your standard IIT placement. So what drew an IIT-ian to entertainment? Sarkar says he's been a movie buff since childhood. "Cable TV had just reached my town, Tensa, in Odisha [when he was growing up]. I would stay up at night watching Jaspal Bhatti," says Sarkar. During his teen years, Sarkar was hooked to Govinda's films.
It wasn't until his time at IIT that he was exposed to international entertainment. "I discovered Seinfeld, which has greatly impacted my writing. I watched Jim Jarmusch's Coffee and Cigarettes (2004), and understood the entertainment value of random conversations people have over a smoke," says Sarkar.
That explains one of the first comedy series Sarkar wrote for TVF: the Chai Sutta Chronicles: three friends having a series of bizarre conversations. The theme for the first episode was the art of kissing. "It's random, but also very relatable. All of us, at some point, have had that conversation with a friend," he says. The video now has over a million views on YouTube.
Chai Sutta… also marked the acting debut for Sarkar. He starred as a regular guy on the five-episode run. He then went on to play the parody version of music composer Pritam in TVF's The Making of a Bollywood Song. It was during this shoot that Sarkar, dressed in a wig and a beard, imitated Arnab Goswami between takes. And that's where the idea of Arnub began to take shape.
Finding Arnub
Yet, Sarkar was never meant to play Arnub. He stepped in after the original actor backed out at the last minute. "I used to present the script for Arnub at table readings, in character. So, when the actor who was offered the part pulled out, I was asked to step in," says Sarkar.
What does it take to play the parody version of Indian TV's loudest man? Sarkar claims he needs no special prep. All he has to do is shout and act juvenile. And as far the body language and peculiar oration goes, Sarkar says he'd seen enough of Goswami's panel discussions to learn from. "Add some narcissism and a deep love for Chhota Bheem, and Arnub's ready," say Sarkar.
Add borderline offensive, too. An interview with actor Parineeti Chopra, saw Arnub remark on Chopra's weight. In such situations, is the script pre-discussed with the celebrity guests? "We give them a fair idea of what to expect and what reaction would add to the comedy. Fortunately, all the celebrities we've had on the show have been sporting about the insult comedy," says Sarkar.
Does he have a favourite guest? "Shah Rukh Khan" is the prompt response. "Ninety-five percent of that episode was improvised. He is witty and charming," says Sarkar. The video has 4 million views.
Has the real Arnab reacted to Sarkar's impersonation? Sarkar's been told Goswami is aware of the parody, and appreciates it. "Personally, I think he follows it, and is slightly angry about it. Also, I'd like to believe he has improved his Hindi-speaking skills after we made fun of it," says Sarkar.
A writer at heart
Despite the success of the show, Sarkar doesn't consider himself an actor. "I'm primarily a writer, and will continue to be. I am aware of my limited acting range," he says.
Writing is indeed his prowess: he wrote two of India's earliest and most popular web series — Pitchers, and Permanent Roommates (both in 2015). He's also responsible for the popular punchline "tu beer hain" from the first episode of Pitchers, which has now found its way on to T-shirts and inspirational posters.
He signs off in character: "There is a lot to look forward to. Arnub is just getting started," he asserts, the peculiar emphasis in place.
Tune in: To watch the second season of Barely Speaking with Arnub, log on to tvfplay.com
Close Story
Personalise your news feed. Follow trending topics