The day Mirza Ghalib was summoned to court...
A satirical play uses the work of the 19th century poet Mirza Ghalib to explore the theme of creative independence.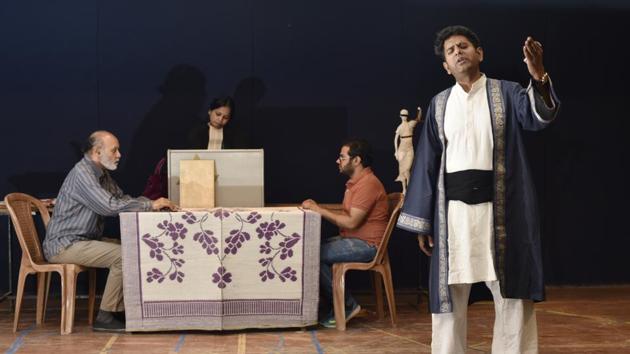 Updated on May 13, 2017 08:02 AM IST
What happens when a present-day court issues summons to Mirza Ghalib, the 19th century Urdu poet? A play being performed in Delhi today is premised on this imaginative scenario. Ghalib turns up in the court to defend himself against charges of being an anti-nationalist.
Written by Danish Iqbal, a professor of Mass Communication at Jamia Millia Islamia and a Delhi-based playwright, the story starts when a filmmaker sues a rival filmmaker for using lyrics that are allegedly offensive. The lyrics are the words of Ghalib, a famous ghazal he had written:
Ibn-e-Maryam hua kare koi
mere dukh ki dava kare koi
(Let anyone the son of Mary be
How will I know till I find remedy,
translation from Rekhta.org)
Danish Iqbal has been writing plays for over two decades, including a popular play on Dara Shikoh, the eldest son of Mughal emperor Shah Jahan, whom Iqbal calls the first martyr of secularism. "He was working on the assimilation of all syncretic religions. He was killed for his secular ideals," says Iqbal. The play on Ghalib is being performed for the first time and is based on a Kafkaesque situation — the scenes flit between the real and the imagined and the plot keeps the audience guessing about what is happening even when it is real.
The act of summoning Ghalib to defend lines that he wrote over 150 years ago serves as a sharp commentary on today's India where whenever a film is released, people find things to object to and file frivolous litigations. In the play, one of the characters takes offence from the very first line of Ghalib's ghazal where Jesus is mentioned (Ibn-e-Maryam).
Iqbal suggests that it was in fact director Amit Bajaj's idea to give it a contemporary twist. "Today, expressing any opinion can make one an anti-national. But what happens when you look at Ghalib's works through today's lens?" says Bajaj. "His verses when placed in today's context end up hurting religious sentiments or compromising national security."
When Ghalib is summoned by the judge, to the surprise of the courtroom, he comes to defend himself. Placed in the current political context, Ghalib is termed an anti-national by the opposition lawyer for the following verses.
Na suno gar bura kahe koi
na kaho gar bura kare koi
(If someone speaks ill pay no heed
Stay silent if behave they sinfully)
But Ghalib's defence, laced with his customary wit, leaves the courtroom in splits. We all wait for Ghalib's return to his beloved city.
What: Anti-National Ghalib
When: 6.30 pm, May 13
Where: Shri Ram Centre, 4, Safdar Hashmi Marg, Mandi House. Call: 23714307
Entry: Tickets priced at Rs.300 - Rs.500
Close Story