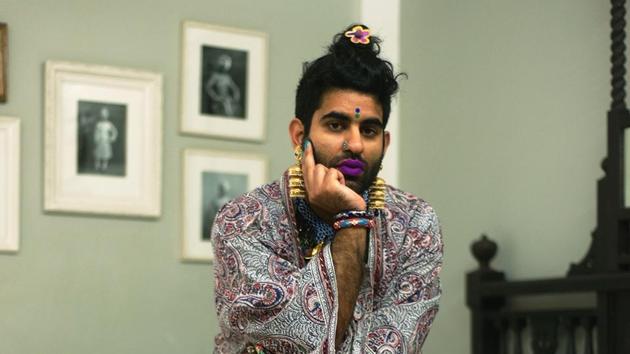 This trans activist wants young Indians to think beyond the binary ideas of gender
Growing up, trans artist Alok Vaid-Menon was bullied on the streets. Now, the harassment has shifted online. At an experimental performance, the activist will explore today's violent digital culture.
By Rinky Kumar
UPDATED ON MAY 04, 2017 08:00 PM IST
In October 2016, US-based Alok Vaid-Menon (25) was visiting Melbourne, Australia. There, he was assaulted on a street in broad daylight. It was only then that the gender non-conforming performance artist truly understood the scale of violence against trans persons. "It was high time the society understood that trans people are actively under attack, especially while, as a community, they were advocating for their own dignity," Menon says.
New York-based Menon, who prefers to be addressed as the gender neutral 'they/their', rather than 'he/she' or 'him/her', has been working with feminist, queer and trans movements across the world over the past decade. This weekend, they will stage a solo experimental performance featuring poetry. Titled Watching You/Watch Me, it will be performed for the first time in the city. They say, "This is one of my most personal shows till date. It deals with the meaning of love in a digital era, and my abusive relationship with the internet. It's an act of forgiveness both for myself, and for the people who harass me online."
While in the city, Menon will also conduct a workshop on creative writing and one on gender, to help people think beyond the binary idea of male and female. "In a performance, you confront people emotionally; the audience receives what you have to say. Whereas in workshops, it's about conversation, dialogue, and growing together," they say.
Poetry as a tool for change
Born and raised in a small town in Texas, USA, Menon was bullied for being an Indian-American, as well as a trans person. "I didn't have the language to understand, let alone describe, everything that I was going through. I was made to feel aware that I am different."
READ MORE: Different strokes: How the LGBT community is making itself heard through art
But soon, they found ways to survive. One of them included writing poetry. It helped them cope with the racism and trans-misogyny. "Back then, it was more about writing a diary. It was cathartic. That style of poetry draws me to this day," they say.
Menon has worked with the Audre Lorde Project, a grassroots centre for LGBTSTGNC (Lesbian, Gay, Bisexual, Two Spirit, Trans and Gender Non Conforming) people of colour, and toured the world as part of Dark Matter (a trans south Asian performance act). Yet, Menon admits that they are still plagued by one question. "I have seen how performance can be a place where people of various marginalised identities can assert their humanity. But what I always wonder is this: Will our words resonate beyond the stage?"
An uphill battle
That's not the only thought they struggle with though. Thanks to their eclectic sense of style (bright lipsticks, statement jewellery), Menon knows that when they step on stage, people will perceive them as a man dressed up as a woman. "I often perform about being trans for over two hours, and then people still come up to me and refer to me as a man. Gender binary thinking is that deeply entrenched in everyone's minds," they say. Even so, they continue to retain their flamboyance.
By their own admission, Menon has a conflicted relationship with being a performer. "I know that there's a place for us on stage because we're seen as entertainers, but not on the street," they say, adding that they often question themselves. "Am I just doing this because this is where society put me? How can I get people to realise that my personhood doesn't just stop the minute the performance is over?"
Currently in India, they are interacting with various activists and members of the LGBTQ community in various cities. Despite the problems faced by them, and colonial laws that criminalise homosexuality, Menon is hopeful that young Indians will learn to look beyond the binary way of looking at gender.
Don't miss
Watching You/Watch Me by Alok Vaid-Menon will be held on May 5 to 7, 8pm.
Where: Cuckoo Club, Bandra
Tickets: Rs 575 onward on bookmyshow.com
Call: 96199 62969
Close