Asian Games 2018 day 11 as it happened: Arpinder, Swapna bag gold, India women book hockey final berth
Aug 29, 2018 10:40 PM IST
Athletics continued to pay rich rewards for India on Day 11 of the Asian Games 2018. Arpinder Singh won triple jump gold while Swapna Barman won gold in Heptathlon. Dutee Chand who already has a medal at the games added to her and India's kitty with another silver, this time in women's 200m. Manjit Singh and Jinson Johnson who won gold and silver in men's 800m qulfied for the final of men's 1500m. Further good news was forthcoming with India's women's hockey team reaching the final beating China 1-0 in the semifinal. In table tennis pair of Manika Batra and Achanta Sharath Kamal lost in the semis and had to settle for bronze. Visit HT's India at the Games page.
20:08 pm IST
That's it for Day 11. Thanks for joining us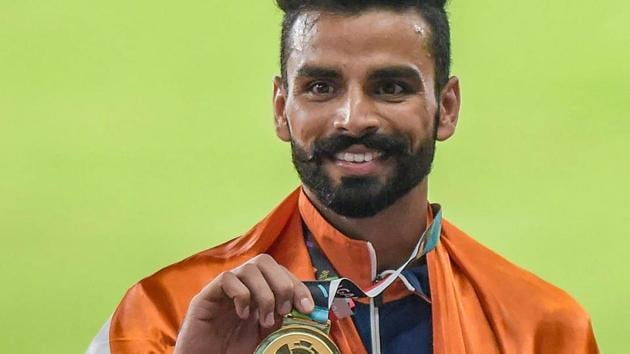 That's it for another scintillating day of action at the 2018 Asian Games. Do join us tomorrow as the action once again rolls on.
19:56 pm IST
India beat China, through to final
India have beaten China 1-0 in the semifinal of the women's hockey to advance to the final. Gurjit Kaur's goal in the fourth quarter the difference between the two sides.
19:49 pm IST
India lead against China
India have take the lead against China in women's hockey semifinal. Gurjit Kaur with an unstoppable drive from a penalty corner. 1-0 to India
19:34 pm IST
India v China still to see a goal
India and China hockey semi is still to see a goal. India have improved things but still no tangible difference between the teams.
19:08 pm IST
India vs China still goalless
India vs China hockey semifinal still to see a goal. The game has reached half-time.
18:57 pm IST
Swapna Barman bags gold
India's Swapna Barman has claimed yet another gold, She has won women's heptathlon. Purnima another Indian in the event failed to make the podium.
18:51 pm IST
Judokas eliminated
Indian judokas Vijay Kumar Yadav and Kalpana Devi Thoudam were knocked out of the Asian Games after losing their respective bouts in the men's and women's elimination rounds.
Vijay lost 0-10 to Uzbekistan's Urozboev Diyorbek in the men's 60kg elimination round, while Kalpana lost to Uzbekistan's Gulnoza Ziyaeva in the women's 52kg elimination round of 16
18:47 pm IST
India vs China hockey semifinal goalless
India vs China hockey semi is goalless after the first quarter. India have been far too slow so far. They need to inject more pace.
18:29 pm IST
Men's 4*400m relay final qualification confirmed
India have qualified for the final of Men's 4*400m relay final. The team finished second in qualification behind Japan with a timing of 3:06.48.
18:22 pm IST
ARPINDER bags GOLD!!!!
India's Arpinder Singh has bagged gold in men's triple jump. his winning jump was 16.77m. India's other representative Rakesh Babu failed to make podium.
18:14 pm IST
Men's squash team qualify for semis, assured bronze
India's men's squash team have finished second behind Malaysia in Pool B of the squash and have qulified for the semifinals. The qualification assures them of bronze.
18:07 pm IST
Jinson Johnson qualifies for men's 1500m final
Like Manjit Jinson Johnson has qualified for the final of men's 1500m. Perhaps another 1-2 finish is on the cards.
17:56 pm IST
Brilliant from Manjit, qualifies for 1500m final
Manjit Singh, who yesterday won gold for India in men's 800m final, has qualified for the final of men's 1500m with a timing of 3:50:59 seconds.
17:49 pm IST
Rakesh Babu slips to fourth
Rakesh Babu has now slipped to fourth in men's triple jump, Arpinder still leads.
17:42 pm IST
Praise for Dutee
What a race by our sprinter Dutee Chand! In an absolutely sensational performance she has won a SILVER medal in Women's 200 m with a finish time of 23.20 sec. This is her second medal at #AsianGames2018. TAKE A BOW! #KheloIndia #IndiaAtAsianGames pic.twitter.com/jG32uW86vo

— Rajyavardhan Rathore (@Ra_THORe) August 29, 2018
17:39 pm IST
Arpinder still top, Rakesh Babu second
Arpinder has consolidated his position at the top with a jump of 16.77m in men's triple jump, Rakesh Babu is now third.
17:30 pm IST
Dheeraj Loses
India's Dheeraj has lost 0-5 in the quarter-final of Men's Light Welter weight category. He lost to Baatarsukh Chinzorig of Mongolia.
17:18 pm IST
Dutee Chand claims silver
India's Dutee Chand has claimed silver in women's 200m final. She finished second with a time of 23.20 seconds.
17:14 pm IST
Women's 200m final to begin
Women's 200m final is set to begin.
17:11 pm IST
Arpinder top, Rakesh Babu second currently
Arpinder Singh has gone top with a jump of 16.58m. Rakesh babu is currently second to with a jump of 16.40 m.
17:03 pm IST
Men's triple jump is underway
Men's triple jump is underway. Rakesh Babu and Arpinder Singh are India's representatives in the event.
16:53 pm IST
Achanta-Manika get bronze
India pair of Achanta-Manika and go down 8-11 in the fifth game of the mixed doubles semifinal and 1-4 overall. The pair get bronze.
16:48 pm IST
Game five in the balance
Game five of this match is evenly balanced. India are 6-4 ahead but they need to close this game out.
16:44 pm IST
India lose fourth game
India pair of Achanta-Manika lose fourth game 4-11. They are now 3-1 down and have it all to do in the match.
16:41 pm IST
China lead in fourth game
India started brightly but China have pulled ahead in the game and now lead 3-7. Can India fight back?
16:36 pm IST
Achanta-Manika take third game
Achanta-Manika have taken the third game 13- 11 to halve the deficit. It got closer than it should have been but the score now 2-1 to china.
16:29 pm IST
Better start in third game
Achanta-Manika have made a better start in third game. They are 7-3 up. They need to close this game out now.
16:25 pm IST
Achanta-Manika lose second game
Achanta-Manika are now 0-2 down in the semifinal of the mixed doubles. They lose the second game 5-11 in just 6 minutes.
16:22 pm IST
Poor start in second game
Achanta-Manika haven't started that well in the second game. They are 2-7 down
16:18 hrs IST
Nervy start by Achanta-Manika
They started in the right earnest, but then lost momentum towards the middle phase. Strokes landed in the back end but India go down in the first game.
16:12 hrs IST
Table tennis: Semi-finals commence
Achanta Sharath and Manika Batra are back for their semis.
15:55 hrs IST
Kurash - India misses out on a medal
Megha Tokas loses in the quarterfinal to her Indonesian opponent. She also misses out on a medal.
15:33 hrs IST
India win - medal ensured
What a win, enter semis, stunning comeback after the first game.
The Indians clinch the match 4-11, 12-10, 6-11, 11-6, 11-8
15:23 hrs IST
India hit back
2 -2 and we are down to the final set to decide the winner of the match.
An absolute cliffhanger this one. Achanta seems to be in the groove, Manika landing her strokes too.
15:14 hrs IST
Go down in the 3rd set
The Indians fell behind in the initial stage of the 3rd game and could not stage a comeback
15:06 hrs IST
Woah, what a comeback from the Indian duo
Manika - Achanta were down 7-10 and then made a roaring comeback to clinch the game 12-11.
15:03 hrs IST
Sepaktakraw quadrant group B
India goes down 0-2 to Vietnam
14:57 hrs IST
Not a very good start for Batra - Achanta
The Indian pair have been blown away in the first set, they have to make a comeback now
14:52 hrs IST
Mixed double Table Tennis quarters begins
Achanta and Manika Batra in the fray, they will ensure a medal if they win this match
14:33 IST
Cycling track
Esow Esow knocked out of the event in round 16.
14:26 hrs IST
Good news from Kurash
Megha Tokas wins in the Women's -63 kg category to enter the quarterfinals. Another win in the semis and she is assured of a medal.
14:15 hrs IST
Sarjubala disappoints
India's Sarjubala Devi has been knocked out of the women's 51 kg category, after losing her quarter-final bout to China's Chang Yuan. She was India's biggest hope in women's boxing in the absence of the legendary Mary Kom.
14:04 hrs IST
More joy in Table-Tennis
After their historic first ever medal in the men's team event, the table-tennis contingent has continued the good work. The pair of Sharath Kamal & Manika Batra have entered the mixed-double quarter-finals after beating the world number three South Korean pair of Lee Sabgsu & Jeon Jihee
14:02 hrs IST
Sarjubala Devi's quarter-final bout begins
India's Sarjubala Devi begins her 51 kg quarter-final bout against China's Chang Yuan with a flurry of punches. She could assure India's third boxing medal today
13:58 hrs IST
Delight in boxing camp
The Indian boxing contingent is contributing to the medal haul and they are a happy bunch
India 🇮🇳ensures 2nd medal in Boxing!@officialvkyadav was thoroughly challenged by Chinese boxer #TuohetaETanglatihan, the 🇮🇳draws in an emphatic win with a split verdict (3:2) to reach the semi final of #AsianGames2018 Way to go Champ! 💪👊#PunchMeinHaiDum pic.twitter.com/o2x1jMJfav

— Boxing Federation (@BFI_official) August 29, 2018
13:43 hrs IST
Boxer Vikas Krishan wins, ensures medal
India's Vikas Krishan is through to the semi-final of the 75 kg category with a hard-fought win over China's Tuoheta Erbieke Tanglatihan in the quarters. He becomes the second Indian boxer to ensure a medal on Day 11.
13:35 hrs IST
Early scare for Vikas Krishan
Vikas Krishan has suffered a cut right above his left eye-lid and that is a big scare for the Indian boxer who is fighting his quarter-final bout in the 75kg category against China's Tuoheta Erbieke Tanglatihan. A victory in this match will ensure a medal for the Indian boxer
13:28 hrs IST
India leads in Handball
India are ahead of Indonesia at the end of the first half, with a lead of 16-13. This is a Classification match. No medals at stake here.
13:20 hrs IST
CYCLING
India's Esow qualifies for Men's Sprint Pre-quarters. He will now face South Korea's Chaebin IM in Heat 1 of pre-quarterfinals.
12:53 hrs IST
Squash - India win, assured of medal
India beat China 3-0 in the women's team event
12:36 hrs IST
MEDAL ALERT!! Boxing medal for India
1st Medal assured in Boxing folks as Amit Panghal is through to Semis (49 kg); beats North Korean pugilist 5-0
12:30 hrs IST
Boxing - Amit impresses
India's Amit vs North Korea's Kim Jang Ryong in the men's 49kg flyweight and it is the Indian who walks away as the winner
11:54 hrs IST
Boxing starts
India have four boxers in the fray today. Amit will kick things off with a bout against North Korea's Kim Jang Ryong.
11:46 hrs IST
Update on India's protest against Bahrain
The referee has rejected the protest and it will now be heard by the Jury at 5pm
10:53 hrs IST
Yeah, good news from Table tennis
Mixed Doubles pair of Anthony Amalraj/Madhurika Patkar are through to Pre-QF with 3-1 win over Indonesian pair
Also, Achanta Sharath Kamal/ Manika Batra are through to Pre-QF with 3-0 win over Malaysian pair
10:35 hrs IST
It has been a good Asian games for India
The sports minister believes that a revolution is taking place in the country.
Read his interview here.
10:32 hrs IST
Nothing too positive from Table tennis
Madhurika Patkar and Anthony Amalraj lose the second game of their mixed doubles match against L Indriani and Aji DP 11-13.
It's one-game-all in the match now.
10:10 hrs IST
Kayak update
Naocha Singh and Ching Ching Sing Arambam finish sixth and last in the men's Kayak Double (K2) 1,000m. They head into the semis.
10:00 hrs IST
JUDO: Not very good for India
India's Kalpana Devi loses to Uzbekistan's Ziyaeva Gulnoza in the women's -52 kg Elimination round of 16.
9:46 hrs IST
Positive news from Cycling
Esow Alban, who is also the junior world championship silver medallist, has qualified for pre-quarterfinals in men's sprint after beating his Thai opponent by 0.144 seconds.
9:24 hrs IST
Javelin round - heptathlon
India's Swapna wins this round. Good consistent performance by her.
Purnima Hembram sits at the number 4 position.
9:16 hrs IST
India go down in Sepaktakraw
India go down 0-2 to Malaysia in their Women's Quadrant Preliminary Group B match. They will play Vietnam next later today.
9:04 hrs IST
Heptathlon - Great start by India in javelin throw
Purnima Hembram records an average 39.89m in her first throw.
Swapna Barman breaches the 50m mark, she moves to the number 1 slot.
8:55 hrs IST
Pencak Silat - India in medal contention
India's Sonia and Simran are in contention for medals in the women's double gold round in pencak silat.
8:46 hrs IST
Judo - No good news for India
Vijay Kumar Yadav loses his bout to Uzbekistan's Diyorbek Urozboev 0-10 in the men's -60 kg elimination round of 16 match.
8:32 hrs IST
Kayak - India miss out on a direct qualification
India finish sixth and last in their heat of the men's Kayak Four (K4) 500m.
They progress to the semi-finals.
8:13 hrs IST
Ahh, the red flag
Both Indian athletes, Swapna Barman and Purnima Hembram are shown the red flag.
However, Swapna has the lead with a best jump of 6.05m heading into the javelin throw.
8:12 hrs IST
Cycling update
India's Manorama Devi finishes ninth in the women's omnium scratch race, fetching her 24 points.
Uzbekistan's Renata Baymetova bags Gold.
7:57 hrs IST
Athletics - hitting their stride
Great second jump by Swapna Barman who has now recorded a near perfect second attempt in the long jump of the heptathlon, recording an impressive 6.05m.
7:46 hrs IST
Not very promising from the Athletes so far today
Swapna Barman and Purnima Hembram both start the long jump event of the women's heptathlon with pretty average jumps, recording 5.82m and 5.85m respectively.
India's Khushbir Kaur misses out on a bronze medal after finishing fourth in the women's 20km racewalk. Soumya Baby was, however, disqualified.
Also, Irfan Kolothum Thodi and Manish Singh Rawat were both disqualified.