Assembly Elections 2019 Highlights: Congress doesn't care about India's unity or Constitution, says PM Modi in Haryana
Updated on Oct 18, 2019 02:53 PM IST
Assembly Election 2019: PM Modi is addressing three rallies on Friday - two in Haryana and one in Mumbai.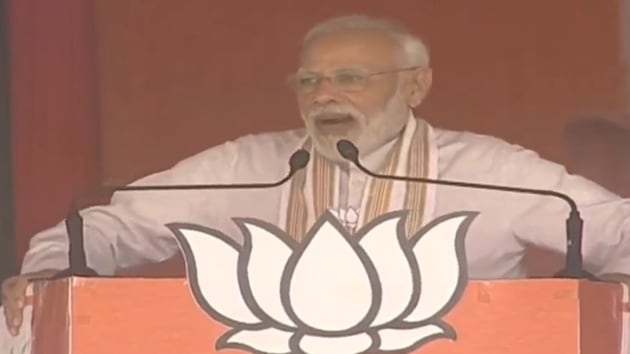 Hindustan Times |
HT Correspondent
With just three days left for assembly elections in Maharashtra and Haryana , Prime Minister Narendra Modi continues to lead the Bharatiya Janata Party's campaign in the two states.
The PM is addressing three rallies on Friday --at Gohana and Hisar in Haryana and at Mumbai in Maharashtra.
Voting for the two assemblies will take place on October 21 and counting will take place on October 24.
Here are the highlights of the PM's address in Gohana, Sonipat:
- I could not come to Haryana during Lok Sabha elections but you (the cititzens) did not complain. So I wanted to come here and address you.
- This region has made India proud in every field, be it fighting in the wrestling ring or fighting against terrorism. Sonipat means 'Kisan,Jawan aur Pehelwan
-You broke arrogance of big leaders in Lok Sabha polls.
- Do you remember what happened on August 5? What happened then was something no one ever had imagined .....that day the full Constitution of India was implemented. We removed the obstacle in the path of development of Jammu and Kashmir and Ladakh.
- But the Congress did not like that decision. When we talk of Swacch Bharat or surgical strikes or Balakot, they don't like it. Pakistan uses them to strengthen their case globally,what sort of chemistry is this?? Pakistan is using the false claims by Congress leaders to make its case in the whole world.
- I always tell Congress that it can oppose Modi as much as it likes, but till the time the people are with me, their accusations will not work.
- The Congress doesn't care about the feelings of the soldiers from Haryana who are protecting the borders of the country in Jammu and Kashmir and Ladakh.
- Congress cares neither about India's unity nor about the Constitution given by Baba Saheb Ambedkar.
- Congress indulged in corruption in agriculture and did scams in sports. We want India to progress in the field of sports along with economic development. Unlike Congress, we have removed corruption and nepotism from sports and that is why the sportspersons are performing so well now.
- Manohar Lal Khattar govt has done good work in the state in the last five years.
- I want to request you that come out and vote on October 21 and ensure BJP wins assembly elections with more votes compared to the Lok Sabha polls.
Close Story
Personalise your news feed. Follow trending topics