'I'm Modi's Hanuman, will tear open my chest and show if needed': Chirag Paswan
LJP chief Chirag Paswan has said that he does not need PM Modi's face for campaigning as 'his prime minister resides in his heart'.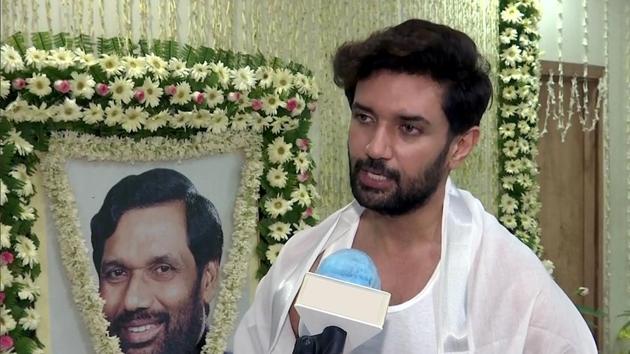 Updated on Oct 16, 2020 09:25 PM IST
Hindustan Times, New Delhi |
hindustantimes.com | Edited by Arpan Rai
Lok Janshakti Party (LJP) chief Chirag Paswan on Friday showered praises on the prime minister and said that he does not need to use PM Modi's photos for his party's campaign in the upcoming Assembly elections in Bihar as 'his prime minister resides in his heart'.
"I don't need to use PM Modi's photos for campaigning. He lives in my heart, I am his Hanuman. If needed, I'll tear open my chest and show it," said LJP chief Chirag Paswan, who walked out of NDA alliance after attacking Bihar chief minister Nitish Kumar.
The remarks by Chirag were in response to BJP leader Sushil Modi, who has accused LJP of using PM Modi's pictures for campaign, signalling widening rift with its former NDA ally in the state as the political battle heats up. Sushil Modi had said that his party may knock on the Election Commission's doors to prevent any other party except NDA coalition members from using PM Modi's photograph in their campaign posters for the upcoming polls.
Also read | Bihar Polls 2020:Every vote for JD(U) candidate will force children to migrate from Bihar, says Chirag Paswan
Chirag also underlined that his party LJP will not contest any BJP candidate in the polls and he will make a BJP leader Bihar's next CM.
"My relationship with PM Modi would not be affected by any statements of BJP leaders. Even if they include my criticism in PM Modi's speeches in the upcoming rallies in the state then also I will not mind that. But I reaffirm that on November 10, I will make a BJP leader as the Chief Minister of Bihar and LJP would be part of the government. I will never put candidates against any BJP candidate in the assembly elections," Paswan told news agency ANI.
"I have full faith on the Prime Minister and I have confidence that after November 10, BJP and LJP will form a government together in Bihar," he added.
The 37-year-old leader and son of LJP founder Ram Vilas Paswan has constantly targeted Nitish Kumar-led JD(U) ahead of the polls.
In his previous attack, Chirag had said that Nitish Kumar needs to put photos of the Prime Minister. "Our thinking aligns with that of the Prime Minister. We share a relationship of heart," Paswan said during video conferencing with LJP candidates for Bihar polls.
LJP, which has opted out of the National Democratic Alliance (NDA) in Bihar, has decided to put up candidates on seats contested by JD(U).
Also read: How will the LJP factor play out in the Bihar Assembly Election 2020?
Bihar Assembly polls would be held in three phases - October 28, November 3 and November 7, and vote counting will be on November 10.
Close Story
Personalise your news feed. Follow trending topics