10 classic songs of Manna Dey
Updated on Oct 25, 2013 10:16 AM IST
Singer Manna Dey, who was suffering from lung infection, died at 94, in Bangalore on Thursday. The singer has been in and out of hospital for the past few months. We list ten songs of the legendary singer. Paramita Ghosh writes.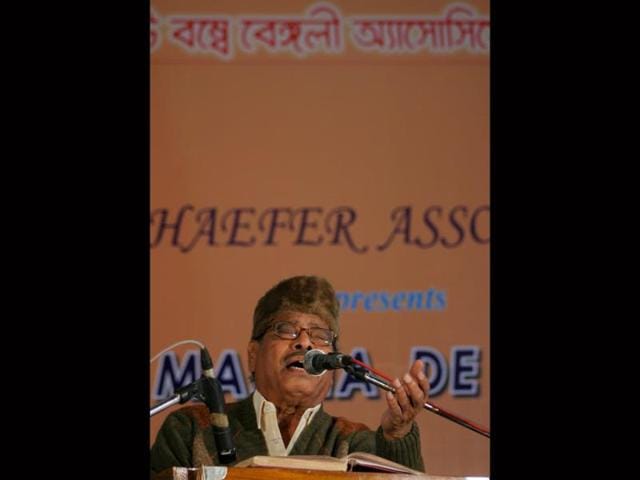 Singing legend Manna Dey, who was suffering from lung infection, died in Bangalore on Thursday. He was 94.
The singer has been in and out of hospital for the past few months. "Manna Dey who was under treatment for the last four months breathed his last around 3:15am," KS Vasuki, a spokesman of Narayana Hrudayalaya said.
Trained in Hindustani classical music by two classical stalwarts, Ustad Aman Ali Khan and Ustad Abdul Rahman Khan, he began his career in playback singing with the film Tamanna in 1943. He was awarded the Padmashree in 1971, Padmabhushan in 2005 and the Dadasaheb Phalke award in 2007.
Here is a selection of some of his iconic songs:




Ae meri zohar jabeen (Waqt) Achala Sachdev will always be immortalised as the screen wife Balraj Sahni serenaded in the BR Chopra film. Manna Dey's warm rendition of the joys of a happy marriage is peerless.
Tu pyar ka sagar hain (Seema) If Mukesh was the voice of Raj Kapoor, Dey was Balraj Sahni's voice. Ashok (Sahni) the compassionate manager of an orphanage sings his plea to Gauri (Nutan), an orphan girl who works there.
Laga chunari mein daag (Dil Hi to Hai) Raj Kapoor sings this song with panache dressed as an aging music teacher. The setting is a stage and Pran makes a brief appearance towards the end of the song.
Ek chatur naar karke (Padosan) A laugh riot of the late sixties, this is one of Dey's most successful collaboration with fellow playback singer Kishore Kumar who plays a pivotal role in the film as the hero Sunil Dutt's guru.
Chaddh gayo papi bichhua (Madhumati) One of the earliest Hindi films to deal with the theme of reincarnation, this song of Madhumati was one of Salil Chowdhury's best compositions. The haunting lilt of Dey in this song is the perfect foil to Madhumati (Vyjantimala)'s frenetic dance of a scorpion.
Tu chhupi hain (Navrang) Manna Dey does justice to this romantic song of a husband who yearns for his wife - Tu chhupee hai kahan mai tadapta yahaan/ Tere bin fika fika hai dil kaa jahaan/
Too chhupee hai kahan mai tadapta yahaan/ Too gayee udd gaya rang jaane kahaan/ Too chhupee hai kahan mai tadapta yahaan. This is one of his memorable duets with Asha Bhonsle.
Yeh raat bheegi bheegi (Chori Chori) The music was a high point of this Raj kapoor-Nargis film with tracks ranging from soothing melodies such as Aaja Sanam and Yeh raat Bheegi Bheegi in the voices of Lata Mangeshkar and Manna Dey, to fast beat songs such as Jahan Mein Jati Hun by Lata and Dey.
Dil ka haal sune dilwala (Shri 420) Raj (Raj Kapoor), an educated orphan comes to Bombay to make something of himself. Street dwellers are among his first friends in this city. This merry song is picturised in their midst.
Zindagai kaisei hain paheli (Anand) The unmatchable soar of Manna Dey in this song lifts the pathos of Anand (Rajesh Khanna), a terminally ill cancer patient, to another plane.
Yeh Dosti (Sholay) - Dey partnered with Kishore Kumar in this unforgettable song on friendship in the Bollywood cult film Sholay.
Personalise your news feed. Follow trending topics