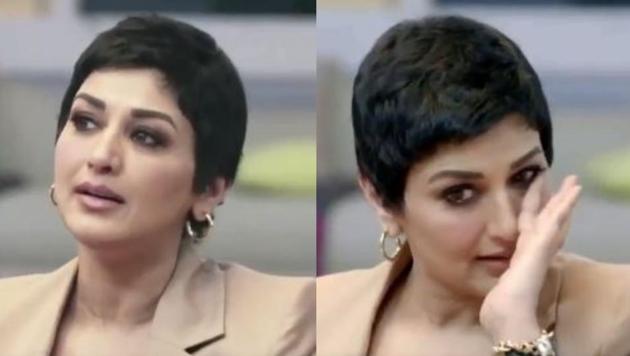 BFFs teaser: Sonali Bendre breaks down while talking about fight with cancer, reveals the moment when she vowed not to cry
Actor Sonali Bendre appeared on Neha Dhupia's chat show, BFFs with friends Sussanne Khan and Gayatri Oberoi.
UPDATED ON MAY 03, 2019 03:16 PM IST
Actor Sonali Bendre is back into the limelight after months-long cancer battle and is influencing millions of lives as she carries on with her life. The actor will now be seen sharing her journey on Neha Dhupia's chat show BFFs and will be accompanied by her friends —Sussanne Khan and Gayatri Oberoi.
The makers have released the teaser of the upcoming episode that shows Sonali breaking down while sharing her story. The actor reveals how she felt like being hit by a train on hearing the news and said, "I hadn't slept at all and that was the night when I acknowledged everything, accepted everything. This is it and this is going to be my last crying of how did I get this, why is this happening to me."
Talking about the moment when she decided to face it, Sonali says, "From this moment on, its going to be a happiness, its going to be a smile. And when I saw the sun coming up, I clicked that and sent it to my family and I said, 'Girls, switch on the sunshine'."
Sonali returned to India in December last year after spending several months in New York, where she underwent treatment for cancer. Both Sussanne and Gayatri had visited Sonali in the Big Apple, pictures of which were shared by them on Instagram. Actor Priyanka Chopra along with sister-in-law Sophie Turner had also paid her a visit. She had also attended her bridal shower in a red dress. Sonali had also met actor Rishi Kapoor, who too, was stationed in the city since October, 2018 post his cancer diagnosis.
Also read: Wedding of Priyanka Chopra's brother Siddharth called off? Fiancee deletes roka pics, hints at new beginnings
Post her return, Sonali had done a photo shoot for Vogue and had revealed her surgery scar in the picture. She wrote with it, "The idea was almost preposterous. An almost bald head, barely any make-up and a huge scar was not the norm for @vogue. But, I guess that's my new normal. Of course I had my reservations, and, if I dare say, insecurities - but a candid conversation with the lovely ladies @priya_tanna and @anaitashroffadajania cleared my doubts. And before I knew it, I was standing in front of the camera, ready to uncover my new reality. The icing on the cake was the fact that I needed one-third of the time for hair and make-up. So I closed my eyes and jumped into it, full throttle, and this is the result. Thank you, @meghamahindru for telling my story; and thank you @ridburman for understanding my story and saying it so beautifully through your lens. If there's a piece of advice I can give you all after this, it would be to 'Find your new normal'. It's very liberating."
Sonali went on to feature on the cover of Bazaar magazine and also starred in a video commercial post her return. She made one of her first appearances with husband Goldie Bahl at the wedding reception of Akash Ambani and Shloka Mehta in March.
Follow @htshowbiz for more

Close