Deepika Padukone meets Rishi Kapoor in New York, Neetu Singh calls her adorable. See pics
Updated on May 11, 2020 08:57 PM IST
Deepika Padukone took time off from Met Gala recently to meet Rishi Kapoor and Neetu Singh in New York. See pic here.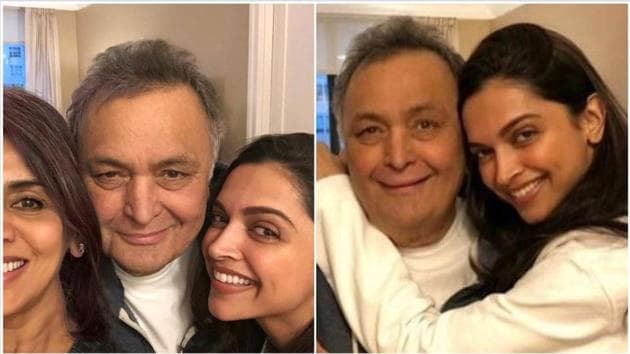 Actor Deepika Padukone met veteran actors Rishi Kapoor and Neetu Singh in New York recently. Neetu took to Instagram to share pictures from their get together.
"Such a fun evening with adorable @deepikapadukone .. gave lot of love n warmth," Neetu captioned the pictures. Deepika is seen in a white sweater in the pics, giving Rishi a big hug as Neetu clicks a selfie. Rishi has been receiving treatment for cancer in New York since last year. Deepika was in NYC for the 2019 Met Gala. She walked the red carpet in a ball gown designed by Zac Posen. It would be sage to assume that this was also when she met Rishi and Neetu.
Also read: Janhvi Kapoor remembers Sridevi on Mother's Day, asks everyone to cherish and listen to mothers
WATCH: Met Gala: Deepika Padukone looks pretty in pink, steals the show
Deepika is the ex-girlfriend of Rishi and Neetu's son and actor Ranbir Kapoor. Rishi was not always this fond of Deepika and even called her immature for taking digs at Ranbir with Sonam Kapoor during an episode of Koffee With Karan in 2010. On the show, shot after their break-up, Deepika had said that she would like to gift Ranbir a pack of condoms and if she ever woke up as him one day, she would like to go back to sleep. She rated him the least on sex appeal and discreetly took digs at him for cheating on her.
Rishi had said that it's 'a case of sour grapes'. "It just shows their (Deepika and Sonam's) class. I would like to tell them to stop giggling all the time and instead grow up and behave maturely. They are there on the show because they are their father's daughters and not because of their work! I would advise them to stop talking about their colleagues and running them down," he had said.
Even several Instagram users pointed out the irony of it all upon seeing the latest pictures. "You didn't loved her when she was your sons girlfriend. Now you are showing extra," wrote one user. "Omg what a drama.. when Deepika was rk's gf at that time u didn't like her and now she is adorable," wrote another. "This is sad honestly. When she was with your son there was so much hatred, and now suddenly much love?! Lol. People and their ways," read another comment.
Ranbir is now dating actor Alia Bhatt while Deepika married actor Ranveer Singh last year in November. Ranbir and Deepika now share friendly relations and are rumoured to star together in Luv Ranjan's next film.
Follow @htshowbiz for more