Exclusive: Prime Minister Narendra Modi's wit left me stumped, says Akshay Kumar
In an exclusive chat about his conversation with Prime Minister Narendra Modi, actor Akshay Kumar describes the interaction as 'surreal and heartwarming'.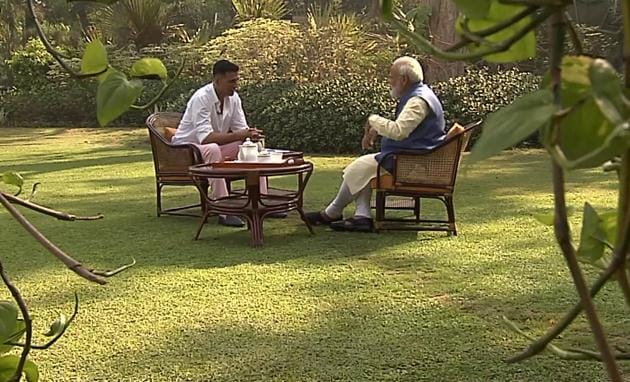 Updated on May 05, 2020 07:28 PM IST
When actor Akshay Kumar tweeted a couple of days back about being nervous at venturing into uncharted territory, most thought he's referring either to a new film project, or is joining politics. As it turned out, the actor got the rare opportunity to have an in-depth conversation with the country's Prime Minister on all things 'non-political'. He describes the emotions before, during and after his candid chat with Narendra Modi, that broke the internet all of today.
The PM is not known to give interviews to a lot of journalists, let alone one to an actor. Whose idea was it for you to do this interaction with him?
I have had the good fortune of knowing our Prime Minister from the days when he was the Chief Minister of Gujarat. I've been meeting him on and off since then. I had seen a side of him — all those years back — when he was much more relaxed, he would laugh, crack jokes. During a recent conversation I had with his office, we discussed the possibility of bringing that side of him out in the middle of all the election stress. My only condition was that I will not discuss anything political, because frankly, that's not a subject I'm very up-to-date on. I'm really glad it mutually worked out, without there being any reference to politics.
Watch | LS elections 2019: PM Modi, Akshay Kumar full interview
Read more | Behind Akshay Kumar's cryptic tweet, an interview with PM Modi: sources
But the fact that there was no discussion on politics is making some people say your questions were too simple, and lacked depth…
See, I am a simple man. And I have no hesitation in admitting I couldn't have asked any complicated questions about government, policies, or politics. All the big time editors interviewing him anyway ask him questions which have 'depth', right? All I wanted to do was ask about lighter, relatable things which a common person would want to know about the man behind the powerful designation of the Prime Minister. I asked him if he likes eating mangoes. Some may find it frivolous but I really wanted to know if he indeed did. What's wrong with that? Modiji said he doesn't get time to watch too much sports, otherwise I also would have asked him which team does he think will win the cricket World Cup. The thing is, maine wahi questions poochhe jo mujhe khud samajh aate hain. I could not have possibly gone there with a script to ask questions on subjects that I do not myself have enough knowledge of, at this point.
In the context of him being active on social media, PM Modi took a good-natured dig at your wife Twinkle Khanna's critical tweets about him. How did you react?
I did not know where to look. I was stumped by his wit, and the very sporting manner in which he said it. I didn't know what to reply. I could only laugh embarrassingly and I thought to myself – 'ek taraf biwi, ek taraf desh ka Pradhan Mantri. Both have powerful portfolios in my life. It's best to stay quiet'.
Read more| Box office report: Akshay Kumar's Kesari crosses ₹100 cr mark, Luka Chuppi and Badla defeat Ides of March
Was there a brief given by the Prime Minister's Office on the questions to be asked? How nervous were you?
Arrey, who will give me a brief to ask him about Aladdin ka Chiraag or narrate jokes on Gujaratis? I know people think such things are rehearsed, but if you would believe me, I'd like to clarify that it was a spontaneous, natural and free-flowing chat. We recorded a nearly one-and-a-half hour interview in a single take. Not even once was there a repeat take. You wouldn't have seen me read questions from a sheet of paper. Because I was speaking about things that I was picking up from the answers that he was giving me. To answer your other question, yes, I was nervous, and I had even written that in my tweet. But I was not nervous because of him, but because of the fact that this was totally new territory for me. All my life, I have been on the other side of interviews. But Modi ji had the knack of making me incredibly comfortable. He was laughing and speaking so naturally, just as you and I are conversing right now, without there being a need for nervousness. When he started speaking so candidly, I also felt totally at ease and asked him whatever I've wanted to know about the human being that he is.
WATCH: LS elections 2019: PM Modi, Akshay Kumar full interview
What aspect of the conversation would you say is the most relatable, in your opinion?
There are two. Ek toh who itna khul ke hase, that uncontrolled laughter of his was so heartwarming. You know, all through my growing up years, one thing that was most valued in my home has been the ability to laugh- under any circumstances. There were some hard times when my parents, my sister Alka and I would skip a meal on Saturday because we wanted to save money to go to Roopam theatre to watch a film every single week. Because dad would say that entertainment, laughter, is as important to life as eating is. So when I saw Modiji laughing so hard at the good or bad jokes that I cracked, I found it amazing that this man has retained his sense of humour in the middle of all the stress he must be facing every day. The other relatable aspect was the way he spoke about his humble beginnings. I am an outsider in the film industry, just as he was in politics. Just that he would sell tea, and I used to serve tea. It motivated me to think that even after he has risen to such a position in life, he retains a sense of humility. At some point while talking, he poured tea for me. I actually fumbled in the middle of my question. It was unreal – this is the Prime Minister of our country, and he is so much like all of us in a lot of ways. At least for me, that was very relatable.
What reactions have you got thus far on the conversation?
I was shooting all night, I'll now go on Twitter to see the reactions. I'm told that there's been an overwhelming response. I have a lot of messages on my phone from my friends. Vaise asli response toh tabhi pata chalega when I'll speak to my mother. She gives me the most honest opinion, always.
Follow @htshowbiz for more
Close Story
Personalise your news feed. Follow trending topics