I wonder what Ekta saw in me, wonders Sumeet Vyas in post-wedding interview
Sep 23, 2018 12:16 PM IST
Sumeet Vyas, who tied the knot with Ekta Kaul in a private ceremony recently, talks about his disbelief that Ekta fell for him, his future in Bollywood, and other things in post-wedding interview.
Actor Sumeet Vyas describes his wife and actor Ekta Kaul as a "complete package" and says he still wonders what she saw in him. Sumeet got married to Ekta in Jammu on September 15 in a low-key affair.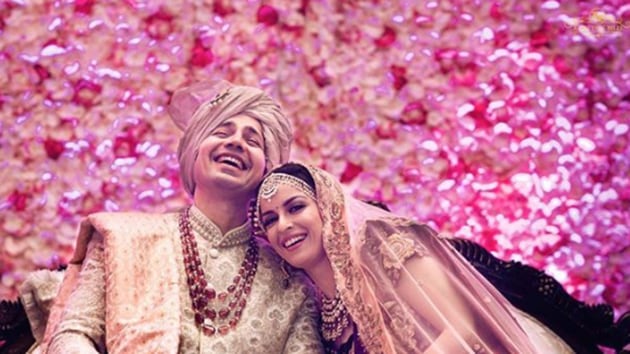 "I am quite excited to start a new chapter of my life. And the excitement comes from the hopes you have from your new life," Sumeet told IANS over the phone from Mumbai. The couple made their relation official earlier this year. This is Sumeet's second marriage.
How did he know that Ekta is the one?
"Wow, that is really a deep question. You come to know with the time you spend with your partner. For me, it is basically the core value that a person has. I wanted to be with someone who is not filmy, with someone with no multiple layers as to how they react to situations.
"And Ekta is a pretty straight forward person besides being drop-dead gorgeous. She is like a complete package. I am wondering what did she see in me, how did she think I am the one."
Sumeet is not going on a break, and plans to immerse himself in work.
After starting the year on the right note with Veere Di Wedding, Sumeet has a lot to look forward professionally.
He has the second part of TVF Tripling -- a series which explored the bond that siblings share through a story which also highlights the importance of travelling -- is in the offing, and season two of digital series called It Is Not That Simple. Then he wants to bring back Permanent Roommates.
Talking about the second season of TVF Tripling, he said: "It is turning out pretty well. We have been working on the script for almost three years now. We hope to start shooting by end of September."
Where will the second part take the viewers?
"This year also there are a bunch of locations which we are planning. I still have to get a confirmation on what all have we finalised. I was very keen to explore the North East because that is a really unexplored portion and is absolutely stunning. I was very keen to push some part of the story in North East. Let's see if we get there."
In Bollywood, Sumeet wants to explore different zones.
"I have been consciously trying to evade the roles that I have done already. In that sense, I have let go of a lot of opportunities, which looked lucrative but I thought that they will not take me forward and didn't excite me as an artiste.
"It is very important to break that form and that expectations and create a new kind of character. I have been looking at doing more grey parts this year."
Has he signed another Bollywood project?
"There are a couple of film projects, but they are right now at a nascent stage... I will make some announcement in a month or when they are finalised."
Follow @htshowbiz for more