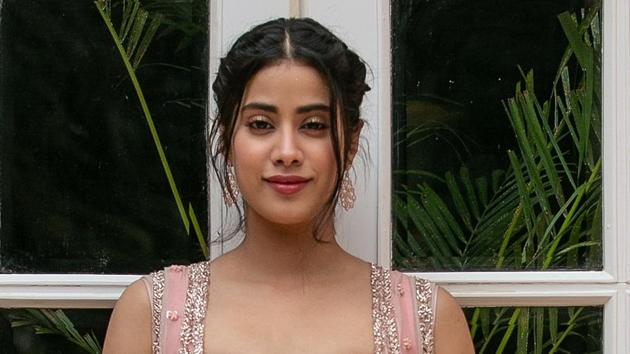 Janhvi Kapoor says sister Khushi cried after watching Dhadak, dad Boney Kapoor hugged her and wept
Bollywood actor Janhvi Kapoor says that her father, producer Boney Kapoor, and mother, the late actor Sridevi, helped her understand cinema both as an art form and a business, and that she's glad her first film made her dad proud.
UPDATED ON JUL 24, 2018 04:44 PM IST
Her big Bollywood debut has come at a tough time for young Janhvi Kapoor — when she has to look brave and play the star in public and is still deeply mourning her mother, the late superstar Sridevi, in private. So, the success of Dhadak means more to her than what it normally would to a newbie.
Janhvi spoke about her father, Boney Kapoor and sister, Khushi Kapoor's reaction to the film. "Khushi was crying… She looked at me and said, 'Why are you worrying?' and then started crying again. Papa actually saw the film a month ago, and as soon as the screening was over, he went to the temple. That night he came to my room and held me tight and started crying," Janhvi said. The film, co-starring Ishaan Khatter, is a remake of the Marathi hit, Sairat.
Read| Dhadak box office day 3: Janhvi Kapoor, Ishaan Khatter film earns Rs 33.6 cr, all set to become a hit
"The love has been overwhelming," says Janhvi. "More than anything else, it feels good to know that we've moved people with this message that we were trying to convey. I'm just happy about any form of acceptance, so I have a chance to work more and do better at what I love. To see my father (film producer Boney Kapoor), Shashank (Khaitan, director of Dhadak) and Karan (Johar, producer of Dhadak) feeling so proud and happy means the world to me."
The 21-year-old actor understands that it wouldn't be easy to take the family legacy forward — her parents together made one of Hindi cinema's biggest hits, Mr India (1987). But she feels lucky that she could learn so much about cinema right at home — both in terms of the art and the business. "It's lovely to have had access to so much knowledge and seen two sides of the coin," says Janhvi.
She adds, "My father is a more creatively inclined producer; he gets very involved. From his perspective, I know what actors are like when they're behaving in a certain way, and how he needs to take care of technicians, how post-production is as important as pre-production and shooting."
Seeing her father function, she realised that "the producer's job is actually the most under-credited one". Janhvi says, "Pura credit baki log lekey jaatey hain (others walk away with all the credit), actors, directors… because they were in front of the camera or just behind the camera. A producer is even more behind (in terms of visibility), lekin unka bahut bada haath hota hain (but makes a huge contribution to the project). About my father, I know how hands-on he is. So I have a lot of sympathy for producers and feel responsible."
About mother Sridevi, she says, "She was such a creatively fuelled person, so emotional and sensitive. It was vibrant energy to have her around. Her knowledge of cinema and acting, I think, is unparallelled — she did 350 films from the age of four. Acting, for her, was instinctive; it was like breathing, not a textbook thing. She never gave me tips, but watching her was everything, even in daily life."
From father Boney, she got a lesson. "Papa told me that just because you're an actor and you're dealing with emotions and you're in front of the camera, it doesn't mean yours is the most important job. Everyone's job is important, everyone is doing their best. The most important thing is the film and nothing else," says Janhvi.
How about working in a remake of one of her mother's hit films, with her father producing it? "It's daunting to even think about it, as it's ten times more responsibility," she replies. "I need to first prove myself to be deserving of such a great opportunity."
Author tweets @Shreya_MJ
Follow @htshowbiz for more

Close