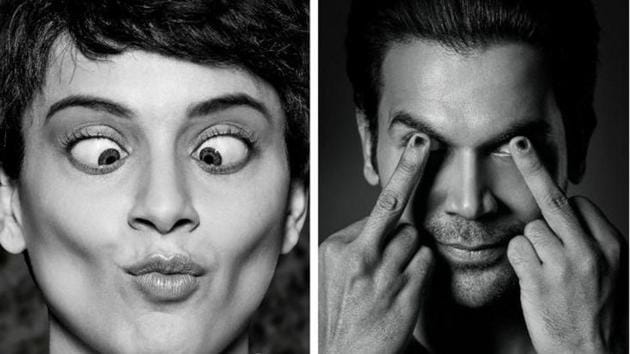 Mental Hai Kya first look: Kangana Ranaut, Rajkummar Rao return and this is nothing like Queen
Mental Hai Kya brings together Kangana Ranaut and Rajkummar Rao again after Queen.
UPDATED ON MAR 05, 2018 09:45 AM IST
In Bollywood, few things succeed like success. And, to use another cliché, imitation passes off as the sincerest form of flattery. By that definition, when Rajukummar Rao and Kangana Ranaut came together again for a film, it should have at least a passing resemblance to Queen. But then, when have Kangana and Rajkummar done anything that is clichéd? So Mental Hai Kya, their second film together, going purely by its first look, is quirky, zany and nothing like Queen.
Rajkummar tweeted, "Crazy is the new normal. #MentalHaiKya with immensely talented #KanganaRanaut & my fav @ektaravikapoor. Let's begin this mental ride @ShaileshRSingh @balajimotionpic @RuchikaaKapoor @KarmaFeatures @pkovelamudi @KanikaDhillon."
Mental Hai Kya is produced by Ekta Kapoor and directed by Prakash Kovelamudi. While Kangana is seen contorting her face, it is Rajkummar who is flipping us the bird. In a recent interview, Kangana had said about the film, "You're never sure if this girl is hallucinating or what's happening to her is for real, whether the guy (Rajkummar Rao) is trying to trap her or she's got him wrong." She was also excited about working with Rakummar, "He is a star today while still being a brilliant actor, so I will have to be on my toes to ensure he doesn't steal the show from right under my nose", said the actress.
About the movie, Ekta revealed, "Mental Hai Kya celebrates the beauty in imperfections and in being different and shouts out, Sanity is overrated! I'm thrilled to work with Kangana and Raj on this one."
While Kangana has faced only disappointments at the box office recently (Rangoon, Simran), she is now busy shooting for Manikarnika. Rajkummar, has transformed into a star on the back of critically-acclaimed hits such as Newton and Barielly Ki Barfi.
Close