Mukesh: Remembering the singer with the midas touch
Updated on Aug 27, 2014 10:20 PM IST
After 38 years of his death on August 27, 1976, Mukesh is still being remembered for that silky voice which gave the disheaterened a glimpse of light at the end of the tunnel.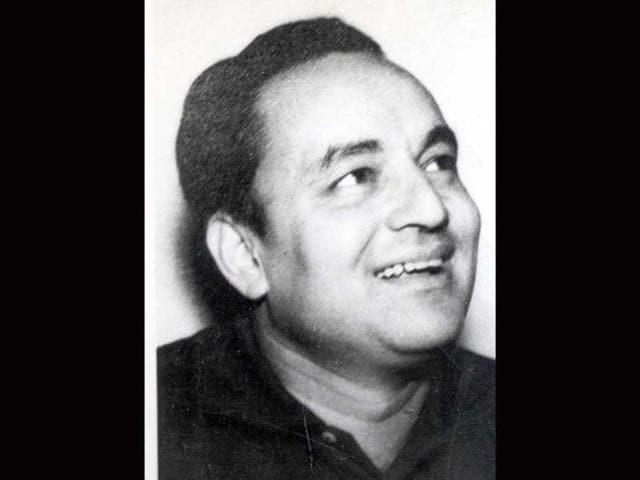 Ek din bik jayega maati ke mol

Jug me reh jaayenge pyaare tere bol

Ek duje ke hothon ko deke apne geet

Koi nishani chodd, fir duniya se bol

Ek din bik jaayega maati ke bol...
He indeed left his impression on the world, so much so that even after 38 years of his death on August 27, 1976 in Detroit, USA, he is still being remembered for that silky voice which gave the disheaterened a glimpse of light at the end of the tunnel.
Sab kuch seekha humne

Naa seekhi hoshiyaari…
Mukesh Chand Mathur, who once wanted to become another KL Saigal, was much more than the playback for Raj Kapoor. It's very interesting how Mukesh initiated in music. Similar to the story of Eklavya, Mukesh started learning music from his sister's Guruji. He would listen from the next room and keep practicing until the day when he sang on his sister's wedding. This was the moment when his relative Motilal, the effervescent Chunni Lal of Davdas (1955), caught the hint of his singing potential and brought him to Bombay. That was the era when film industry was supposed to be that 'untouchable' place.
Also read:
5 life lessons from Mukesh's songs
Dum dum diga diga

Mausam bheega bheega

Bin piye main toh gira, main toh gira

Hay Allah, surat aapki subhanallah…
Mukesh had good looks and his nature was very industrious, thus trying his luck at acting was natural for him. Here, singing became his survival tactic. Today, a song by the actor garners any film the much wanted publicity, but Mukesh was among those people who started such a trend in the Hindi film industry. He sang and acted in Nirdosh (1941). After spending some months in a place which was waking up to the western world of celluloid, Mukesh lent his voice to Motilal in Pehli Nazar (1945).
This was a major phase of his life as he was getting closer to Anil Biswas, the music composer of Pehli Nazar, and the man who would shape up the genius of Mukesh in an organized way in coming years.
Dil jalta hai toh jalne do

Aansu nab aha, fariyaad na kar…
KL Saigal was Mukesh's idol, and it was a pupil's victory when Saigal heard the song and wondered when did he sing this song? But, it was just those anxious moments when an artist was formulising his own tactics. Now, Naushad became his guiding light. A composer known for his difficult raga based songs, Naushad churned out Mukesh's talent for classical singing and there began an association which would create fantastic music in films such as Mela and Andaz.
Suhana safar aur ye mausam hasi

Humein darr hai hum kho na jaayein kahin…
Mukesh kept getting positive responses for the songs that he sang for Dileep Kumar, but something very interesting was about to happen. Dileep Saab chose Rafi and Mukesh was picked by Shankar-Jaikishan as the playback for Raj Kapoor. This proved to be a masterstroke as they came up with songs such as Patli kamar tirchi nazar (Barsaat), Aawara hoon (Aawara), Mera juta hai Japani (Shri 420), Ramaiya vastavaiya (Shri 420), Mera naam raju gharana anaam (Jis Desh me Ganga Behti Hai), Jaane kahan gaye wo din (Mera Naam Joker), and many more gems that automatically come to our lips when we feel to express a difficult emotion. You know what Raj Kapoor said when he heard the news of Mukesh's demise, he said 'I have lost my voice.' It wasn't exaggeration. You try to remember Raj Kapoor, and you'll end up humming Mukesh.
Mukesh was that voice which made us understand the world in its purest form. I don't know how many of us tune in to Vividh Bharati now, but those who do would realize that the demand for his songs hasn't dipped down by even a single point.
Will there be any other singer who would say, '
jo tumko ho pasand wahi baat kahenge, tum din ko agar raat kaho hum raat kahenge…'
?
Personalise your news feed. Follow trending topics