Nobody wants to be this thin: Anushka
Updated on Jan 21, 2013 11:27 AM IST
Guts and glory are the best way to describe the sprightly Anushka Sharma. In a tell-all, the actress clears the air on all controversies surrounding her – including her weight and link ups – and discusses her skyrocketing career and her ideal man.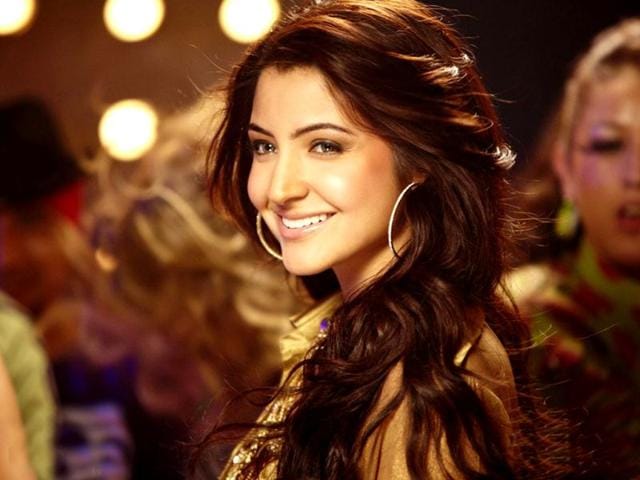 Hindustan Times |
, Mumbai
Afsana Ahmed
Guts and glory are the best way to describe the sprightly Anushka Sharma. The Bangalore babe who never nurtured a film dream, ironically, is leading a pack of talent in Bollywood today.
An army officer's daughter, Anushka, was brought up in a certain way where Bollywood was never a part or influence of her growing up years, "Literary and cultural activities and rock music were more us, than films or reading film magazines and gushing about stars. Also because I was not from Mumbai, there was no direct influence, knowledge or information about films" she confesses.
But, time and place have changed for Anushka.
Four years back she'd moved to Mumbai and after a spate of successful films her ambitions have also changed gears. "I am in a very good space in my life doing some great movies with great directors. I have all those things that bring sunshine to my life," the actress says. We meet Anushka at the Yashraj studio for an exclusive chat.
In what order would you attribute looks, luck, talent and destiny for your success?
To begin with, it would be destiny. Life moved in such a way that I was destined to get here. After that would be looks and talent together. People sat up and noticed me. And throughout your career, a little bit of luck is always needed. It's always been about being at the right place at the right time.
Then you must be lucky.
Nobody wants to be this thin. I do intense weight-training for muscle mass to gain weight and get my legs in good shape. I don't think any girl works out like I do. I also have a high metabolism, so I keep eating every two hours. Biryani, butter, aloo paratha are my staples. But I work out religiously, so that I don't lose any more weight. It sounds funny, but that's the truth.
Does stardom change the equation between a star and his/her family?
I believe you don't change, but family members start seeing you in a different light. They go like, 'Oh, she has no time for us now.' For instance, there's an aunt who would talk to me once in a year. Now she calls me every two months and if I am not available, she sulks. But the point is, I was always like this and you would always talk to me only this much. Now that's unfair.
So yes, the change has affected certain sections of my family but the others are absolutely cool. They will treat me normally and enquire about my profession just like another job. I like that. Now I also make it a point to be in touch with all of them. I call them, wish them on their birthdays. Even on my own birthdays, I call them.
You have been linked with your co-stars, from Shahid Kapoor to Ranveer Singh to Ranbir Kapoor.
I can see it's something difficult for people here to digest the fact that a boy and a girl can have a healthy platonic relationship. My relationship with all my co-stars has been very healthy. There's no romantic angle involved. I am like their buddy. They can talk to me bindaas without having to impress me because they know I don't have an agenda. And they don't even treat me like a girl. They say, tu toh ladki hai bhi nahi' (You are not like a girl!). They think I am a guy, their buddy.
People say you are anorexic?
This is my body type and there is nothing I can do about it. People have to understand that if there is something called overweight, there is something like this as well. I'm an ectomorph, which means having a lean built and lean muscle mass. These body types don't put on weight easily. Ranbir Kapoor, Imran Khan and I share the same problem. How much ever I eat, I will not put on weight. Luckily, I have never looked thin on-screen.
'I am not a threat to girlfriends or wives'
Really?
I grew up in an army family, went swimming with the boys, played cricket and tennis with them. We would be like, 'Hey what time is the match?' I feel nothing for anyone. And this is who I am. So I am not a threat to any girlfriends or wives.
Did you have a childhood crush from the few movies you might have seen?
I never had any such crush. I was seven years old when I went to see Dilwale Dulhaniya Le Jayenge (1995). I liked Shah Rukh Khan, Aamir Khan, Saif Ali Khan, Akshay Khanna and Govinda a lot. My father was such a huge Govinda fan and I would have to sit through his films because of my dad.
Infact when Hrithik Roshan's first film, Kaho Naa… Pyaar Hai (2000) released, I was still a kid. My mother's friends used to gush about him. I would wonder what's wrong with them because I didn't understand what being hot meant. My world was different. I would sit with my friends and enact the famous scene of the little girl Anjali and her friends from Kuch Kuch Hota Hai (1998), where the little girl goes, 'You stupid, you stupid.'
Are actresses in today's movies bolder than before?
Today's cinema is not an attempt to be consciously bold, but a symbol of changing times. Cinema is getting crisper, scenes are being drawn from reality. There's no time to establish the romance between the couple through many serenades, meetings, or birds and
flowers kissing. Kissing is a part of people's lives. I am confident that in the next five years, we will stop talking about it as something extraordinary. It will be treated like the action sequences, which actually I find more abnormal than an organic thing like kissing.
Why do you feel that wrong stories about you are being planted by your rivals' managers?
When baseless, fabricated stories come out of nowhere, you are bound to think that somebody is plotting against you. It upsets me terribly. If there's any iota of truth, I would be fine with it, as we all know that in a star's life, even the smallest things gets magnified. That's the price of being a star, and I have no problem with it.
So, was the rumour of you dating Ranveer a promotional gimmick to promote your films?
I am not a girl who likes to date. I have not fallen in love so far. I had an infatuation when I was young. That's about it. There is nothing between Ranveer and me. He and I, in two-and-a-half years have done two films back to back. Our first film, Band Baaja Baaraat (2010) was promoted in a way where we had to be together all the time. Be it awards functions, chat shows, or public appearances, we had to hang out as a team. And because the film was a hit, our pairing became a hit. He was always my costar and nothing else. Like I said earlier, actors' lives are exaggerated.
Will you consider marrying an actor?
I honestly wouldn't like to. Then again, never say never. I am an actor myself, so I know what the life is like. Let me put it like this, I think I will be better taken care of and loved by someone who is not an actor. I will fall in love with the guy who loves me the most, without an agenda.
What led to talks of a cold war between you, Deepika and Katrina?
It's silly to even assume that there was a cold war between us. Okay tell me, why don't we ever pitch two male actors competing against each other and ask them about fights and cold wars? More competition lies there because each of them hold the film all by themselves.
You recently met Salman Khan when you had gone to the Bigg Boss house. How was it?
Salman has an aura around him, where you get intimidated easily. Nobody had introduced us in the past, so I was scared to approach him. But I've heard so many good things about him. After meeting him there, I think he is the coolest guy I have ever known. Everyone wants to be Salman Khan. He defines cool. I really respect him. If we are destined to be paired together in a film, I would love to work with him.
Was there any point when you felt like packing your bags and leaving Mumbai?
After my first film Rab Ne Bana Di Jodi (2008), I was sitting at home for about seven months doing nothing. I used to get advice from people around that I should be moving fast because in Bollywood, being out of sight is being out of mind. I was perplexed and started doubting myself. Those seven months were bad. Slowly, I tried cutting out the noises around and focusing on my inner thoughts. And, at the end of the day, I followed my gut.
Are you a director's actor?
Yes, but luckily, I am allowed to improvise. I've always have a say in my films, right from my first film. I understand what they want out of me.
Was there a fight between Arjun Kapoor and Ranveer Singh over you?
There has never been any fight between any actors over me. Yes, in the fantasy world, its sounds exciting to hear, 'Wow, two guys fighting over me'. But sadly, that's just fantasy. We actors are selfish people, and just want to do the best work and get the best for ourselves. If I had a relationship with Arjun, I wouldn't have gone out for a movie with him in broad daylight. Relationship develops behind closed doors, not out in the open.
Five men Anushka admires
Amitabh Bachchan: I spoke to him during KBC and when he praised my performance, I almost fell off my chair. He's a so warm. Great man, amazing actor, great teacher for actors.
Aamir Khan: A genius; married to his work and cinema.
Shah rukh khan: Most intelligent man; smells heavenly. Whenever he is around, you are mesmerised.
Ranbir kapoor: Great actor, really respectworthy. Richly contributes to the industry.
Salman khan: Cool as a cucumber.
We heard you adored Divya Bharti?
Yes, I became a huge fan of Divya Bharti after watching her songs. I would dance to almost all her songs, especially 'Saat samundar paar', and would break into the dance moves anytime and anywhere. When she passed away, my mother didn't tell me for about a week, because she knew I would break down.
Personalise your news feed. Follow trending topics