Priyanka Chopra, Nick Jonas' Delhi wedding reception highlights: Newlyweds meet PM Modi
Actor Priyanka Chopra and her singer husband Nick Jonas celebrated their wedding with family and friends at their first wedding reception on Tuesday. The couple were joined by some special guests at the Taj Palace Hotel in New Delhi.Priyanka and Nick tied the knot on December 1 and 2 in two separate ceremonies at Jodhpur's Umaid Bhawan Palace. They first got married in a Christian wedding ceremony that was officiated by Nick's father, Paul Kevin Jonas Sr. On the second day, they got married again in accordance with Hindu wedding rituals. They were joined by their families and close friends for the celebrations.Check out the highlights from the reception here: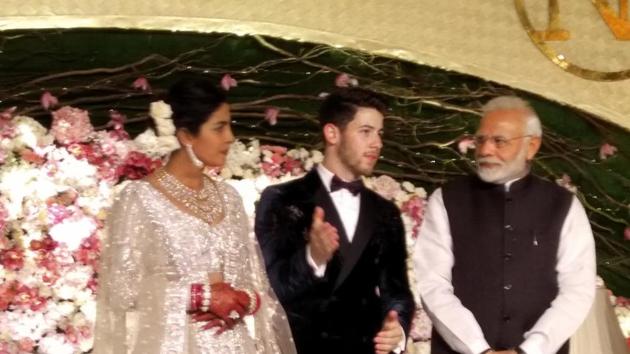 Updated on Dec 04, 2018 10:56 PM IST
10:40 pm IST
VIDEO| Priyanka and Nick pose for photos
Watch Nick and Priyanka pose for pictures with their families at their wedding reception in New Delhi.
10:30 pm IST
Parineeti Chopra says Nick was generous at the wedding
Parineeti tweeted that Nick was too generous during the 'joota churaai' ceremony. "To all those speculating the joota hiding money - you know nothing!! All I can say is - you're wrong!!!!! Haha. Nick was MORE THAN CRAZY HUGELY MADLY GENEROUS! No words. Still reeling. Phew. He shocked us. Whatta playa!!!," she wrote in a tweet.
10:10 pm IST
Check out inside pics of the venue and the decor
The reception venue is flushed with pink light and flowers. Chairs have been laid out on a stage for the entire family.
10:00 PM IST
Nick's mother wears traditional Indian outfit
Nick's mother Denise wore an anarkali to the reception. His father Kevin Jonas Sr wore a suit.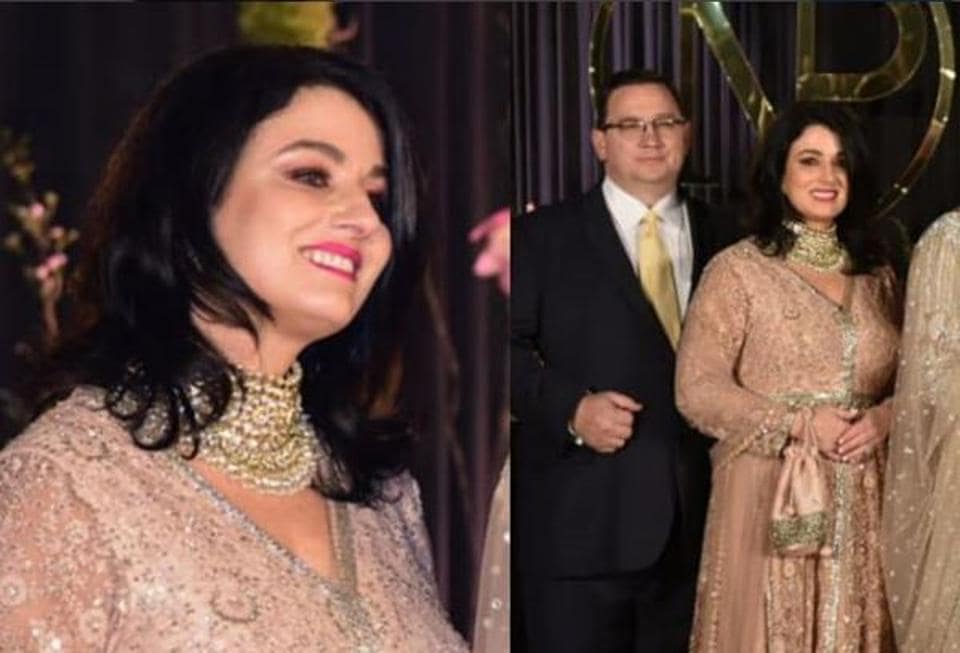 Nick's parents at his wedding reception. ( Vira Bhayani )
9:50 PM IST
Newlyweds meet PM Modi
Priyanka and Nick were spotted with the Prime Minister at the reception. They were seen laughing together.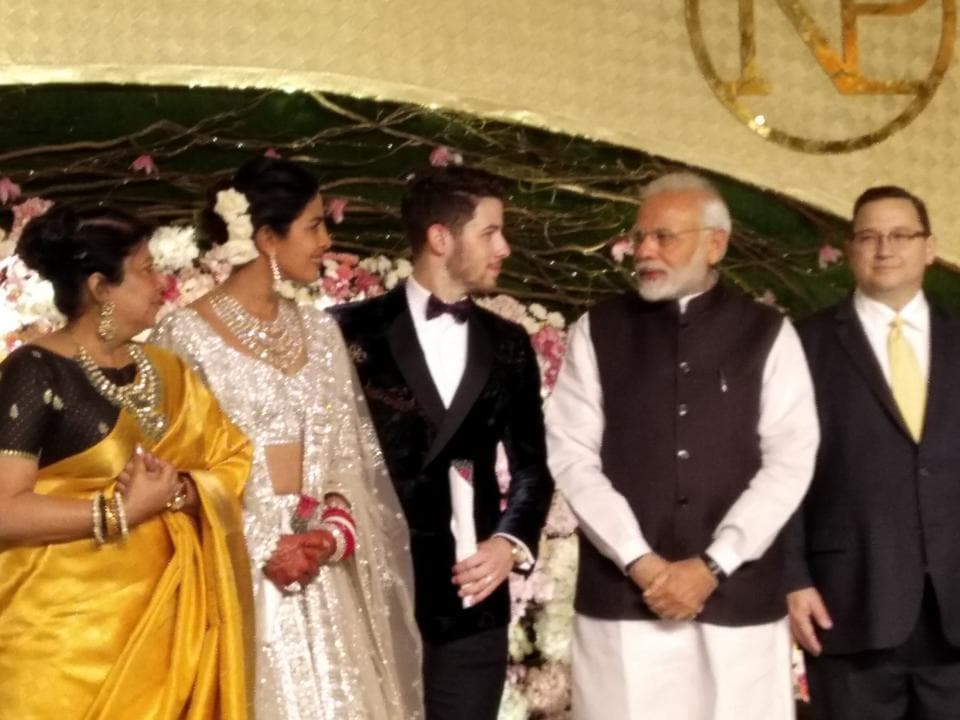 New Delhi: Prime Minister Narendra Modi with actress Priyanka Chopra and Nick Jonas at their wedding reception in New Delhi on Dec 4, 2018. ( IANS )
9:45 pm IST
Prime Minister Modi arrives for reception
Prime Minister Narendra Modi has arrived at the venue. He will wish the newlyweds on their wedding.
9:35 pm IST
Priyanka, Nick pose with their families
Priyanka and Nick posed with his father Kevin Jonas Sr, his mother Denise, his brother Joe, sister-in-law Sophie Turner, her mother Madhu and her brother Sidharth.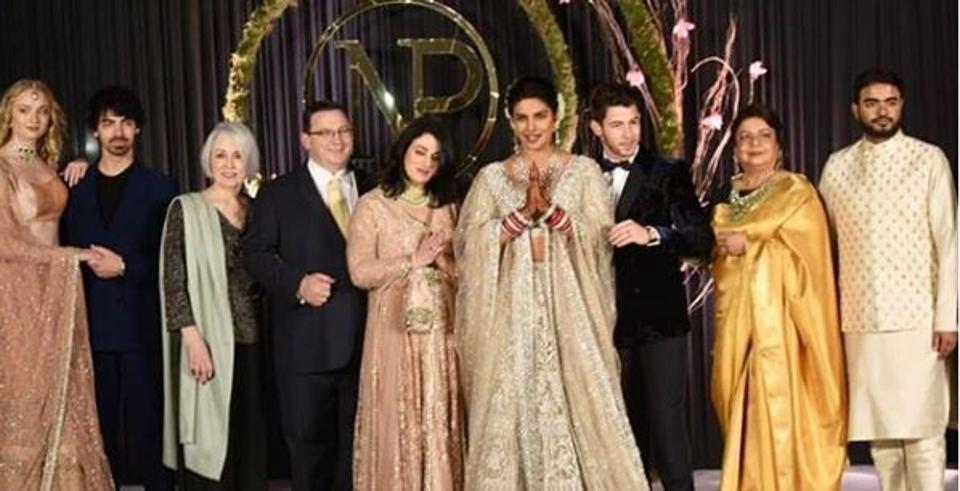 Priyanka and Nick with their families. ( Juhi Chakraborty )
9:30 PM IST
Sophie and Joe pose for photos
Nick's brother, singer Joe Jonas posed at the venue with his actor fiance Sophie Turner. She wore a lehenga while he was seen in a suit.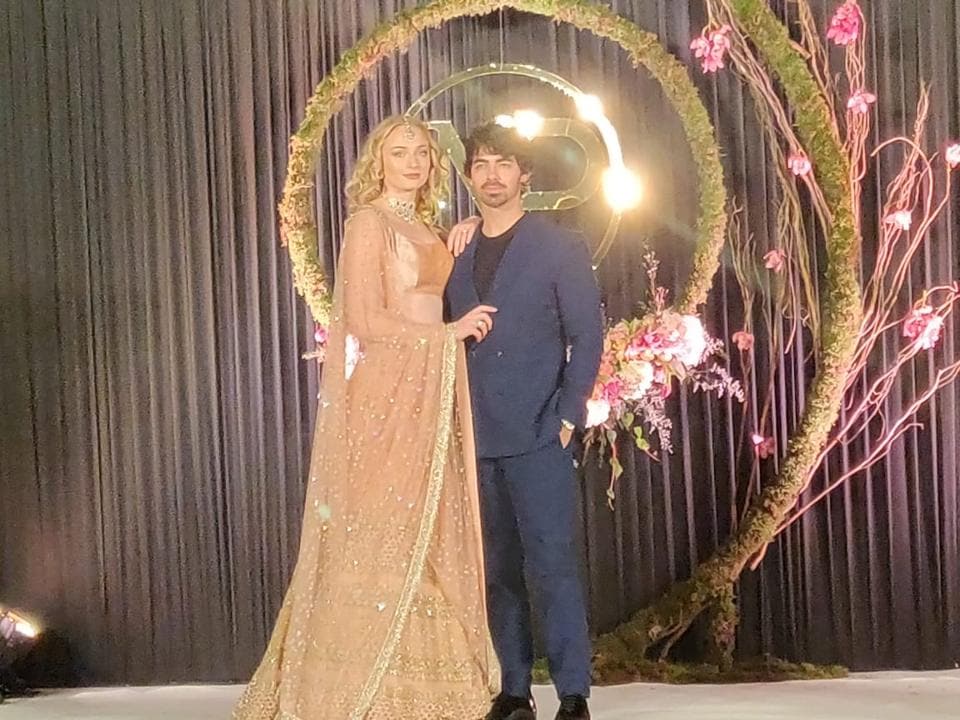 Sophie Turner with Joe Jonas. ( Juhi Chakraborty )
9:15 pm IST
Priyanka, Nick arrive at the venue
Priyanka Chopra and Nick Jonas have arrived at the venue. Check out their pictures: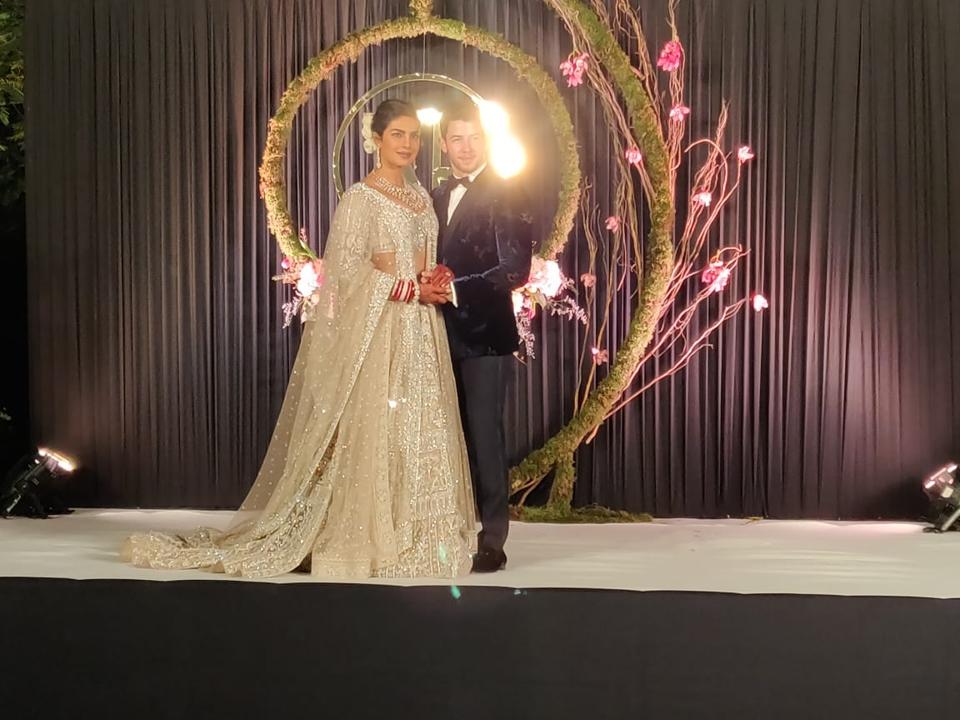 Priyanka and Nick at the reception. ( Juhi Chakraborty )
9:00 pm IST
Alia Bhatt, Sonam Kapoor congratulate the newlyweds
Alia Bhatt and Sonam Kapoor have sent our special messages, congratulating Priyanka and Nick. Sonam said she can't wait to celebrate with them and Alia called them 'just too beautiful.'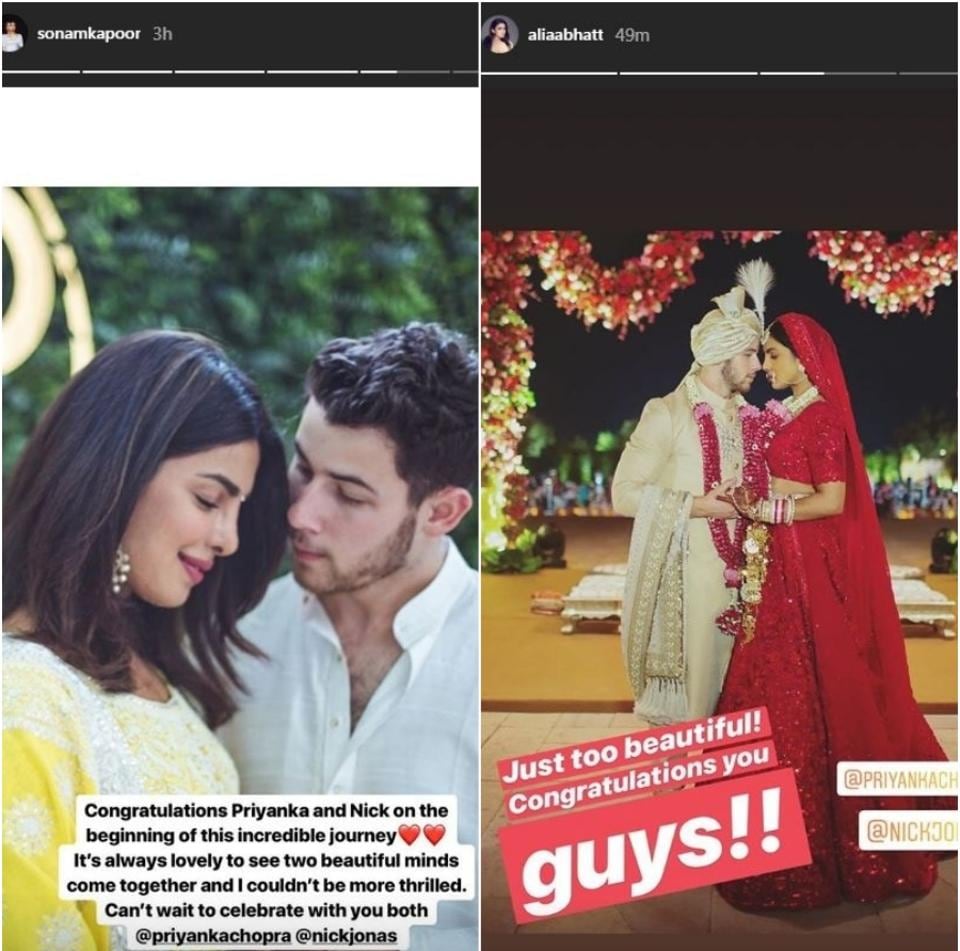 8:45 pm IST
Priyanka Chopra, Nick Jonas to arrive soon
Announcements are being made at the venue that the newlyweds will soon arrive to pose for the photographers.
8:30 pm IST
Check out the floral decorations at the wedding
The couple were married in a gazebo at the Umaid Bhawan gardens. It was adorned with white flowers.
8:15 pm IST
Priyanka, Nick's outfits had special messages
Priyanka Chopra's wedding dress had 8 secret words embroidered on it, Nick Jonas' tuxedo read 'My Jaan'. Read full story here.
8:00 pm IST
Stage is set for Priyanka and Nick
Photographers have reached the venue at Taj Palace Hotel. This is where the couple will pose for the paparazzi.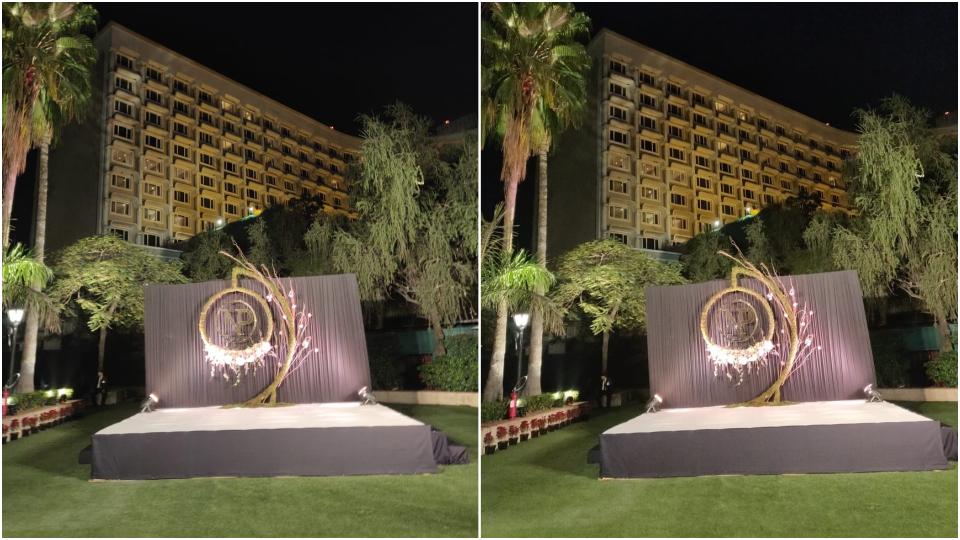 The venue where Priyanka and Nick will pose for photographers. ( Juhi Chakraborty/HT Photos )
7:45 pm IST
Priyanka danced with Sophie in the palace
A video shows that upon their arrival, Priyanka danced with Sophie Turner and swung her around. Watch the video here:
7:30 pm IST
Ralph Lauren designed dresses for the parents
Designer Ralph Lauren also designed the dresses of Nick and Priyanka's parents as well. While Madhu Chopra wore a powder blue outfit, Nick's mother wore a green dress.
7:15 pm IST
Madhu Chopra walked Priyanka down the aisle
A video from the wedding shows Priyanka's mother Madhu Chopra walking Priyanka down the aisle. She wore a powder blue dress and held a bouquet of flowers in her hands.
7:05pm IST
Ralph Lauren reveals details of Priyanka, Nick's wedding outfits
Ralph Lauren shared the details of Priyanka Chopra and Nick Jonas's custom wedding ensembles. "The bride's strapless column dress embellished with pearlescent sequins was overlaid with a hand-embroidered, high-neck coat with scalloped sleeves and satin-covered buttons. The embroidery included eight significant words and phrases selected by the bride, including Family, Hope, and Compassion. The groom wore a Purple Label double-breasted tuxedo with a piece of the bride's dress hand-embroidered with the Urdu words "My Jaan" (meaning "My Life") at the interior lapel of the jacket, just over his heart."
6:45pm IST
Priyanka Chopra shares her wedding photos
Priyanka Chopra shared her wedding photos on social media, simply writing, "And forever starts now". While one of the pictures had her and husband Nick Jonas posing after their Christian wedding, the others has her in the stunning Sabyasachi red lehenga.
6:30 pm IST
Priyanka wore custom Ralph Lauren dress at wedding
Priyanka wore a custom Ralph Lauren gown for her Christian wedding.The dress had buttons running down the front and a high, lace neck that reminds of the wedding dress of Duchess of Cambridge, Kate Middleton.
6:15 pm IST
People magazine shares wedding pics
US magazine People has shared the first pictures of Priyanka and Nick's wedding. They also feature on the cover of their new issue.
Close Story