Rajkumar Hirani on Sanju whitewashing Sanjay Dutt's image: What was his crime?
Sanju had Ranbir Kapoor playing controversial actor Sanjay Dutt. The film has been called out for glorifying Dutt's life choices but director Rajkumar Hirani has some questions of his own.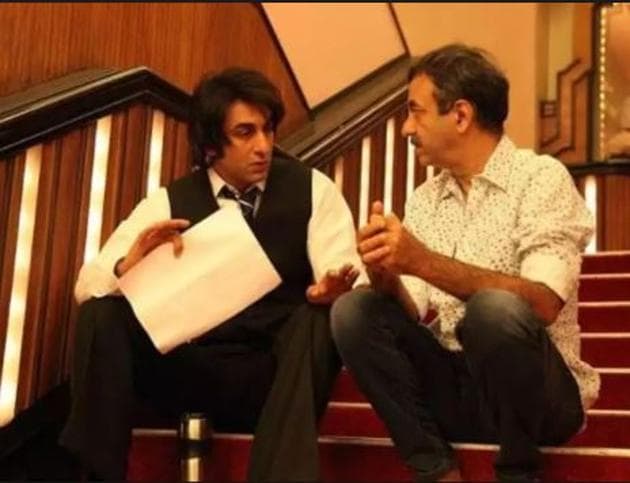 Updated on Aug 12, 2018 11:29 AM IST
Sanju has been a massive success, with the film effortlessly becoming a part of the biggest blockbusters ever in Hindi cinema. However, the success of the Ranbir Kapoor film came with allegations of whitewashing, media bashing and glorification of Sanjay Dutt's controversial life. The film's director, Rajkumar Hirani, has been fielding allegations since the film's release in June, now he has some questions of his own.
"If I start on that, I can talk on it for the full day," Rajkumar Hirani said when asked to comment on talks about the media bashing in Sanju, which is playing at the ninth edition of the International Film Festival of Melbourne (IFFM) here. Abhijat Joshi, who has co-written the biopic with Hirani, was quick to add: "There is no media bashing at all. We are great fans of the media. What we are bashing is a certain section which sensationalises things and uses a question mark to make things 'chatpata' (spicy). That has been critiqued, and I am amazed there has been no introspection on that side. No one has even said that it happens."
The reference is in context to a scene featuring a newspaper cutting titled "RDX in a truck parked in Dutt house?" This 'question mark journalism' is their problem. "Today if the world believes that he had RDX, it's based on that one news, so we have criticised that. But now when we are told that the whole film is about media bashing, it's again picking up a headline," Hirani said. "When we show a corrupt police officer, it doesn't mean all policemen are wrong! It's a section," he added.
From Sanjay's drug addiction, personal affairs, a jail term for possession of arms in connection with the 1993 serial blasts, to his bonds with his parents and friends -- Sanju has delved into different aspects of the actor's life but has also left out a lot.
Hirani, who has hits like Munna Bhai series, 3 Idiots and PK to his credit, also wonders why is there talk that he has "whitewashed" Sanjay through Sanju. "Whitewashing as a word is being thrown open. If you've watched the film, what was Sanju's crime," he counter-questioned.
Sanjay had a gun. "Yes, he kept the gun, and we have shown that. We have shown that he served five years in jail and that he is saying it was a mistake... So where is the question of whitewashing? What have I whitewashed? I want to understand that," Hirani asked.
Joshi added: "The crime has been shown graphically. He is destroying the gun, we have shown that, the bullets are thrown away, we are showing that. So whatever is the crime is, is clearly shown." Hirani went on: "People are using this word whitewash. I want to know what have I whitewashed? I have shown that he had 308 girlfriends, that he was so addicted to drugs, he slept with his friend's girlfriend. Is this whitewashing? If we had to whitewash anyone, we would have made him Mahatma Gandhi... What have we whitewashed? Tell us his crime?"
RSS mouthpiece Panchjanya had questioned whether Sanjay, son of late actors Sunil and Nargis Dutt, had qualities that his life story should be glamourised or glorified on the big screen or be portrayed as if he is an idol.
"Again, where have I glorified is what I want to ask? Is this glorification that he slept with his friend's girlfriend, kept a gun, did drugs, made a girl wear a commode on her neck? We have shown all this... Still, people are saying we have glorified his life. Who knew this that instead of putting a mangalsutra, he put a commode on a girl," Hirani asked.
Joshi said the "worst" allegation is that they made the film for money. "It is ridiculous because if money was the criteria, we would have made 5 Munna Bhais back-to-back... They would have been bigger hits, or '3 Idiots' parts 2, 3, 4, 5, 6."
Hirani said when he was making the movie, he was told by people that Sanju will mark his "first flop" as Sanjay was a negative character. "Now when the film has been made, everything is reversed that this has been made for money," jr sffrf.
Joshi questioned: "Do you think Rajkumar Hirani, at this time in his career, would spend 3 years of his life just to whitewash somebody?" What upsets them is "people (who needed to introspect) have not introspected" at all. "But the audiences have, luckily. Hats off to the Indian audience," Joshi said.
Close Story